Spear Vineyards & Winery in Santa Rita Hills nears public opening
"We're not after a wine tasting … we're offering a vineyard tasting"
It takes time to make good wine. It takes even more time to manage a high-quality vineyard. For Ofer Shepher, owner of Spear Vineyards & Winery, one way to properly manage 1,100 acres in the Santa Rita Hills is to select cattle and cows for grazing. It's fitting, therefore, that the winery's new tasting room, hospitality center and production facility near Lompoc are located on the same footprint where a dairy barn stood in the 1920s.
Shepher, 47, said he consciously chose to raise cattle and cows on the upstart vineyard to help keep the property in shape.
"I run a lot of cattle, and people always ask me if it's under the auspices of [raising] beef, because it's Black Angus, but it's not about that entirely," said Shepher, a vigneron who majored in agricultural mechanics in college.
"They're lawnmowers, really," he said of the cows, which help keep the Black Angus happy.
"You take range management in college when you're in ag school and you never really think much about it … until these fires," he said, reflecting on the inferno that became Southern California after portions of Ventura, Santa Barbara and Los Angeles counties were simultaneously engulfed by flames that leveled more than 200,000 acres and destroyed several hundred homes.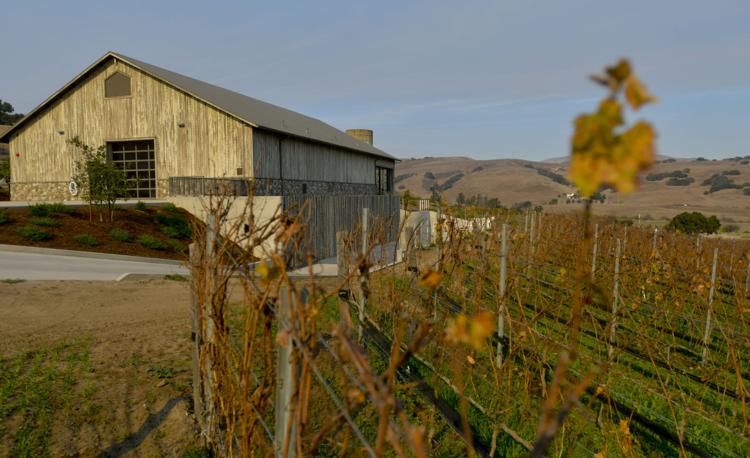 After the recent Rucker fire in the Mission Hills near Lompoc, Shepher said Spear brought in more cows to graze and help clear brush.
"It got pretty thick after these last rains," he said. "Any kind of seeds that had been in the ground just really popped."
On the positive side, 2017 turned out to be a strong growing season, said Shepher, who grew up in Chatsworth after moving to the United States from Israel when he was 5.
Upon graduating from El Camino Real High School in the San Fernando Valley at 17, Shepher attended the University of Arizona. His interest in winemaking grew from camping trips to the Santa Ynez Valley, he explained.
"I used to head out to Fess Parker's in the mid-'90s," Shepher recalled. "He was really brilliant in terms of promotion — and the wines were good. We'd have these cool events at Fess Parker's. Over the years, we'd take friends and girlfriends out to Santa Ynez.
"It wasn't until the late '90s that I started to get into the wineries — predominantly Sanford," he continued, referring to Richard Sanford, the Santa Rita Hills winemaker who started cloning varietals from different areas throughout California.
"That gave me an appreciation for pinot noirs' ability to be cloned, and it gave me a sense of place," Shepher added, alluding to a wine taster's ability to detect the region where a given varietal is grown.
Sanford's success with cloning grapes inspired Shepher to enroll in a distance-learning program in viticulture through the University of California, Davis. He earned a certificate in winemaking in 2004, Shepher said, primarily to recognize experts like Sanford while setting his sights on planting grapes.
"There's a challenge aspect and an excitement to starting a winery," he said.
Shortly after taking the UC Davis course, Shepher purchased the property in Santa Rita Hills that would become Spear Vineyards & Winery. He started planting chardonnay vineyards on the property in 2007 based on Sanford's pioneering success experimenting with Burgundy grapes — both red and white — in the area.
Thanks to Sanford's efforts, Spear, which overlooks Highway 246 between Lompoc and Buellton, is now home to Burgundy grapes, as well as Black Angus cattle and nearly four dozen cows.
"I consider myself a farmer," said Shepher, a self-described executive and technology officer in the emergency medical devices industry for the past 27 years. "The ranching is just a necessary part of finding some balance. We try to find a way to ethically manage our grasslands. The main reason we've got [cattle] is to maintain the land. With about 44 or 45 cows around the winery, they take care of overgrowth."
Kat Gaffney, associate winemaker at Spear, is involved in all aspects of the winemaking process. She was recently hired after Greg Brewer stepped away to fulfill contractual obligations with Brewer-Clifton, a Lompoc-based winery recently purchased by the Jackson family (of Kendall-Jackson fame). Brewer worked closely with Shepher to plant Spear's vineyards and design its wine production facility, a gravity-based system designed to minimize damage to the fruit.
Prior to arriving at Spear, Gaffney knew both Brewer and his wife. She credits him with developing Spear's wines and production facility, which currently makes about 1,200 cases.
"Greg took great care in explaining to me what his vision was for the wines at Spear, and what he and Ofer had discussed," Gaffney said. "It's very simple, really. 'Let the vineyard do the talking.'
"Don't let the wine making be at the forefront," she continued. "It's about being faithful to what the vineyard wants to say."
Gaffney came to Spear with no preconceived ideas or "musts" about how to make wine, she said, adding that a vineyard's location, microclimate and soil profile are primarily responsible for imparting flavor.
"It's that 'sense of place,'" she said, noting Spear sells to other winemakers about 80 percent of the grapes it grows. "The winemaking choices are made because we want to bring out the best in the vineyard.
"There are conscious decisions we've made, such as not using new oak," Gaffney continued, noting the trade-off is a wine with less creaminess. "With that in mind, there are many decisions that need to be made when it's 'game time' — like letting the grapes stay on the vines a little longer or, alternatively, picking them earlier than planned."
While giving a tour of Spear's winemaking facility, Gaffney emphasized the importance of the gravity process.
"We don't use any pumps to move wine anywhere," she said, adding that chardonnay and pinot noir comprise the majority of varietals Spear currently grows and bottles. "We're very gentle on the grapes, so it's minimally invasive.
"There's that school of thought that wine is a living, breathing thing," she continued, echoing Brewer's and Shepher's philosophy that the finished product should be "of the land" and not a reflection of the winemaker's personal style or taste. "Forcing it where it doesn't want to go is damaging to the grapes."
At 29, Gaffney acknowledges it was serendipitous to be selected by Brewer and Shepher as Spear's first associate winemaker.
"The property is stunning … I fell in love with this place the moment I drove past the gates," she said. "There is a quality about the place. Everything has been done right, the first time, with care and passion."
As for her boss, Gaffney expressed tremendous respect for Shepher.
"He knows what he likes and he loves this area," she said. "He's incredibly smart and incredibly involved in the whole process of building this place. He's also incredibly hands-on in the vineyards — his area of expertise. He's out there with the crew at 2 a.m. at harvest time."
Shepher credits the region and rich soil — specifically Santa Rita Hills and Spear's well-managed land — with producing quality wines. He said the area's temperate climate and cool afternoon ocean breezes in spring and summer create excellent, thin-skinned grapes.
"We've got a really unique spot, even within the Santa Rita Hills," Shepher said. "It's all about the property."
Although Spear Vineyards & Winery has yet to open its front gates to the public, it's inviting wine trade and culinary representatives to view the property, hospitality area, tasting room and production facility.
Soon, Spear will offer limited private tours to the general public as well, Shepher said, advising enthusiasts to reach out to the winery in the spring for tours.
"At this point, we are not quite ready for private tastings," he said, acknowledging the limited number of wineries in Santa Barbara County with on-site tasting rooms. "We're not after a wine tasting … we're offering a vineyard tasting."