After an 11-year vintage run with Terravant Wine Company in Buellton, Frank Ostini and Gray Hartley owners and winemakers of Hitching Post Wines, have announced that they will return their winemaking production back to Au Bon Climat at Bien Nacido Vineyards in the Santa Maria Valley AVA.
As of the 2019 Fall harvest, Hitching Post Wines will have fully transitioned back to the place they call home.
According to Ostini and Hartley, they will further their 36-year run of winemaking in Santa Barbara County — which started in 1979 with one barrel in their garage — by continuing to focus on producing their specialty Pinot Noirs at Au Bon Climat, a winery founded in 1982 that produces Pinot noir, Chardonnay, Pinot blanc and Pinot gris varietals.
"We are returning to where we learned our sensibilities to make balanced age-worthy wines from the great vineyards of Santa Barbara," Ostini said, explaining that they will again work with Jim Clendenen and Bob Lindquist, the two pioneer winemakers they were proud to work with for more than a decade.
"We look forward to working with Jim Adelman, general manager and cellar master Enrique Rodriguez — the same team that was there in the 90s,"  Hartley added.
According to Au Bon Climat's marketing director Katie O'Hara, the reshuffle comes 18 years after Hitching Post Wines originally relocated their operations from Au Bon Climat/Qupé to Central Coast Wine Services "to spread their wings" once their production grew.
"At the time they were ready to take it to the next level, and now they're back," O'Hara said, expressing company-wide elation about the news, including that of Clendenen's, owner and winemaker of Au Bon Climat Winery and Clendenen Family Vineyards.
"Frank is one of Jim's best friends. It's a big happy family here," she said.
Delivering the announcement with mixed feelings, Ostini and Hartley both say they expect this to be their last move and credit Terravant for enabling them to craft a small-lot-style of Pinot Noir by using open-top fermenters.
According to local records, in 2014 Clendenen's longtime partner Bob Lindquist sold a major stake of his 36 year-old winery, Qupé, to winery investment firm Terrior Life.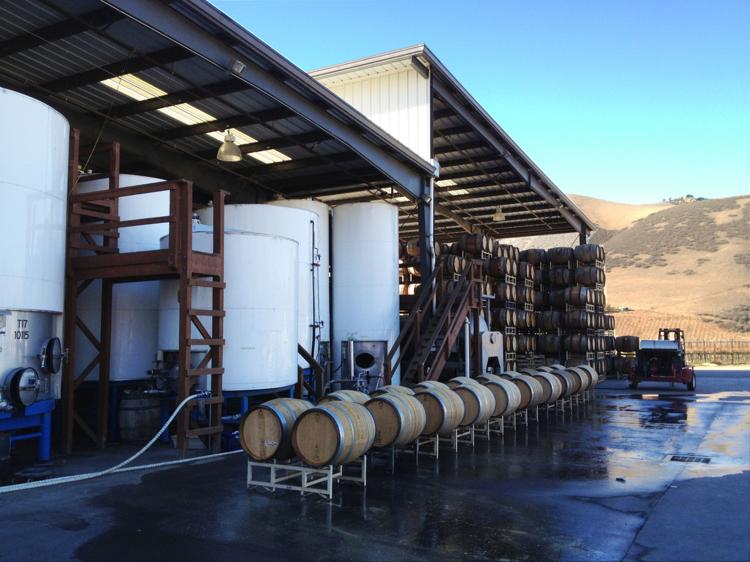 "He's been Jim's partner for over 35 years," O'Hara explained, adding that Au Bon Climat's production facility, which was divided among fellow wineries to share in the cost, had been vastly occupied by Qupé's operations.  
Lindquist — who fulfilled on the sale terms of Qupé and is no longer affiliated as of March — and his wife, Luisa, owner of Verdad Wines, started a small wine label named Lindquist Family Wines, and continue to make their wines alongside Clendenen.
The collaboration is referred to as Clendenen Lindquist Vintners, or CLV, according to O'Hara.
O'Hara says the Au Bon Climat family has been seeking a "like-minded" partner to fill the large production space that Qupé once did.
"We work together as a team," she said, further explaining that it was important to find someone who could work in harmony with their style and protocol of winemaking. 
With the eventual return of Hitching Post Wines over the course of months, producing their estimated volume of 1,200 barrels and 17,000 cases a year, will consume approximately 1/3 of the facilities' back bay area, providing most of the missing link for which they had been searching, according to O'Hara.
"It just so happened that things were changing at Hitching Post Wines and we had the space. The stars just happened to align," she said. "We're glad they're back."
Chef Frank Ostini has announced an expanded lunch menu and afternoon appetizer snack menu at Buellton's Hitching Post 2, which will also be ma…
Pioneering local winemaker, Robert "Bob" Lindquist, is being presented with a Lifetime Achievement Award by the Rhone Rangers, an organization…
For my June birthday, my husband Dan Hardesty and I enjoyed a five-day staycation in Solvang and visited most nearby small towns. Not only did…
San Luis Obispo County's total crop value hit a new high in 2018, rising 12% from the previous year and topping the $1 billion mark, according to a report released Tuesday by the Agriculture Commissioner's Office. The total crop value was a little more than $1.035 billion, with wine grapes leading the list at $276 million, followed by strawberries at $268.4 million and broccoli at $48.3 million, the report said.