Solvang's main drag, Mission Drive, known for its dozens of culinary, lodging and retail options, recently welcomed a new kid to the block — Brekkies by CHOMP. The breakfast-only eatery which offers both indoor and outdoor seating, celebrated one month in business on July 10.
On the same side of the street and just a short distance from Brekkies are sister properties, CHOMP and The Coffee House by CHOMP, that serve as synchronistic teammates, dovetailing off each others' hours of operation and menu items.
Owner/operator of the signatured Chomp trifecta, Aaron Petersen, says despite having started The Coffee House just a year ago this October, and CHOMP eight years ago, the opportunity to lease Vernon Madsen's building and make it into something unique, was just too hard to pass up.
Prior to it becoming his newest venture, Petersen, who also owns the building that Petros Kafe Solvang leases, co-owns Mortensen's Danish Bakery and the Landsby building which was once the Petersen Village Inn that his father Earl Petersen built in 1984 — said the previous owners, Jeff and Kristie Compton, had purchased the old Mustard Seed Restaurant over a year ago and turned it into a steakhouse, The Stone Cow. 
But as early as May, the Comptons had had a change of heart, according to Petersen.
"Jeff said to me, 'I think I want to move up north. My son is out of the military, he's a cop and married with a kid. My daughter goes to Sonoma State. I have a job opportunity to go back into communications, and I have my little business in Santa Barbara. I think we want out,'" the CHOMP owner explained.
After some back and forth over the course of three weeks, he made an offer. The Stone Cow owners accepted and the deal closed within a week.
Looking up and down Mission Drive, Petersen realized that newer neighboring restaurants were all serving lunch and dinner.
"So I thought, well, shoot why compete? Why not do breakfast?" he said.
Calling up his four children, who he says keep him in line, Petersen announced to them that he was thinking of opening up a breakfast-only restaurant, and calling it "Brekkies."
"They said, 'that's a cool slang term, Dad,'" he recalled, adding that their immediate approval was a welcome response in contrast to his announcement to them eight years ago that he was going to name his first eatery, "The American Grill."
"My kids said, 'Dad, you're a nerd,"' Petersen remembered, crediting his kids, Jake, 28, Kylie, 25, Victoria, 20, and Emily, 23, for coming up with the now well-known name, CHOMP. 
Referring to the urban dictionary, the team of Petersens found that Brekkies had a few meanings. One was an obvious slang for breakfast. The other is a reference to someone who loves the movie The Breakfast Club.
Barry Prescott makes his way through an unlit hallway, stepping over shabby red carpeting, scattered tools and leftover remnants of the old Pe…
"So I thought, well, that's cool because I love the Breakfast Club! 1985, it's when I was 25 years old — I was right in the Molly Ringwald thing," Petersen said. 
He also followed the sage advice offered by owner/operator of Paula's Pancake House and Belgian Cafe in Solvang, Charlie Greenwald. "He's the smartest guy I know in the business," Petersen said. "He said pick two meals, don't do three. You need down time to clean and repair. That's always stuck with me."
Initially, lunch and breakfast were his meal picks for Brekkies until the thought morphed into a breakfast-all-day notion, open no later than 3 p.m. 
With one of his daughters, Petersen said he visited over 20 breakfast places in San Luis Obispo, Santa Barbara and Ventura, picking and choosing what he found was unique and delicious.
After plenty of field work, they settled on a handful of traditional Mexican dishes to add to Brekkies' menu, as well as a creative take on Eggs Benedict that includes a seafood, vegetarian and salmon option; protein bowls, biscuits and gravy, chicken and waffles, a Monte Christo dish inspired by his visit to Santa Barbara, and a crustless, gluten-free Quiche that he credits his staff for thinking up.
"We do traditional breakfast, too," Petersen added.
At the end of the day, the three-times eatery owner, believes that his success in the industry is due to having the right people on board.
"You've got to have the right kids. You've got to have the right staff," Petersen said, acknowledging his A-team restaurant managers Amber McGlinchey and Shawn Whitney.
Since coaching high school junior varsity football for 16 years, and having to leave it six years ago after his father got sick, Petersen admits the opportunity to steer young people and encourage them remains a passion.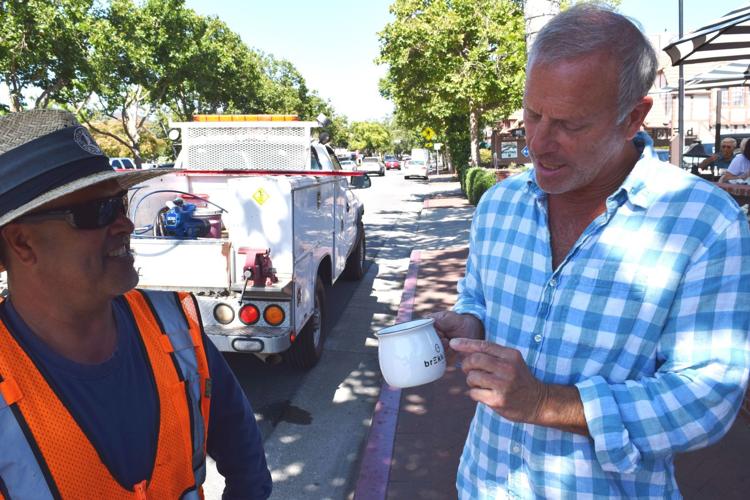 "I'm a little tough on the high school kids — and the college kids," he says, explaining that he believes their job should come last on their list of priorities, but once he works around all those things, he expects them to show up.
"The secret to life is communicating. I hold them accountable," he said. "I have a flip phone, so they can't text me. They have to call to talk to me. My friends and kids laugh at me, but I refuse. I just don't text. Talking is a better form of communication."
Petersen said it's unlikely he'll get away anytime soon now that he's operating three businesses simultaneously.
"Being an absentee owner, especially in food, isn't an option," he said. "You've got to be there, and love what you're doing."  
NatureTrack Film Festival co-producers Sue Eisaguirre, Holly Cline and KC Murphy Thompson recently returned from Denver where they connected w…
The Alisal Guest Ranch & Resort, founded in 1946, has recently revealed a new addition to its 10,000-acre Solvang property — a guest cotta…
In closed session Monday after threat of undisclosed legal action against the city, Solvang City Council members voted 5-0 to terminate the ci…
A Solvang vinegar company captured one gold, two silver and one bronze medal in the sixth annual Central Coast Vinegar Competition, according …