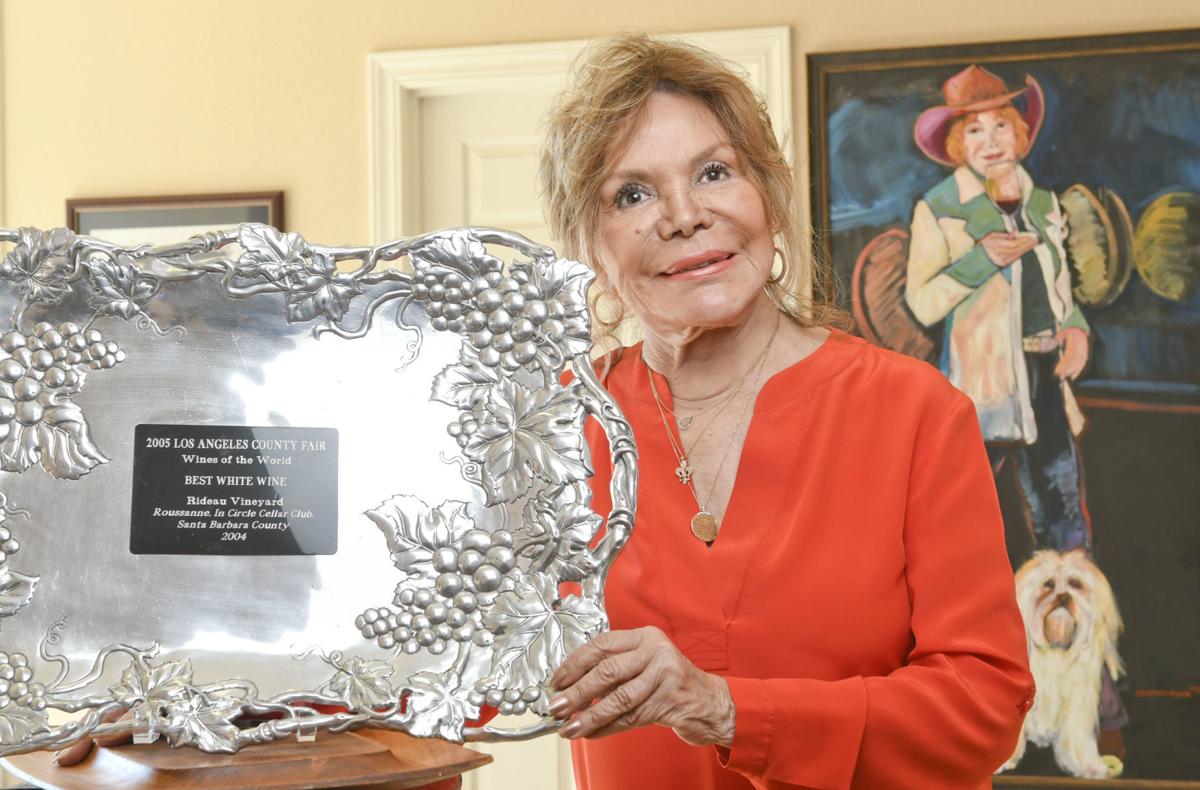 As Black History Month draws to a close, I've been reflecting on how far our country has come. And I realize we still have a long way to go. 
I reached out to interview local resident Iris Rideau, 83, former owner of Rideau Vineyard in Solvang. I believe her story is valuable and represents what it means to truly live the American Dream. 
Despite being born into poverty and during a time of great racial divide in our nation, Iris achieved great things through hard work and determination. She was recognized as the first black woman winery owner in the United States, becoming a national success story and a local treasure.
"I never wanted to be in poverty again. That is what motivated me," Iris said, describing her humble upbringing. "Also, when I was raising my daughter, I wanted to provide her with the financial security I did not have as I was growing up."
Born Iris Duplantier in 1937, the New Orleans native said that because of her Creole lineage – a combination of African American, French, and Italian – her very light skin enabled her to pass for either black or white.
Iris' parents divorced when she was two years old, and her father moved to California. She was raised by her mother and grandmother in a Creole neighborhood in New Orleans during the late 1940s. Since she was from a mixed-race family, she had both black and white cousins. 
She remembers that when she was with her black cousins, they were all treated as a second-class citizen. They had to step off the sidewalk to allow white people to pass. They could not go into certain stores and restaurants and had to drink from certain water fountains. They could not even look a white person directly in the eye but had to look away.
But none of this happened when Iris was with her white cousins or grandmother.
February is Black History Month and we celebrate the many people who changed the course of history. What started out as "Negro History Week" b…
She gave an example of when she went clothes shopping with her black cousins: the store did not allow them to try the clothes on – they could only buy them. While shopping with her white cousins, trying on clothes was no problem!
In 1950, at age 12, Iris and her mother moved to Los Angeles to be nearer her father, who she had visited over the summers. She talked about the difference of being black in New Orleans versus in Los Angeles. There was not nearly the level of racism in L.A. there was in New Orleans.
Iris married at age 15, had a daughter at age 16, and divorced at age 17.
She went to work at her mother's sewing factory and soon figured out that if she was ever to get out of poverty, she had to get an education. So she enrolled in night classes at the local junior college, graduated and got a job as a receptionist for an insurance company, passing as a white woman to get the job.
Iris married Jimmy Rideau in 1957. They divorced in 1978, and she never remarried. 
Climbing to the top
In 1967, Iris opened Rideau & Associates Insurance, becoming the first black woman on the west coast to own an insurance agency. The agency was very successful because at that time many companies would not insure properties in low-income neighborhoods, a practice called "redlining".
In order for people to rebuild their homes and businesses after the Watts riots, escrow companies required that people have insurance before they could get a loan. Rideau & Associates Insurance was one of the few companies that stepped in to fill that void.
The company saw great success.
Judith Dale looks back to 1920, offering a timeline of progress the U.S. has made over the last 100 years. In most areas such as life expectancy, industry, technology, and position in the world, the U.S. has come a long way. However, many of the social/cultural challenges the country faced in the 1920s, are still with us today.
In 1978, Iris opened a second company, Rideau Retirement Planning Consultants, a financial securities company specializing in pension planning for public employees.
At the time, most public employees did not qualify for social security, so their employers' retirement plan was their only savings plan for retirement. Iris said she saw the need for these people to add to their retirement savings and the firm was born.
Once again, experiencing wild success, Iris became the only black woman to own a securities company on the West Coast, employing over 50 people.
By the '90s, Iris was worth an estimated $12 million. In 1998, she was recognized by Essence Magazine which profiled some of the nation's wealthiest African American female business owners.
Not only was Iris a successful businesswoman, but she was a political activist, working to secure better rights for Los Angeles minorities during the 1960s.
In the early '70s she was appointed as chairman to Mayor Tom Bradley's Affirmative Action committee. Through the program, Iris was able to get city contracts for hundreds of minority-owned and/or women-owned businesses in L.A.
After 32 years of political activism, operating two large businesses, and managing the overall stress of life in Los Angeles, Iris decided it was time to retire.
Rideau Vineyard is born
Looking for a place to move, Iris found the Santa Ynez Valley and fell in love with it. She purchased six acres of land and built two houses on it – one for herself and one for her mother. In 1995, she bought another 22 acres of land adjoined to her six-acre property. 
The new land included a crumbling adobe house, El Alamo Pintado Adobe Inn, built in 1884 by two English immigrants. The house became a registered Santa Barbara County historical landmark.
Looking for a new outlet to direct her renewed sense of purpose and business savvy, Iris made plans to restore the old adobe house into a bed and breakfast.  
"The closer I got to retiring, the more I realized that I wasn't ready to quit working," she recalled. 
Because the bed and breakfast plan did not fit with local zoning regulations, Iris determine that a wine tasting room would be her next best option. With 15 acres of prime Central Coast grape-growing land, she decided on a winery even though she knew little about the business.
"Once you learn how to run one business successfully, you can pretty much run any business," Iris explained. "You just have to learn about the industry and surround yourself with experienced and talented people."
The Santa Ynez Valley is fortunate to have excellent public schools. Six elementary school districts feed into Santa Ynez Valley Union High Sc…
In 1997, Iris founded Rideau Vineyard on Alamo Pintado Road in Solvang, hiring veteran winemakers Rick Longoria, Ariel LaVie, Andreas Ibarra – and eventually a female winemaker, Adrian St. John, who still works there today.
Success was almost immediate, as in 1998 one of her New Orleans labels won "Best is Show" in the Orange County Wine competition. Her 2004 Estate Roussanne won "Best White Wine" in Wines of the World at the L.A. County Fair.
The wine world took notice, and by 2005 the winery was a booming business, continuing to grow and win awards. Soon the winery tasting room was filled with gold medals and award-winning ribbons, with scores in the 90s.
In 2004, Iris was nominated "Business Innovator of the Year" by Black Enterprise Magazine, as she was the first Black female winery owner in the United States.
Next to serving excellent wine, Iris could often be found in the kitchen cooking gumbo, New Orleans po-boys or preparing charcuterie and cheese plates for her guests.
She said she wanted to give people that "full experience of wine and food" unlike that of any other winery in California.
Despite working 10 to 12-hour days, Iris maintains that she loved what she did.
"I worked hard. And at the end of the day, I would just burn out and crash," she said laughing.
After 19 years in wine, the businesswoman and grandmother decided to fully retire. She sold her winery in 2016.
Still a resident of the Santa Ynez Valley, Iris says the business is still in her blood. She can often be found visiting the winery.
Enjoying retirement, Iris Rideau pets her dogs Ricky Ricardo and Desi Arnez in front of her Solvang home.
El Alamo Pintado Adobe Inn, a registered Santa Barbara County historical landmark, remains part of the property owned by Rideau Vineyard today…
Iris pours a taste of her signature Sangiovese at the 2015 Jazz and Olive Festival.
Former mayor of Buellton, Judith Dale built her career in education and continues to serve the local community as Santa Barbara County 3rd District representative to the Library Advisory Board and board member of the Santa Ynez Valley Cottage Hospital Foundation. She can be reached at judith@hwy246.net
The business news you need
With a weekly newsletter looking back at local history.