The scent of freshly grilled bratwurst, baked pretzels and spicy mustard waft through the warm air, luring hungry passersby to enjoy lunch on the large outside patio at Copenhagen Sausage Garden in downtown Solvang.
Restaurant Manager Eric Lewis says he has noticed a difference in foot traffic since the city's closure of Copenhagen Drive in response to the COVID-19 pandemic.
"We've always been an outside business," he said, noting that adherence to outdoor dining protocols is one benefit of being an outside establishment. "We are doing good — I think we're doing better than before."
To help revive the town's once busy streets and restore visitor safety during the COVID-19 pandemic, the city of Solvang enlisted its new tourism marketing and events contractor in early June to transform two large city blocks into a walkable promenade, complete with wooden parklets and covered seating, greenery, vertical boundaries and decorative string lights.
Initially, the downtown effort was to be temporary through July 4. However, the City Council voted unanimously on July 27 to extend the closure of Copenhagen Dive until next year while the pandemic remains a concern.
It also was decided that the city would assume costs and control of the street closure project which had been designed, kick-started and managed by tourism contractor Scott Shuemake, president of IDK Events.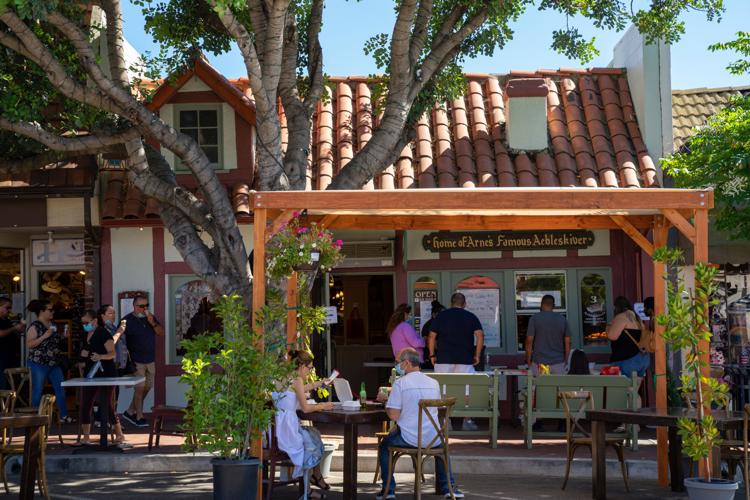 Shuemake explained that since the June 5 launch date, "the world has already changed 100 times." He applauds his team's approach to the project given the limited time and resources that were available during a global pandemic. 
Based on feedback gathered from Solvang merchants, he said that Solvang's economic pivot has successfully brought back confidence to the city at an uncertain time.
"I stand firmly behind our decision to close the street and hope it didn't hurt anyone," Shuemake said, referring to fellow small businesses in the community who have each received the changes differently. "Aesthetically, [the project] didn't turn out the way we wanted. But I do hope it was better than us doing nothing." 
Anjie Park, wine club and special events coordinator with Lucas & Lewellen Vineyards, says her team is appreciative that the city was able to anticipate the needs of downtown merchants at a critical time.
"By the time the governor restricted us to outdoor tasting only — with the city's swift reaction to the news — we were able to adapt to the new rules and never miss a beat in meeting customer demand," she said. "We have been very busy despite hot weekends and wildfire smoke and power outages."
According to Park, customer feedback on the new pedestrian-friendly Copenhagen has been resoundingly positive. Some of her guests have mentioned that a walk down the middle of Copenhagen provides a new perspective of the town's architecture and trees.
"If we had to choose a negative," Park said, "the challenge has been the limited parking for our guests and the fact that traffic cannot circulate through the public parking lot to access the back of our building when customers transport cases."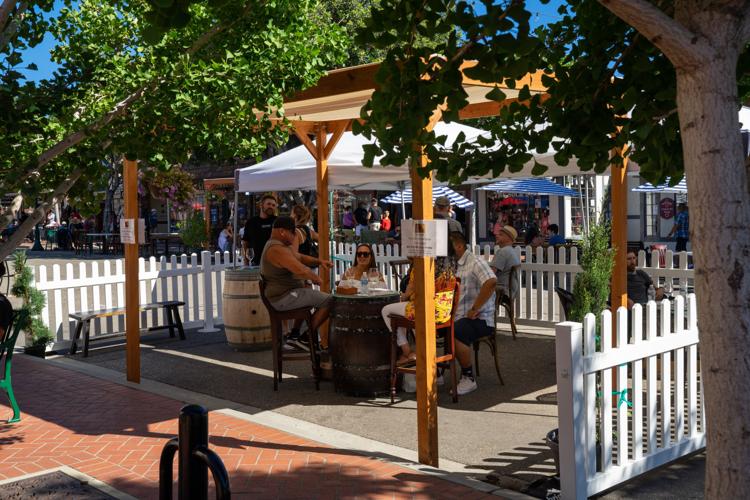 Designs in Gold co-owner Ginger Cleland said the closure from her side of Copenhagen Drive, unfortunately, does more harm than good for her small shop which specializes in buying, selling and handcrafting jewelry pieces.
"The parking lot should not be blocked, and neither should the parking spots in front of our business," Cleland said. "Many customers complain about having to walk further than they would like to reach us. Most of our customers are locals, and it's important to us that we serve the local community."
Located at the west end of the street closure, on the corner of Copenhagen and Second Street, Solvang Trolley & Carriage Company reports being displaced by the new downtown layout.
No longer able to pull their Belgian horse-drawn Honen down Copenhagen Drive for tourists to see and engage with, they have been forced to adapt their route which also lacks a reliable, shaded parking spot for the horses to rest. 
"We have mixed feelings about it," said Solvang Trolley co-owner Claudia Orona, noting that beyond the aesthetic misstep, the closure also poses an overall challenge for elderly customers who need more convenient store parking. "And as far as the trolley, people are still having to search for us."
Patrons at the King Frederik Inn are excited about the new changes, reports hotel manager Chris Candaleria, admitting that he was initially concerned about the parking lot situation which he said, turned out to be manageable.
"I have not received one negative comment about it," said Candaleria. "It's hard to imagine the city not having done this. This communicates to me and my staff that we can survive this, too. We're improving beyond COVID."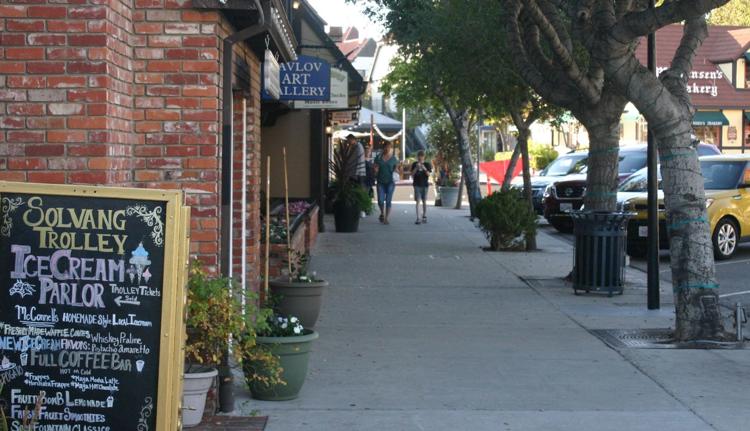 Grant recipients like the Golden Inn and Village, were shown to represent the tenets of the grant-giving initiative, working to increase access to and use of behavioral health services.
Due to a spike in demand, the Center's Meals on Wheels program is reportedly now serving 225 seniors each day, an increase from 130 seniors daily, pre-COVID-19.
Santa Barbara County 3rd District Supervisor Joan Hartmann will meet with constituents in September during virtual office hours through the online meeting website Zoom.
Lisa André covers local news and lifestyles for Santa Ynez Valley News. 
The business news you need
With a weekly newsletter looking back at local history.