I haven't eaten anything that walks on four legs — or hops — since college. I'm somewhat of a humaniac.
Cassidy and Markos Alexandrou are also humaniacs and treat the feathered and furry residents on their ranch with great love and respect.
And so I was particularly interested in visiting Motley Crew Ranch on Hapgood Road in Lompoc, where the couple are raising many of their beloved animals to eventually be consumed as food.
Cassidy grew up with dogs, a pet rabbit and a few chickens on Bainbridge Island in Washington State. She left home in 2005 to study biology at UC Santa Barbara, but, after part-time jobs in the food and wine industries, she changed course and enrolled in Santa Barbara City College's culinary program.
Markos was raised on Kea, a small island in the Cyclades near Athens Greece where farming, fishing and foraging were the done thing. A postdoctoral research fellowship in biology at UCSB brought him to California in 2011.
The two met at Industrial Eats in Buellton.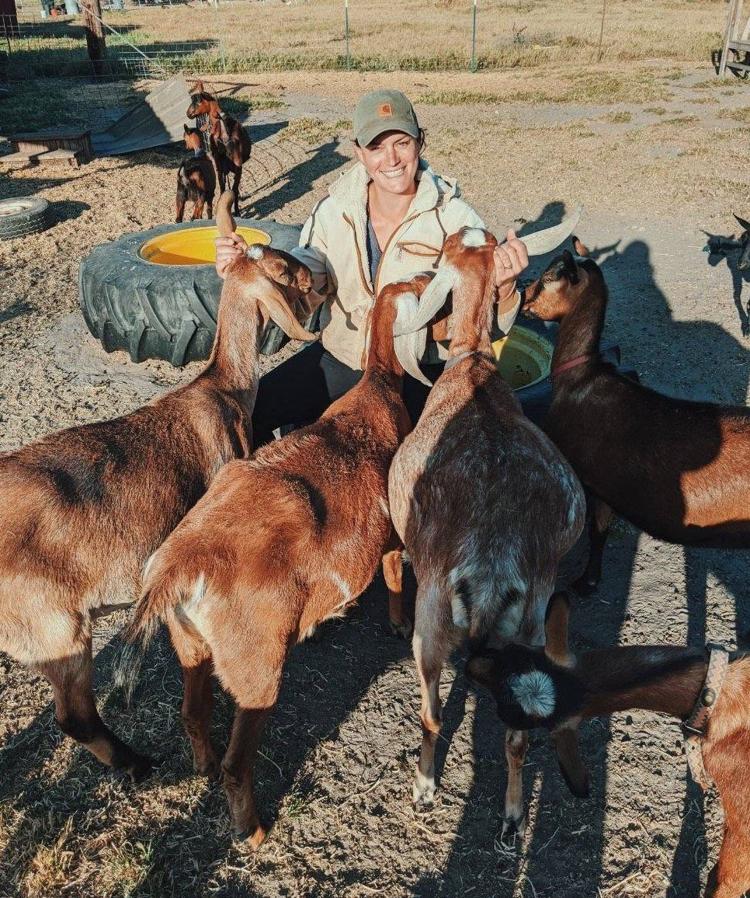 It was a blind date, and the chemistry was immediate. They were the last to leave the restaurant that evening after making plans to go spearfishing the next day, and hunting the next. The two obviously had a lot in common. Not long thereafter, Markos moved into the trailer where Cassidy lived on a horse ranch on the Gaviota Coast.
When Markos accepted a consulting position at Vandenberg Air Force Base, it inspired a move to the Lompoc area where the couple found a rental on a quarter-acre of land with plenty of room for their dogs to romp.
Over the next four years, as they (literally) grew into Motley Crew Ranch, they renegotiated their lease to what's now 10 acres surrounding the house.
"I don't think we had ever considered farming as a business," Cassidy explained. "We wanted to grow food for ourselves. We both love cooking. We both wanted a sense of food security, knowing where our food comes from."
"The truth is that Cassidy came home with a couple of goats one day and promised me goat cheese," Markos interrupted. "I said, 'OK. Let's farm.'"
"Laying chickens started it all," Cassidy continued. "And then we talked about raising meat chickens. They grow quickly and are bred to be consumed. I felt that, if I couldn't kill a chicken, I shouldn't be eating it. You have to really appreciate the animal.
"When it came time to do the processing, it was difficult. Imagine raising an animal, getting attached to it, naming it and then taking its life. But we did it. We're animal lovers, and we're processing meat that was raised lovingly, humanely, sustainably and locally."
Word got out that Cassidy and Markos were processing chickens and caught the attention of friends and neighbors. Next were two sheep and then a few goats for the ranch.
As demand grew for Motley Crew's meats, the idea that there might be a viable commercial market for the duo's products took shape.
Raising and processing animals isn't easy, but the thought of working together outdoors, working with animals and running their own business felt promising. If Motley Crew Ranch was going to become a profitable business, it needed a strong customer base, and that meant reaching out to local restaurants.
Markos went to Jeff Olsson at Industrial Eats and asked him what he needed that he wasn't getting from his suppliers. Jeff's response: "rabbits."
Jeff was the first chef that carried Motley Crew's products followed by other niche restaurants that were willing to pay the price for higher quality, locally farmed foods. Some of those restaurants now send their staff out to the ranch so that they'll feel some connection to the foods that they serve.
Given a market, Cassidy and Markos quit their day jobs and brought in more sheep and goats, as well as rabbits. Pigs followed and then cattle, ducks, geese and turkeys.
And what about the donkeys?
Donkeys raised in the wild do not like coyotes! Since Cassidy and Markos move the sheep and goats around to prevent overgrazing and occasionally take them to public properties, such as the Solvang Mission, the donkeys play an important role in keeping predators away.
Unlike guard dogs, donkeys easily graze along with the livestock, and they're no threat to the public. If a coyote enters the picture, they'll "kick butt," to quote Cassidy.
"Not long ago, we were struggling to sell all of our eggs, rabbits, chickens. Restaurants, understandably, could only take so much product," Markos said. "Now we don't have enough product because people have discovered that they can come to the ranch and buy directly from us.
"We've built a strong clientele of consumers rather than relying solely on the wholesale model," he said. "We hope that people continue to support us along with all local farmers, and to give thought to the food that they buy."
The afternoon closed with a chilled glass of Markos' homebrew and a slice of Cassidy's handcrafted feta as I departed with a bag of lemons, fresh eggs and, of course, a chicken for the grill.
The Greek expression "meraki" relates to doing something with passion, heart and soul. Motley Crew Ranch is just that!
Recognizing a demand for locally-caught fresh fish, Travis went commercial and vowed to fish responsibly and treat marine life with respect. His concern was how to operate HAHA Fishing so that he could afford to run his own business.
FROM THE VINE The 2020 harvest has begun at many vineyards on the Central Coast, and let's hope it's going to be a better year for the grapevines than it is for the general public.
Jamie Edlin heads Hollywood & Wine, a marketing communications agency geared to the wine and hospitality industries. She serves on the Advisory Board of Woodbury University's School of Media, Culture & Design and is the recipient of the 2019 Spirit of Entrepreneurship Award in Media & Communications. Jamie can be reached at Jamie@HollywoodandWine.net
The business news you need
With a weekly newsletter looking back at local history.