From the doorway of the 121-year-old Loper Funeral Chapel, solace dances with austerity as the sun's rays pierce the full-length multicolored stained-glass windows.
The light illuminates the inside of the tiny white chapel paneled from top to bottom with well-oiled pinewood and filled with pews. Dark but daintily aged chandeliers dangle purposefully, and a grandfather clock hanging from a nearby wall chimes the hour with historic importance. 
Ruth Loper, 94, who has owned and operated the tiny chapel in the Valley's township of Ballard since she and her late husband Frank bought it in 1977, is celebrating its nearly five decades as the only Valley business of its type.
The little white chapel has provided local families with a place to celebrate happy nuptials or memorialize loved ones -- and sometimes both.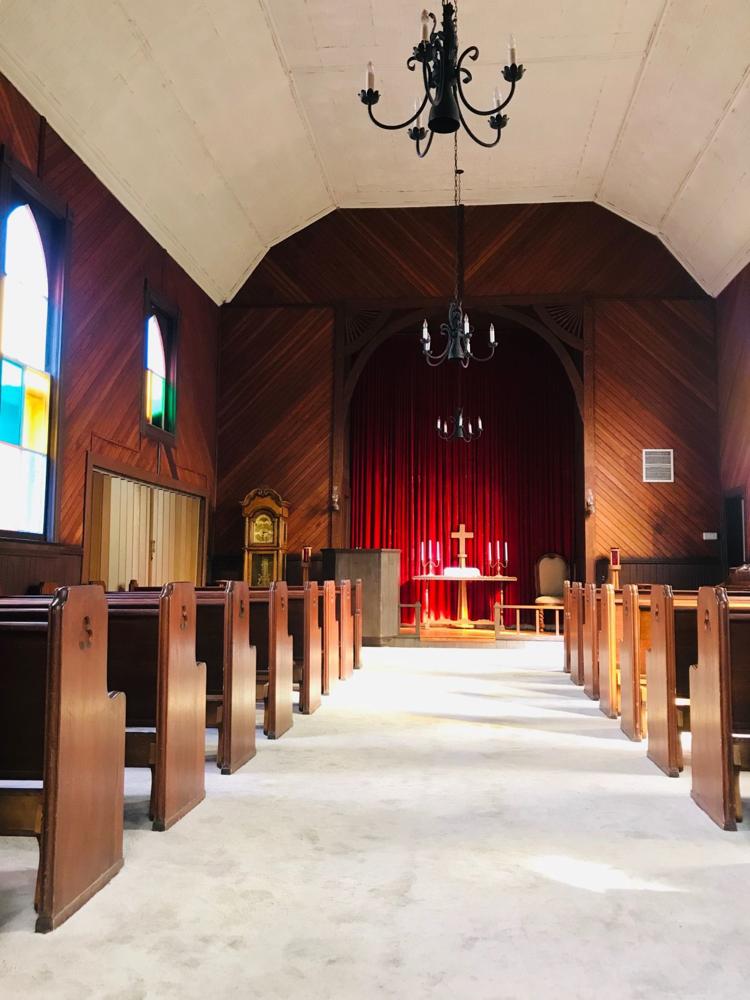 Prim and polite, you can expect to find Loper in the church office organizing someone's important event nearly seven days a week, except for two hours between noon and 2 p.m. each day, which is her lunch break. 
"I can't really stand through a whole funeral anymore. It's a bit much," she said.
Because of the amount of detail attributed to organizing both weddings and funerals, with little room for error, Loper said the business is not for the faint of heart. Accommodating each customer's needs is beyond what most would consider just a day's work.
"There's a statistic estimating it takes 90 man hours to complete just one," Loper said, referring to an individual's burial and funeral arrangements. "It takes three to four people to work on one service. People call on the weekends, too, so we have to be here."
Since her husband's death in March of 2000, her son Don and grandsons John, Jacob, David and Peter have joined the now-generational family business. Both Don and John are licensed funeral directors who provide the service that Loper can no longer shoulder.
At the back of the chapel where peace and piety reign is her office, where obvious signs of productivity can be seen in juxtaposition to the front of the house.
Thoughtfully placed piles of paperwork, obituary proofs and labeled files sit atop her desk, representing her workload and the equal importance she gives to everything.
With styled white silken hair and a smile that begins and ends with her eyes, Loper, dressed in black heels and a semi-A-line ankle-length skirt and a long vest and turtle neck, began to explain the history of the family's business until a visitor arrived.
"We have a 10 o'clock service at the Mission, you know," she said, excusing herself and shifting her attention to the visitor.
Rifling through sheets of paper, she answered the visitor and smoothly shifted her attention yet again.
Once known as Ballard Country Church or "Little White Church," the chapel was established in 1898, a block from The Little Red Schoolhouse, which was built in 1883 by Cynthia Lundsford, fiancée to William N. Ballard.
With a promise to fulfill the wishes of her fiancé who unexpectedly died, Lundsford further developed the little town that had been economically fed by the stagecoach line between San Francisco and Yuma, Arizona.
According to Loper, the lumber of the church was shipped down the coast from Oregon to Gaviota, and hauled by wagon through Gaviota Pass to Nojoqui and through Alisal Canyon, past Old Mission Santa Ines into Ballard. The steeple was ordered from a Montgomery Ward catalog, and the colored windows were ordered from San Francisco. The altar window was framed in wood from cigar boxes.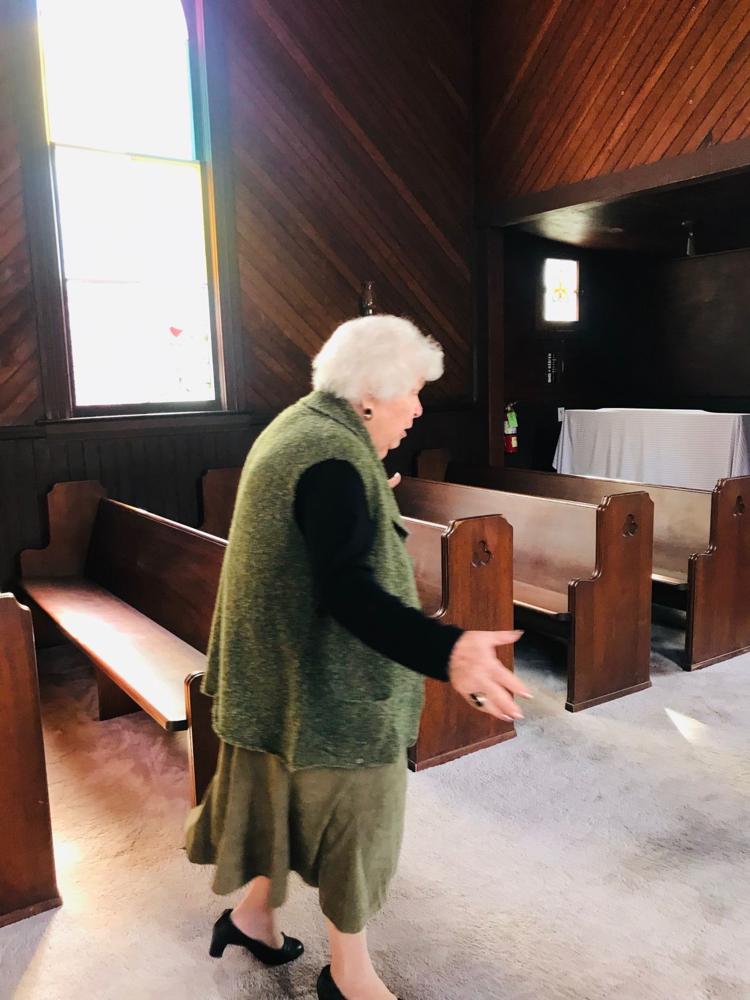 The interior, she said, is almost the same today as it was in its early days.
The Lopers originally established their funeral home in Solvang in 1972, and five years later moved their operation to Ballard, eventually buying the historic landmark.
"It was an experience," Loper recalled. "We started a business and didn't even own a paper clip!"
However, she said that with her husband's extensive background in the industry, having used his GI Bill to attend California College of Mortuary Science, apprenticing for a few years and working for different funeral homes in Los Angeles County, owning a funeral home didn't seem too far-fetched.
Shoring up the other side of the business were Loper's special skill sets that were developed through 23 years in management at Pacific Telephone, training new hires and moving vital information -- especially from Navy and Army bases during World War II.
She still calls on those skills today, orchestrating both a memorable and impeccable day for her customers.
Of the 125 funeral services they handle per year, Loper said 20 are held in the chapel, and the others are at local churches and places of worship.
And though they don't advertise weddings, she said they get plenty of inquiries from locals with a bout of nostalgia.
"I get calls from people saying, 'I went to Sunday school there, I want to get married there, too!"' Loper said.
Walking back toward the front of the church, she again acknowledges her 10 a.m. appointment at the Mission, and sets her quiet eyes on the front door.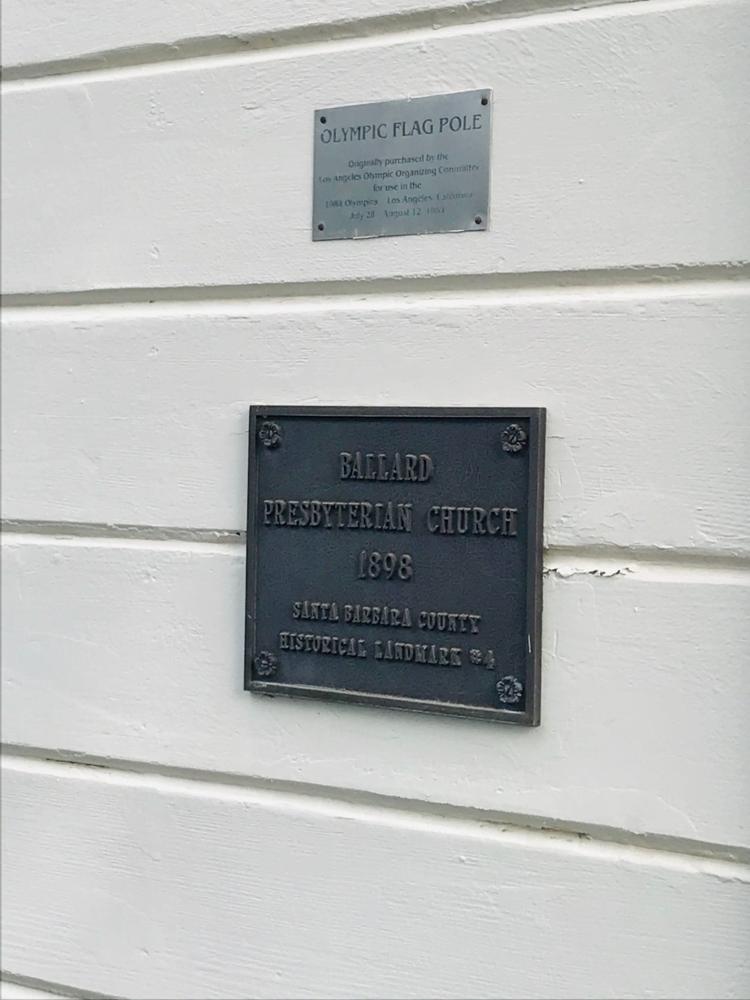 As she walks, she further explains that her ability to carry out all that she does on a day-to-day basis with precision, comes from her ability to listen.
"The main thing is listening," she said with conviction.
In her intentional, but slow-to-respond manner, she glanced around the chapel that is bright with morning sun, and said the real driver behind the success of the business has been their commitment to the Valley.
"We're devoted to this community. Someone is always here," Loper said matter-of-factly, before politely closing the front doors. "We're available seven days a week, 365 days."