Every day for the past seven months a group of hard-hat workers on heavy equipment have been seen at the old barn-shaped Sanja Cota Motel, digging and hauling material.
In late March, Douglas Gheza, principal designer of DesignArt Studios of Santa Barbara, and his team began the renovation of the 23-unit California ranch-style motel, which has been renamed "Santa Cota Motel."
And a completion date is in sight.
"Now we're really close," Gheza said, standing beside the motel's owner Lillian Lin. "We've extended the sewer 58 feet. Now we'll be able to tie that into everything around the motel, and then we can put the parking lot back together."
Looking out into the courtyard that featured a pool since 1969 — at a time when motels were filled with families traveling via station wagon — only dirt remains.
Lin said though a pool is not in the cards for the new design, a "Zen garden" with pergolas for visitors to enjoy is planned.
"People can probably barbecue out there, too" Gheza added.
Clearing out the courtyard came at a major cost, says Lin, as Gheza's team had to dig up the aged copper pipes and update them with PVC. Septic tanks were abandoned for new sewer lines, which are now tied into the public sewer system. 
Gheza further explained that beyond sewer, the bulk of the renovation costs went into new plumbing, expensive roofing, and an essential reconstruction of the motel's facade and landscaping — "basically repairs all the way through that date back 35 years."
Showing her worn hands, indicating that she is no stranger to hard work, Lin said she is anxious to begin renting the newly refreshed rooms. But until then, she tries to pass time by regularly joining the crew and pitching in where she can, like scraping off old paint from the outside of her building.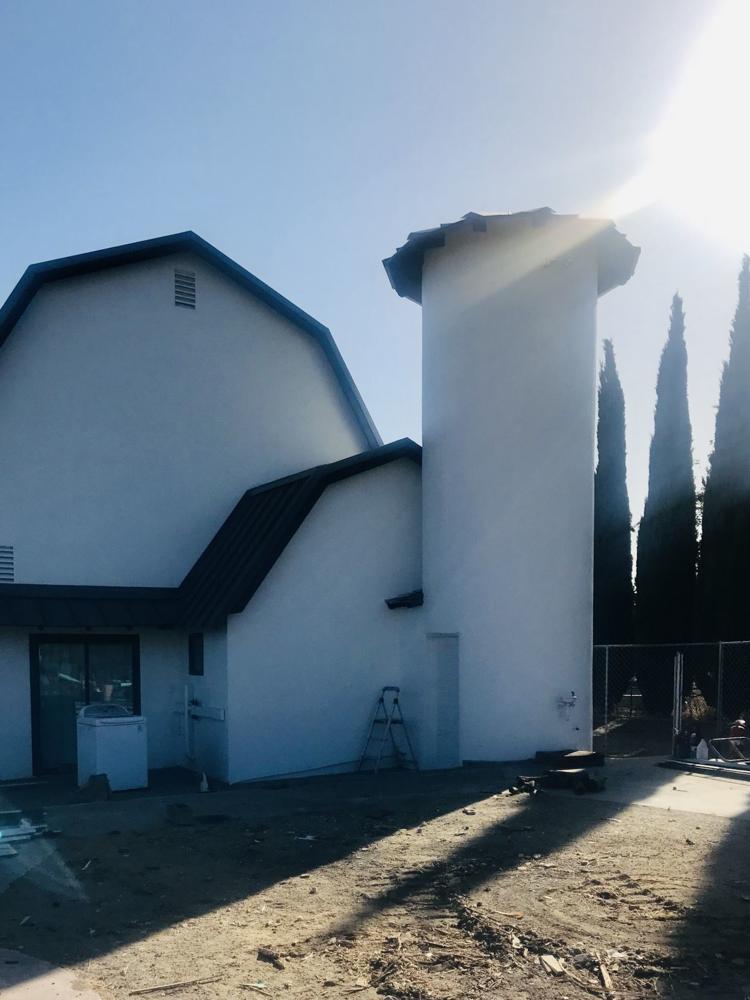 Newly coated in bright white paint harmonizing with the Santa Ynez Valley farmhouse vibe, the 8,089 square-foot L-shaped, ranch-style motel that still features its historic silo, now stands out along busy Highway 246 for all the right reasons.
"Everybody is aware of this property," Gheza said. "When I went into the planning department to first start the process, they treated me like I was a rock star. They were so excited to know that something was going to happen with this place."
Since the renovation began, two ADA-compliant rooms have been added; eight rooms were completely remodeled with new bathroom fixtures and flooring, four of which were boosted with private courtyards. The balance of the rooms which will gradually be updated as budget allows, have already been painted and the old carpeting removed.  
"It's like new," said Lin, who has owned and operated the property for the last 35 years. "We are now picking out good quality furniture for the rooms. It's all very nice — and very exciting." 
A reopening date will be announced.
Santa Cota Motel is located at 3099 E. Hwy. 246 in Santa Ynez. 
After the closing of her beloved Mattei's Tavern kitchen in June, local Executive Chef, Maili Halme, goes on the record to share about her new…
Lisa André covers Valley Life for Santa Ynez Valley News. 
The business news you need
With a weekly newsletter looking back at local history.