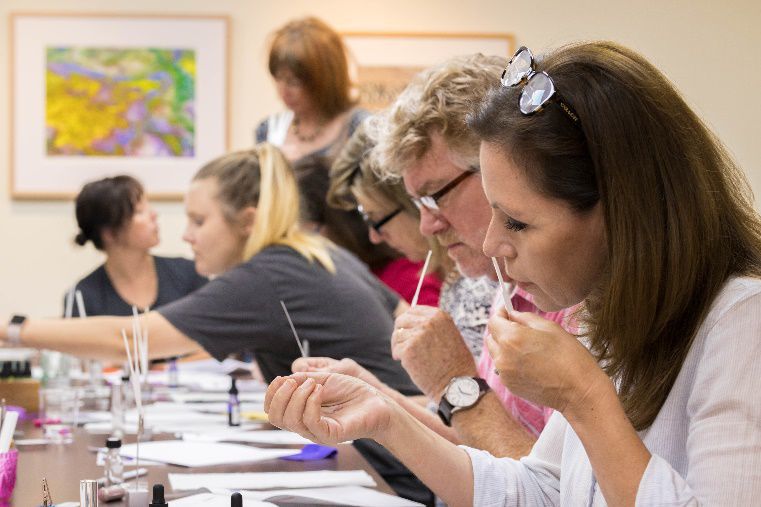 The Wildling Museum will host a Valentine's Day perfume-making workshop led by artisan perfumer of Sol Aromatics, Susan Farber, MFT, on Saturday, Feb. 8. A morning session will be offered from 10 a.m. to 12:30 p.m., followed by an afternoon session from 2-4:30 p.m., at the Museum, 1511-B Mission Drive, Solvang.
At the workshop, attendees will learn about the dynamics of natural perfume and create their own custom Valentine's Day fragrance, using oil extracts like ylang ylang, chocolate, jasmine, rose, sandalwood, and vanilla to compliment their own personal body chemistry.
The workshop will feature scent games that connect smell with emotions, images, and memories, an interactive and educational discussion on a variety of essential oils and absolutes sourced from around the world, and a custom-made fragrance and take-home guide on the procurement process.
Faber, a certified aromatherapist and founder of Sol Aromatics, began her formal studies in natural perfume-making seven years ago with master perfumers Mandy Aftel, Sarah Horowitz, and Shelley Waddington after a lifelong passion that began as a child. 
A collection of curated art celebrating the expanse and beauty of the open night sky will debut at the Wildling Museum in Solvang on Saturday, Feb. 1, from 3-5 p.m. The exhibit will remain on display through June 15.
Her collection of perfume and aromatherapy products and services are purposed to inspire positive mind, body, and feeling states supporting the spiral of life (SOL).
The workshop fee is $95 per person and includes all materials. There is a maximum of 10 participants per session, aged 16 and up.
Participants should not wear any perfumes to the class as they will distract from the perfume-making process.
To register for a workshop session, visit www.wildlingmuseum.org, stop by the Wildling Musesum, or call 805-686-8315.
For more information about Sol Aromatics, visit www.solaromatics.com. Questions can be emailed to Susan at solaromatics@gmail.com
Wildling Museum of Art and Nature's most recent film, Carrizo Plain – A Sense of Place was selected for the 2020 Santa Barbara International Film Festival.
The Lompoc Valley Botanic and Horticultural Society will hold its next meeting at 2 p.m. Sunday, Jan. 19, at Stone Pine Hall, 201 South H St.
Lisa André covers Valley Life for Santa Ynez Valley News. 
The business news you need
With a weekly newsletter looking back at local history.