It was a rare sight for Righetti High School.
But Caleb Thomas is a rare type of football player.
Thomas signed to with Tulane University inside Righetti High's cafeteria Friday night.
According to former Righetti coach Bob Jimenez and assistant athletic director Dutch Van Patten, the standout defensive lineman is only the fourth Warrior to sign with a Division I program directly out of high school.
Thomas signing with a Division I school, however, isn't too surprising. Coaches and teammates have been saying he was destined to play major college football since he was about 12 years old.
"Coming up through all the ranks, people would say, 'Well, that's a DI kid' when they were talking about Caleb," said Jeff Thomas, Caleb's father. "But until you get an offer you just don't know. So it's really great to see it all come to fruition."
Jeff Thomas said his son always played with boys two years older in youth football. Thomas spent the last two seasons dominating the varsity level after missing nearly his entire sophomore season with a major leg injury.
Thomas wasn't slowed down by the broken thumb which he played with for much of the 2018 season, leading the Warriors to the title game of the CIF Central Section Division II playoffs.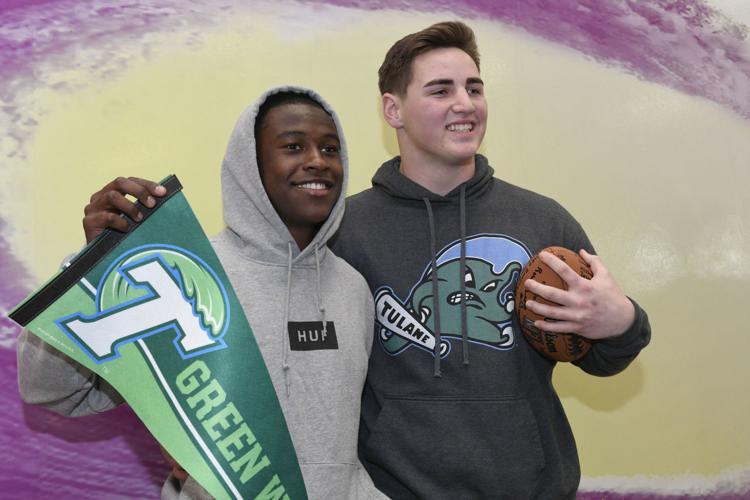 After Thomas suffered the broken bone he immediately offered to switch from playing tight end on offense to guard in addition to his defensive line chores. 
That dedication to his team struck a chord with his coach, Tony Payne.
"This feeling came over me like, man, this is the DUDE," Payne said when retelling that story. "I sure would love to play next to this guy. That's what it's all about."
Thomas had announced Tulane as his choice in December and Friday's event was just the official signing ceremony, cementing the Green Wave as his college destination.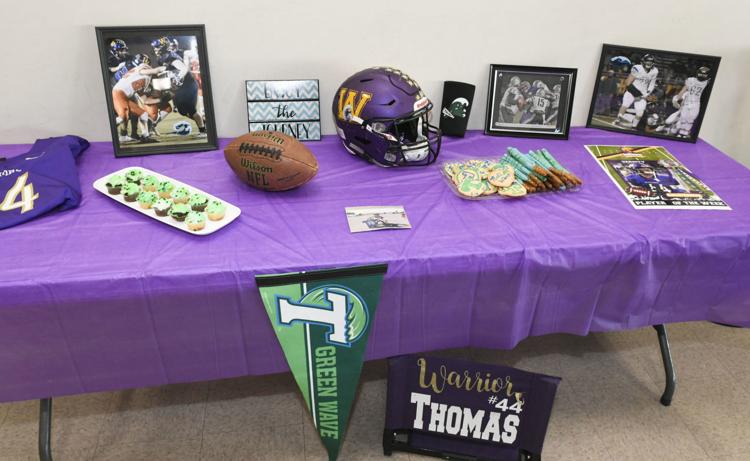 Nearly the entire 2018 Righetti football team filled the school's cafeteria to see Thomas sign the dotted line. The 6-foot-3, 270-pound interior lineman is a two-time league MVP and is the reigning LCCN All-Area MVP. 
Last season Thomas racked up 14 sacks and 16 tackles-for-loss. As a junior he had 17 TFLs and seven sacks. 
Tulane, located in New Orleans, is a member of the American Athletic Conference. The Green Wave finished 7-6 last season and 5-3 in the AAC under third-year coach Willie Fritz. 
Thomas said a number of factors sold him on Tulane.
"After I took my visit out there I was pretty sure that's where I wanted to go," he said. "They offer a great education and that's what I was looking for primarily. Also, the team and coaches are great. The team is on the rise at the moment so I decided that's the place that will be the best fit for me."
Thomas said he's entering Tulane as an undecided science major.
"I know that their program can help me in whatever route I decide to go," Thomas said.
Thomas hopes to be playing for the Green Wave this fall and is eyeing the possibility of playing at Auburn's Jordan-Hare Stadium on Sept. 7 in Alabama.
"We go to Auburn, to Memphis, we host UCF (2017 national champion)," Thomas said. "We host some good schools. We'll have some good competition this year."
Thomas signed his named on the dotted line after short speeches from Van Patten and Payne. He was flanked by his mother Shelly and father Jeff. 
"Everything feels like it's finally coming to life," Thomas said. "I leave in a couple months so I'm glad that all my friends and family and teammates could come together to celebrate one last time."