There was a lid on the basket.
There are a few clichés that could be used to sum up what happened to Nipomo Tuesday night. 
But that one seems to fit.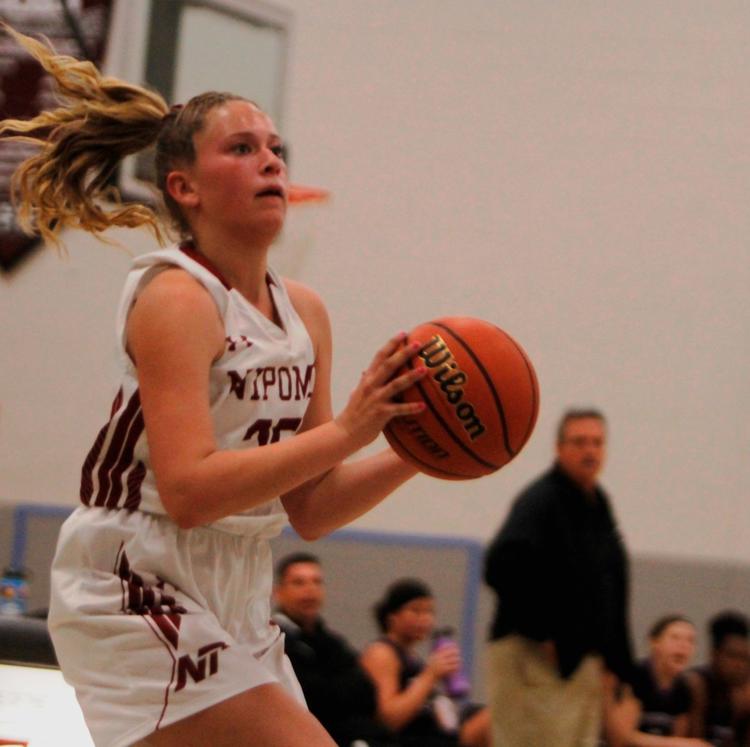 Nipomo's girls had some good looks, but, for one reason or another, weren't able to knock down open baskets. 
That led to the sixth-seeded Titans falling to 11th-seeded Tulare Mission Oak 41-36 in the first round of the CIF Central Section Division II playoffs inside their home gym. 
The Titans trailed 16-14 at halftime and they didn't just struggle from the floor, but they also had a tough night at the line, finishing 9-for-23 on free throws.
Mission Oak went 15-for-26. 
The Hawks used a full-court press throughout much of the game and threw on a zone defense that at times stifled the Titans and created turnovers. Mission Oak's size and length also created some problems, affecting Nipomo shots while also giving the Hawks an edge in rebounding.
But Nipomo still generated some clean shots around the basket. They just weren't able to knock them down consistently.
"Nothing was falling," Nipomo coach Dave Mendez said. "We were getting good looks. Playing in a home CIF game, I don't know if it was the pressure or what. I think it was our worst game all season long.
"We just couldn't knock anything down."
The Titans finish 18-9 on the season after going 11-1 to capture the Ocean League co-championship with Pioneer Valley.
Nipomo used a small rotation and only had nine players on the roster. But the Titans didn't appear fatigued Tuesday, with Nipomo defenders hounding the Hawks with a press defense of their own and closing hard in the minute of the game. 
Mission Oak built up an 11-point lead in the third quarter, but the Titans kept chipping away, eventually getting it down it down to 39-36 after a Shantille Simonson steal and score with 48.5 seconds left. 
Nipomo didn't get any closer, though, as the Hawks made enough plays down the stretch to keep the Titans at bay.
Simonson led Nipomo with seven points. Kat Anderson, Madelyn Witcher and Abbey Gutierrez each had six points. Clarissa Simonson added five. 
Though the season ended on a bit of a sour note, the future does look bright at Nipomo. The Titans just had three seniors on the team this year. They will lose contributors Witcher, Gutierrez and Janna Slover. But will return their core, including Kacie Slover, Leah Miller and Gracie Gutierrez, who all made an impact as freshmen. 
Shantille Simonson is the lone junior on the team. Anderson and Clarissa Simonson are sophomores. 
"The girls worked hard during the summer and it rolled over into the season," Mendez said. The Titans went 13-14 last year and 8-6 in the now disbanded Los Padres League. 
"They did really well with being such a young squad," Mendez added. "It was a great, successful season, no matter what the outcome was today. 
"I know these girls are going to want to get right back in the gym, but right now they need to take some time away from basketball, clear their minds and have a new mindset going into the summer and know what the ultimate goal is next season."
Mission Oak improved to 14-16 with the win. The Hawks advance to play Bakersfield Garces, the No. 3 seed, in the quarterfinals on Thursday. 
Kaylieh Lopez led Mission Oak with 14 points. Gabby Matlock added 10 and Jada Muller had eight.