Jim Stuckenberg, referred to as one of the last true "cowboy artists," has been named Vaquero Artist of the Year for the 34th Annual Vaquero Show put on by the Santa Ynez Valley Historical Museum (SYVHM).
With his artwork collected all over the world, Stuckenberg is no less revered for his tenacity than his world-renowned bronze artistry.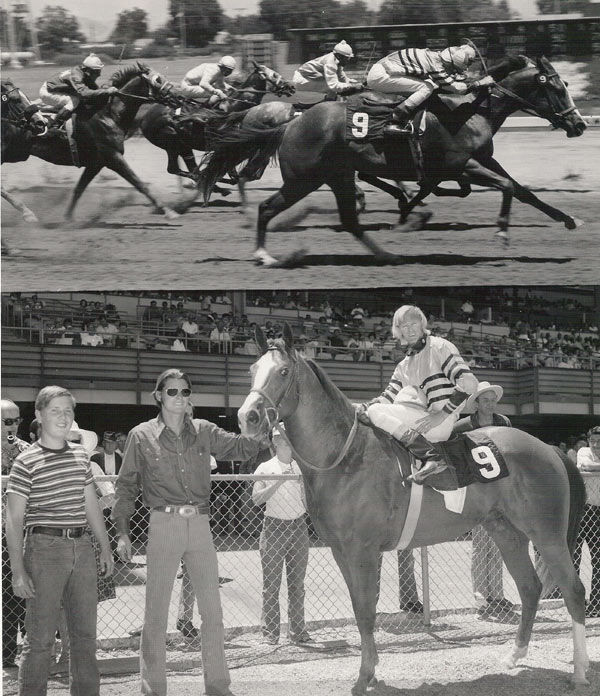 Born completely deaf in 1943 on a farm in St. Louis, Missouri, Stuckenberg learned to read lips at age four. He said in an interview via text message, that despite this challenge, it never kept him from accomplishing all that he set out to do.
"There's no reason to complain when everything is going the way you want it to go," he said.
Having graduated from high school, Stuckenberg went on to attend Fresno State University, obtaining a degree in animal science. While in college, he joined the rodeo team, participating in both bull riding and bronc riding; and in his last year of college, finished third in the West Coast bull riding standings. All this in addition to working on several large ranches, breaking horses to ride.
In the early 70's, he began racing his own quarter horses and thoroughbreds, breaking and meeting several track records on the West Coast.
His love of horses led him to work for famed racehorse trainer Wayne Lukas, where he began dabbling in watercolor painting, and eventually moved into Western sculpture, oils, pen and ink, and pencil artwork.
Then Ronald Reagan, who was governor at the time, took notice.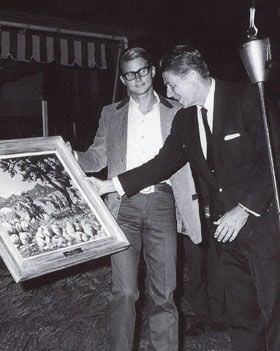 In much the same manner that Theodore "Teddy" Roosevelt was influential in helping establish Frederic Remington, it is said that early in Stuckenberg's career, Reagan was influential in helping him as both a friend and collector.
According to Stuckenberg, when it came to he and "Ronny" they had a lot in common -- conservative values, horses, and a love for the West. Despite his handicap, he said Reagan always treated him with respect and dignity.
After Reagan became President, Stuckenberg produced a highly sought after bronze of Reagan on horseback; and would later do another personal portrait for Reagan (one of his favorites) which he and First Lady Nancy Reagan took with them to the White House.
Through the years he said they spent a lot of time together riding and discussing art at both Rancho De Cielo and the Rancheros Visitadores riding club in Santa Ynez.
It takes five to 12 weeks to produce one bronze piece, and Stuckenberg refuses to produce en mass. "No one else can finish my work for me because each piece has to be as good as the original. I do all of the work myself so nothing is out of place," he said.
In addition to his works being shown in galleries and museums nationwide, Stuckenberg's artistic career and popularity grew over the decades, catching the attention of many top breeders and trainers including Lucas, Willie Shoemaker and Prince Shalman of Saudi Arabia. 
Other notable collectors are the late President Reagan, Terry Bradshaw, Jimmy Rogers (son of Will Rogers), the Hearst Family, King Ranch, Fess Parker, and Prime Minister of India, Gandhi. 
Though the demand for Stuckenberg's artwork heightened and his equestrian life as an owner and trainer of many champion horses required his attention, he said he's never missed out on spending time around the things that have given him the greatest inspiration: his sons Will, David, and Daniel -- and his horses.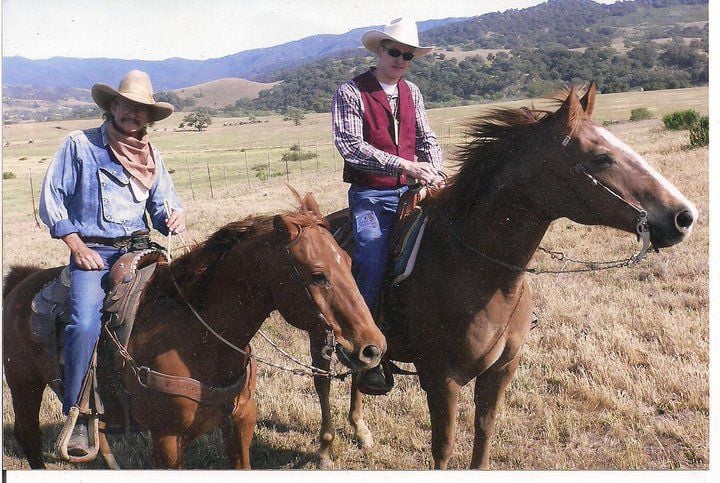 Stuckenberg will be honored alongside Vaquero of the Year Paul Righetti, at the gala dinner on Friday, Nov. 9 at 6:30 p.m., and will also donate two bronze horse head sculptures to the auction for the benefit of the Museum.
Advance ticket sales for the Vaquero Preview Party and Dinner/Auction are online at www.santaynezmuseum.org or at the Santa Ynez Valley Historical Museum, located at 3596 Sagunto Street, or by phoning 805-688-7889. Tickets for the Saturday and Sunday vaquero show and live vaquero demonstrations are $5 per day and may be purchased online or at the gate.