Fresh off of the historical fiction of "Shakespeare in Love," PCPA pulls us back to modern-day realism with "The Wolves." Sarah DeLappe's acclaimed 2016 play follows nine very different teenage girls who make up a youth soccer team. The play premiered off-Broadway, and was a finalist for the Pulitzer Prize for drama.
The Severson Theatre has been transformed into an indoor soccer facility. (Reviewing this play is the closest this theater geek will ever come to being a sports writer.) The floor is covered with artificial grass, which is not limited to the "stage" area. The audience walks across it on the way to their seats, adding to the atmosphere. (Set design by Jason Bolen.)
The nine distinctive girls are brought to life by a talented young cast. They're known only by the numbers on their uniforms: 00 (Kaylene Howard), 2 (Madison Davis), 7 (Holland Davenport), 8 (Willow Orthwein), 11 (Brooke Johnson), 13 (Bri Costello; played by Charlotte Baldiviez at the attended performance), 14 (Michaela Ferroggiaro), 25 (Katie Fuchs-Wackowski) and 46 (Victoria Sanders).
DeLappe's script avoids traditional sports cliches. There's no evil rival team. There's not even a big game to build up to. It's all about the social aspect of the sport.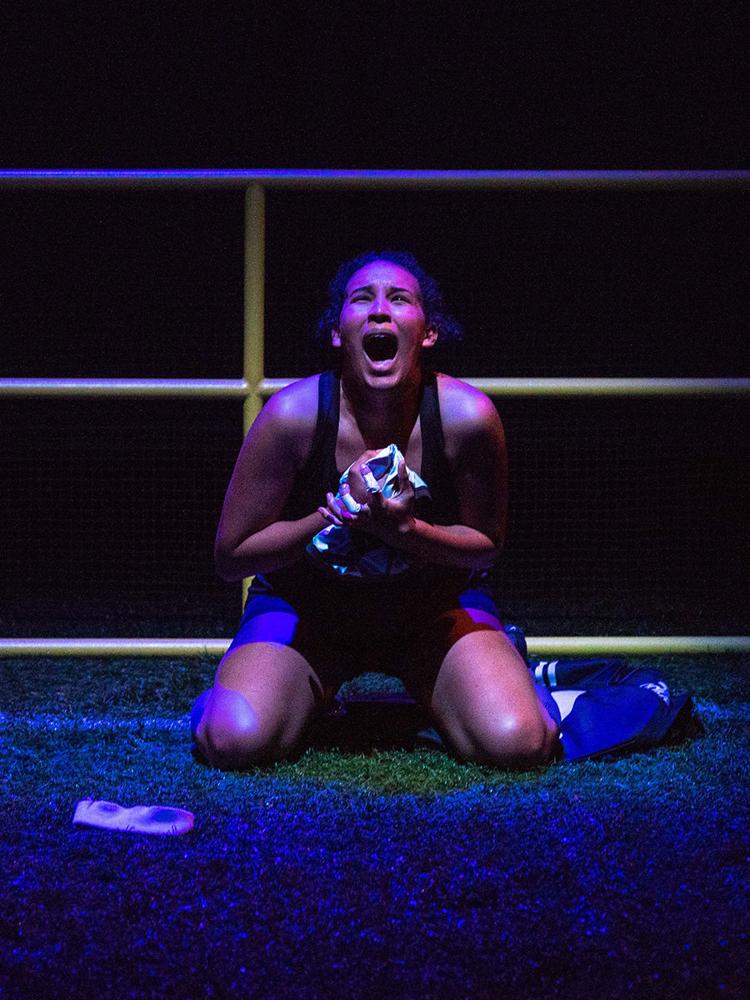 Here's how a typical scene goes: During warm-ups, a mix of topical and personal subject matter is discussed. Take the opening scene: The girls kick the ball around, while carrying on two overlapping conversations -- one about the trial of a Cambodian war criminal, the other about menstruation. The dialogue is sprinkled "likes," "ums" and tons of profanity. It's like eavesdropping on a conversation real teens might have. They veer off on tangents and get into squabbles. This sometimes leads to humor, which is carried off with good comic timing. Then someone says something that crosses the line, and someone else runs off crying. Eventually, everyone warms up for the game by chanting "We are the Wolves! We are the Wolves! As the scene ends, music blares and strobe lights flash. This transitions into the next scene, which starts the cycle over.
Halfway through, "The Wolves" gets more openly dramatic and engaging. This is most likely by design. However, that first half can be a slog, unless you're particularly interested in the topics at hand. Even after the halfway mark, the play remains a documentary-style experience. Depending on your taste, you may find that refreshing, or you may long for something more traditionally theatrical.
There's no intermission. There's only soccer players talking about things for 90 minutes straight.
The play is unique for focusing on teenage girls having intelligent conversations. In her program notes, director Karin Hendricks comments: "This is a kind of play my colleagues and I have never seen before. ..." However, it's sad that such an obvious notion is still considered remarkable in the theater. Of course, teenage girls can have intelligent conversations.
This is an ensemble piece, but 46 comes the closest to being our protagonist. She's an interesting character, played subtly by Sanders. She's socially awkward, but has had experiences the other girls haven't. She introduces the idea of soccer (aka "football") as a common thread that carries across linguistic and cultural barriers. She starts the play as an outsider, and gradually moves to the center of the group. In the process, she unintentionally takes the spot of 7, causing tensions to flare.
The goalie, 00, has social anxiety disorder. In a memorable scene, Howard lets loose with visceral, wordless screaming.
PCPA regular Kitty Balay appears as Soccer Mom. In her brief time onstage, she gives a moving performance.
"The Wolves" was not for me, but there's an audience for it. At the attended performance, it received a standing ovation. Hendricks' production certainly goes all out for the team.