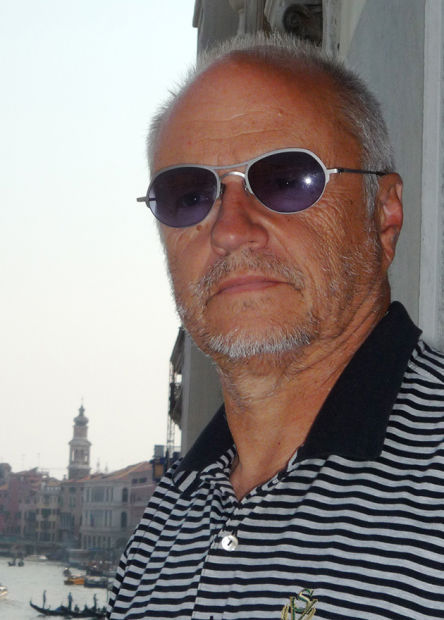 Simon Ayer will sign copies of his new book "It's Simply Simon" from 4 to 6 p.m. Friday, April 11, at the Book Loft in Solvang.
His first book has just been released, a new 70-page illustrated coffee table book that offers a hilarious and perceptive look at life.
"It's Simply Simon" features a character named Simon, whose unique, delightfully warped and laugh-out-loud funny attitude has been described as "Gary Larson meets Larry David."
"Simon blurts out what many are thinking but don't know how to express," Ayer said. "He specializes in epic rants and wicked observations, and always dances around the boundaries of appropriateness."
The accompanying line drawings by Ayer wittily capture the essence of whatever is running through Simon's brain, from his frustration at life's absurdities to his self-satisfaction at not toeing the line. In response to an unseen voice calling for help, Simon says, "I can't hear you!" As the text informs us, Simon never felt the need to help a stranded hiker. But he is also vulnerable, as another scene shows: "Simon felt like a Christmas light — only useful three weeks out of the year."
Perception is Simon's gift, or as he says, "It's my thing." Simon skewers pointless decorum with an irreverence we wish we had the courage to voice. In the process, he makes us laugh at life and ourselves.
"This is not a Kindle book," Ayer said. "You need to have it in your hands and share it with those who haven't lost their sense of humor."
"It's Simply Simon" is the first of a series of books that will follow Simon as he meanders through life and its annoyances. This is fortunate, for once they are introduced to this character's unique and refreshing viewpoint, readers will be craving repeated Simon fixes.
After 30 years in the fast-paced world of Los Angeles television production, Ayer has relocated to the Santa Ynez area to continue life as a writer with his wife, interior designer Beth Hymson-Ayer.
Show business runs in Ayer's family. His father Harold Ayer was a film and television actor, while his grandfather Nat D. Ayer was a popular composer ("Oh You Beautiful Doll," "If You Were the Only Girl in the World").
When it was Simon's turn to enter the family business, he made his mark as a casting director. From "T.J. Hooker" to "The District," Ayer put actors into the roles where they belonged during a career that spanned 30 years and a thousand hours of television. He was there at the beginning of the careers of Johnny Depp, Ryan Gosling, Sean Penn, Madeline Stowe, Michael Chiklis, and many more.
A former vice president of the Casting Society of America, Ayer won the prestigious Artios Award for the casting of "Hill Street Blues." He was Vice President of Talent of Stephen J. Cannell Productions for seven years, where he either cast or supervised the casting of "Hunter," "A Team," "21 Jump Street," "Wiseguy," and others. He and his wife formed Hymson-Ayer Casting in 1993, working on "Xena," "Hercules," "L.A. Law," "Resurrection Blvd," "Profiler," and countless Movies of the Week.
He is a member of the Writer's Guild of America, with writing credits for "21 Jump Street" and "Silk Stalkings." He also wrote material for Betty White when she did the holiday opening for "Monday Night Football."
The Book Loft is at 1680 Mission Drive, Solvang.
For more information, call 688-6010.
Stay up-to-date on what's happening
Receive the latest in local entertainment news in your inbox weekly!