Either in the kitchen or at the table, these now-locals offered their advice for other East Coasters such as myself, on where in the Valley we can ease our homesickness, and why what they bring to this region has helped to shape what we have come to know as a stand-out wine country dining scene.
"Why do we say 'in' Brooklyn, but 'on' Long Island?" Bob Oswaks, owner of Los Alamos food destination, Bob's Well Bread Bakery, hypothetically asks. As a fellow New York expat, this is a query to which I can wholeheartedly relate.
Oswaks was raised about 10 miles from my own Long Island hometown. He knows a thing or two about growing up "New York": thing "one," bagels; thing "two," pizza. And while Los Angeles is taking over the food culture scene, we must admit, the culinary drive to feed, please and succeed — along with many iconic foodie items — did most likely originate in New York.
Born and raised "Upstate," in Rochester, New York, chef Drew Terp, co-owner of Pico at the Los Alamos General Store, spent the late-2000s in New York City, where he cooked for decidedly esteemed chefs and restaurants such as Alain Ducasse at the Essex House, Jean-Georges Vongerichten, plus BarMasa and Masa at the Time Warner Center.
"Everyone in NYC was so intense. Everything was about technique. Believe it or not, great produce was really difficult to source at that time. I remember getting moldy onions delivered to Ducasse!
"How you treat the product — best quality, or less than — when it is finally in your hands, that was our studious focus. Making the very best out of every morsel. It has stayed with me to this day," muses Chef Drew.
Jeff Olsson, chef/owner of Buellton's Industrial Eats with his wife, Janet, sides with Chef Drew's sentiments. "I think it's the quality and the constant innovation that the city teaches you, 'cause if you aren't constantly innovating in NYC, then you might as well go home."
Olsson was raised on the East Coast, attended school in New York City, and then cooked in a few NYC spots in the late-80s into the early-90s, which is where and when he met Janet.
Constant crowds and drooling lines at Olsson's Buellton restaurant are evidence of the fact that the couple has parlayed their East Coast footing to the Valley — so much so, that they recently opened a new space, "Here To Go," just to handle take-out business.
Although most of us don't put much thought into this when we're dining out in the Santa Ynez Valley, these chefs and restaurant owners — with their hard-edged resourcefulness garnered from time in New York kitchens, or simply New York households — have helped to elevate our region's food scene, with great support from all that's good and local to the Valley and Santa Barbara County.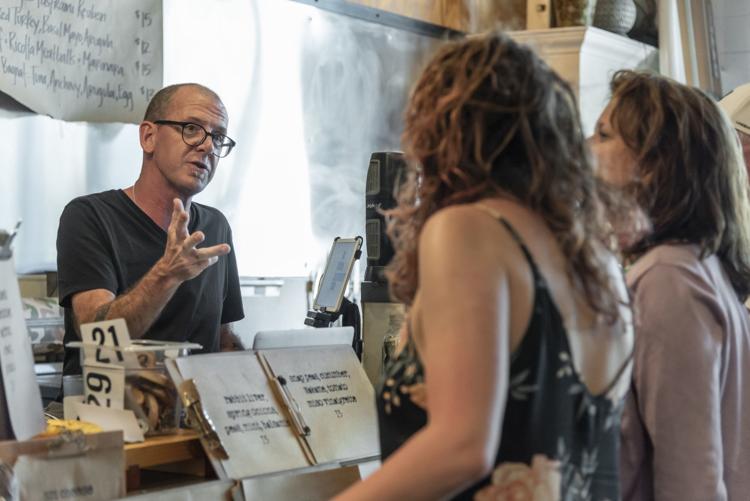 Greg Ryan, who co-owns Bell's Restaurant in Los Alamos with his Dunn School alumnus wife, chef Daisy Ryan, made his way to New York in 2005, promptly starting his hospitality industry career. He worked at Tribeca Grill and at Chef Thomas Keller's lofty "Per Se."
In 2013, the Ryans began a westward migration, eventually settling in the Valley where they opened Bell's in 2018.
Ryan explains, "A New York restaurant has such a great feeling of both high energy and warmth. We've tried to retain the same kind of feeling at Bell's — especially during dinner service. We have a small space and when it's full, there's a buzz that reminds me of being in a bustling, high-energy New York restaurant. And we hope that is conveyed to the guest here in Los Alamos."
If you've ever visited NYC — or lived there, or even plan to visit — isn't a street vendor hot dog or a slice of New York-style pizza on your must-do foods list? Thought so.
"My Persian mom had her heart set on my being a doctor. I think it was a cultural thing," says Santa Barbara wine country chef, Golzar Barrera…
If lingering St. Patrick's Day musings have you thirsting for whiskey over wine, Santa Barbara wine country will not disappoint: we have some …
Living in Santa Barbara wine country, and being involved in both the food and wine industries, I'm often confronted with the question, "Which …
The thriving culinary scene in the Santa Ynez Valley is a force to be reckoned with, as is your resulting holiday season credit card debt.