Twenty of the Central Coast's most talented young performers belted out songs and burned up the dance floor Saturday afternoon, hoping to be among the 10 acts chosen to perform May 30 on opening night of the Santa Maria Elks Rodeo.
"I frequently go to school talent shows, so I knew there was talent here," said Johnna Clark of Dellos Performing Arts Center, who developed Central Coast Kids Got Talent.
Ranging in age from 7 to 14, the rodeo show hopefuls performed for an audience of about 60 mostly friends and family gathered under the large canopy on the south side of Santa Maria Chrysler Dodge Jeep Ram.
The audience sat in rapt attention during the singing performances but often clapped along with the hip-hop dance numbers.
Saturday's panel of three celebrity judges gave the contestants feedback in the style of a reality TV talent series.
In fact, two of the judges have experience on those TV shows.
Taylor Thompson, with her sister Tori, won "American Juniors," an "American Idol" spinoff. The Santa Maria sisters then went on to become finalists on "The Voice."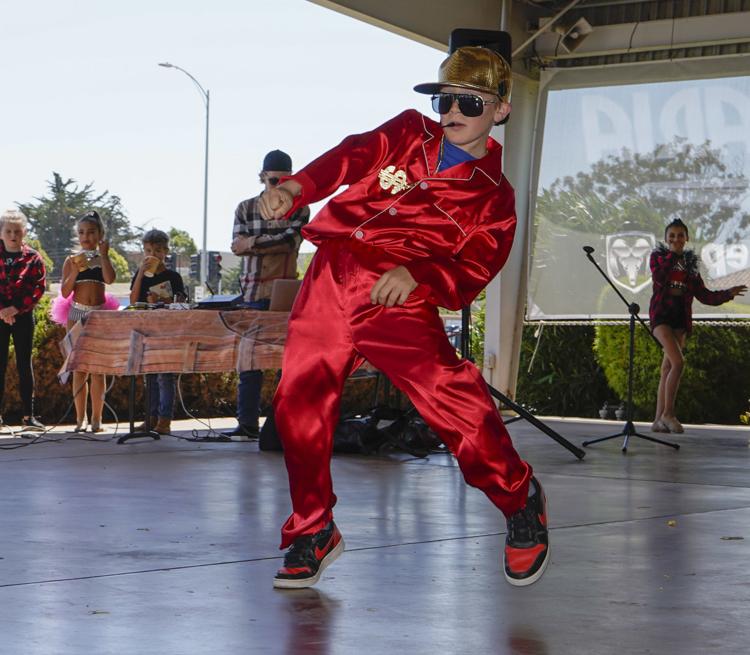 Paso Robles native Jesus Solorio, currently an assistant professor of dance at Hancock College, made it to the top 16 on the third season of "So You Think You Can Dance."
Choreographer Jason Sumabat, an Arroyo Grande High School graduate, has performed at the Ahmanson Theater and the Dorothy Chandler Pavilion, worked as a director, choreographer and producer with PCPA, Pacific Light Opera Theatre, Central Coast Shakespeare Festival and the SLO Little Theatre and is currently choreographer and director of the Central Coast Follies.
After each act's appearance, the judges told the young singers and dancers what they liked about their performance.
"Girl, you've got some power," Thompson told 11-year-old singer Tiffany Hyun. "Your pitch was right on."
"I felt your emotion while you were singing," Solorio said after 14-year-old singer Natalie Lopez performed.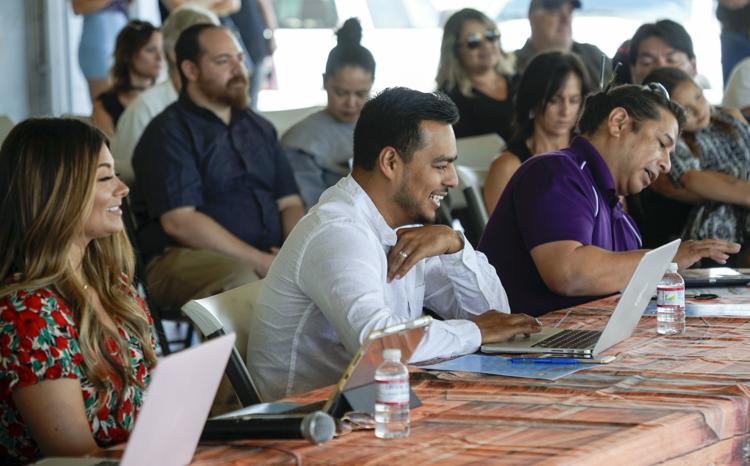 "I thought that (your) intensity was awesome," Sumabat said of 9-year-old dancer Aubree Branin's performance.
"That voice of an angel," Taylor said of 10-year-old Bella Jane Sandoval. "I did not expect that."
But the judges also gently gave some of the contestants tips about how they could improve their performances — about smiling more, having dancers extend their movements and making their lip-syncing more noticeable.
After all the performances were done, Clark told the kids all their performances were great, and while only 10 acts could be selected, she told those who aren't selected not to be discouraged.
"If not this year, then next year," she said, advising them to keep working on their talent.
The judges were hard-pressed to limit the selection to 10 and chose not to break ties, so when the finalists were announced a few hours after the show, 12 had been chosen.
In alphabetical order, they are:
• Camilla Banks and Mitra Naficy, "No Cinderella"
• Destiny Toliver, "Gimme My Check"
• Francesca Diani, "Wolves"
• Hunter McKiernan, "24K Magic"
• Isabella Sandoval, "Lost Boy"
• Jenna Ramirez, "Bahia de Cadiz"
• Kaveh Naficy, "Optimus"
• Milania Espinoza, "O Mio Babbino Caro"
• Maddie Prickett, "You Say"
• Natalia Caro and Mo Lopez, performing as MoNati, "Champion"
• Nola Micek, "Sparkling Diamonds"
Clark said the 12 acts will provide the entertainment when the rodeo honors the Golden Circle of Champions, the children and families that are battling childhood cancer.
Final winners will be chosen in that performance.