"Shang-Chi and the Legend of the Ten Rings" is the first Marvel Cinematic Universe film to be released strictly to theaters without a hybrid release on Disney+. There's been some concern from fans and critics alike regarding how that was going to work out during a pandemic.
Posts on social media referred to it as an "experiment."  Not that the movie nor the characters are an experiment — the assumed meaning of the word usage irking fans and lead actor Simu Liu. The experiment involved how the film was released.
Marvel Studios' head honcho Kevin Feige had been vocal about Disney's hybrid release of "Black Widow" back in July; the films were meant to be seen first and foremost on the big screen. And that previous hybrid release has created some legal tension between the House of Mouse and Scarlett Johansson.
And while that film felt flat and a bit late given its subject matter, "Shang-Chi" is actually fantastically paced and doesn't feel like your typical MCU entry. It's a mystical martial arts epic drawing from Chinese mythology and folklore. And unlike "Black Widow" where the Russian characters very rarely spoke in Russian, the characters in this film speak Mandarin.
It's refreshing!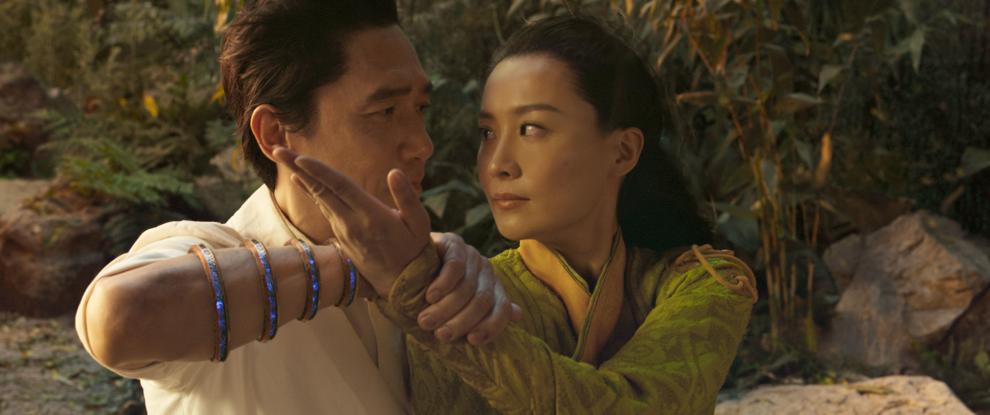 For the most part, the film follows the story of a young man burdened by a past he would much rather forget and his tentative, strained relationship with a father who simultaneously embodies strong parental love with toxic, emotionally abusive traits; Shang's father is the leader of the Ten Rings organization whose identity was "borrowed" by an imposter in 2013's "Iron Man 3."
The story feels like it has too many secondary characters and doesn't give enough time from the title character to really evolve like he needs to, but it seems that's what the hinted sequel will be all about.
Awkwafina's role as Katy — Shang-Chi's best friend — was also a surprising feature. While some critics don't care for her, and let's be honest her voice and persona can be grating on the soul, this portrayal was different. Katy is the audience's lens, seeing all these wonderful and terrifying things through her eyes.
Another highlight was the martial arts fights scenes; the title character is a kung fu master and you can tell lead actor Simu Liu trained hard for his role. That training is rewarded by having long cut scenes showing him make contact with enemies without a series of quick cuts stitched together to make the fights look cohesive like in other Marvel projects.
There are strong nods to martial arts epics of the past, including one fight sequence near the beginning that feels like it could have been a deleted scene from "Crouching Tiger, Hidden Dragon."
However, what is a bit confusing for fans of the MCU is the inclusion of veteran Chinese Actress Michelle Yeoh. This is Yeoh's second appearance in the franchise, and not as the same character. She previously appeared in a few scenes near the end of "Guardians of the Galaxy, Vol. 2."
Is this going to be a trend for Marvel to recycle actors into different roles? After all, they're doing it with Gemma Chan who had a secondary role in 2019's "Captain Marvel" and will be in this year's "The Eternals" due out at the beginning of November.
 "Shang-Chi and the Legend of the Ten Rings" is in theaters now and will begin premium streaming on Disney+ sometime later this fall.