In a practice designed to emphasize the impermanence of being, eight Tibetan monks at Hancock College's Ann Foxworthy Gallery completed an intricate sand mandala Thursday afternoon — only to destroy it within a matter of minutes.
Painstakingly created from millions of grains of vibrant and colorful sand carefully placed by hand, the highly decorative and incredibly intricate Green Tara mandala was an indistinguishable pile of sand within minutes of the first paintbrush making contact.
Tibetan monks from Drepung Gomang Monastary of Mundgod, South India, returned to Hancock College this week to complete a sacred Medicine Buddh…
"Everything is impermanent — our house, clothes, people, countries," Geshe Monlam Gyatso, leader of the group of monks from the Drepung Gomang Monastery in southern India, told the crowd before destroying the artwork.
Gyatso said destroying the mandala — a representation of Tara, a female Buddha known to provide protection from fear and doubt — consecrates the sand and helps spread peace and compassion by imbuing it with healing and peaceful energies.
Following a small procession, Thursday's ceremony ended at the base of a large magnolia tree outside the gallery. Amid a chorus of chants, prayers and music, Gyatso scattered the sand into the grass and dirt, allowing the mandala's healing energies to spread throughout the community.
"The act of meditating and mindfulness is such a powerful and universal experience," said XiXi Zhai, a wellness program specialist for the college.
After watching the opening ceremony online, Zhai said she was drawn to the closing by a desire to witness and participate during the event. She hosted Gyatso at the first of several mindfulness seminars for students on Wednesday afternoon, and on Thursday she helped other volunteers scoop small amounts of the sacred sand into small plastic bags for attendees to take home.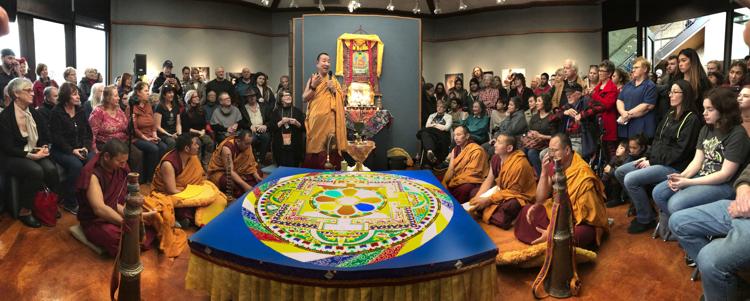 "Hearing about mandalas and having the monks here, it's not like that happens everyday," she said. "It feels right, and I'm so grateful to be a part of it."
On Thursday, the monks participated in a cultural performance at CORE Winery in Orcutt, sharing authentic Tibetan traditions through chanting, music and special performances. Shell Beach couple Stan Tillman and Edith Rodacker, who hosted the monks during this portion of their Central Coast tour, spoke highly of their once-in-a-lifetime experience. From shared meals to strolling down the Pismo Beach Pier, both say they enjoyed the time they spent as hosts.
"We felt very peaceful and very calm ... because of the energy of peace, love and compassion they bring," Rodacker said.
The latest visit — the monks' fourth since 2013 — was part of a yearlong tour of the United States to raise money and support for roughly 1,700 refugee monks living at the southern India monastery after persecution by the communist Chinese government prompted them to flee in 1959. The funds, Gyatso said, will pay for food, education and medical care at the monastery.