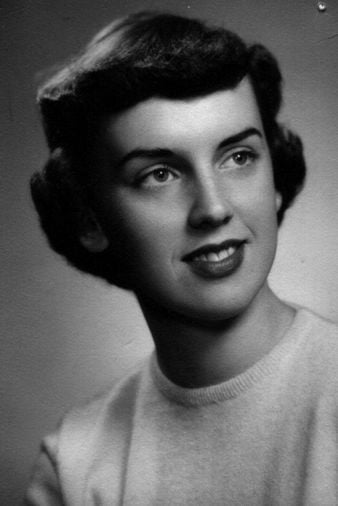 Carole May Mattoon (Barthuli) Eckhardt was born on July 4,1937, in Fresno, CA. Consistent with her star-spangled birthday, Carole was known for her sparkling personality, fiery wit, and a flair for the dramatic. She was the daughter of Genevieve and Newell Mattoon and the sister of Joyce Elaine Mattoon Coffey. As a young child, her family lived in Fresno. In 1952, her parents purchased the Big Creek General Store. Life in Big Creek, her summer job at Camp Sierra and her summer trips with Aunt Lora to the Tioga Pass Resort gave her an enduring love for the Sierra and it was there that she first met the young park ranger, Wymond Eckhardt, in 1954. Carole graduated from Sierra High School in 1955 where she was active in the school's drama program. After high school, she attended Simpson Bible College in San Francisco for one year where she studied the organ.
In 1957, she married former spouse Wallace David Barthuli of Sanger, CA. In 1959 their first-born, John David, died at birth. In 1963, Kathryn Elaine was born. She was followed by Jennifer May in 1966. The family moved from Fresno to the Sanger countryside in 1970 where they loved rural life on the Del Rey ranch and enjoyed beautiful summers at their Huntington Lake cabin.
Carole returned to school in 1969 attending Fresno City College and eventually graduating with a teaching credential from Fresno State University in 1977. In 1979, Carole reconnected with Ranger, and now university Professor, Wymond. They were married in 1980. The couple retired to Santa Barbara in 1990 and eventually to their ranch in the Santa Ynez Valley where they spent many happy years being grandparents extraordinaire. A lovely lady in every sense of the word, Carole delighted in her "career" as a wife, mother and homemaker. Her home and garden were always warm, beautiful, comfortable and welcoming to all.
When Carole took her first piano lesson at age seven, it ignited a talent and passion that she shared extensively throughout her life. She bestowed her love of music upon her family. As an active member of the Fresno Central Seventh-day Adventist Church, she played a vital role as pianist, organist and choir accompanist for many years. Some of her family's fondest memories are of Carole at the piano. She had a magical gift and touch!
Carole died peacefully in the embrace of her daughters on November 17, 2019. She will always be remembered by adoring family and friends for her lavish care of others, her witty solicited and unsolicited advice, her abiding love for family and friends and her deep faith in her Lord and Savior, Jesus Christ. She is survived by her children Kathryn and Vahid Imani of Solvang, Jennifer and Steve Berman of Santa Ynez and four beloved grandchildren David Shahin Imani, Andrew Kahmyar Imani, Emily Wallis Berman, and Olivia May Berman. Step-granddaughter Mersedeh Sarah Imani-Ruiz and three step-great-grandchildren, Asalah, Ilyas and Allistair, were also very dear to Carole's (G.G.'s) heart.
The family wishes to thank friend and caregiver, Kim Sayre, and the caregivers at VNA Health, LivHome, Friendship House and Atterdag Village for their loving care of Carole during her long and trying illness. A memorial service will be held on Sunday, December 1, 2019, at 1:00 pm. at Bethania Lutheran Church in Solvang. In lieu of flowers, donations can be made in Carole's honor to www.hoperefuge.org.
Loper Funeral Chapel, Directors
Obituaries Newsletter
Sign up to get the most recent local obituaries delievered to your inbox.