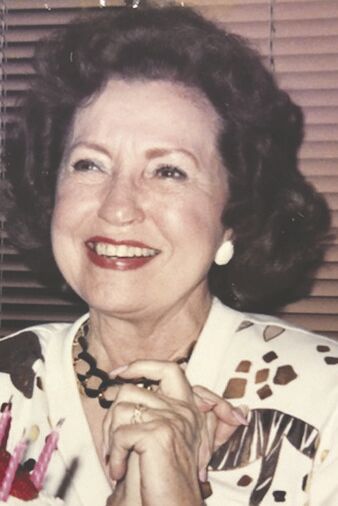 Edna Spinelli, a resident of Solvang since 1992 passed away at the Atterdag Village Care Center on January 16, 2021. She and her husband, Gabe, who predeceased her in September 2019, lived in Solvang until health issues led to a move to the Atterdag facility.
She was born the youngest of four sisters in Montgomery, Alabama, meeting and marrying her first husband, Paul McConnell, while he was training there for service in the US Army Air Force during World War II. Paul went missing in action after a bombing mission in France but after eight months he managed to escape uncaptured and eventually returned to the USA. The couple lived variously in Indiana, Tennessee, the San Francisco Bay Area, New Jersey and Kansas before returning to California for good in 1959, when they settled in Glendale. They raised three children: Paul II, who lives in England with his wife Trisha; Tom, a longtime resident of Santa Ynez with his wife Linda; and Jeanne, who with her husband Leo Glover also resides in Santa Ynez.
In 1990 Edna remarried to Gabe Spinelli and they subsequently relocated to Solvang to be close to Tom and Jeanne.
Edna took great pride in interior decoration and created welcoming and elegant homes wherever shed lived. Shed maintained a high degree of skill in cooking, especially the traditional southern dishes of her youth. She was very devoted to her family and enjoyed the company of her three children, four grandchildren and, more recently, as total of nine great-grandchildren, who live in Santa Ynez, Santa Monica, Scotland and Australia.
Edna is survived by her sons and daughter as well as grandsons Paul and Michael, granddaughters Sarah and Kelly and great-grandchildren Harvey, Imogen, Sebastian, Jake, Dylan, Benjamin, Scotch, Ryan and a very recent arrival Edna was delighted to see, Mason Duke.
A celebration of Ednas long and happy life will be held when circumstances allow. She will be greatly missed, but she leaves a lasting legacy of love.
Obituaries Newsletter
Sign up to get the most recent local obituaries delivered to your inbox.