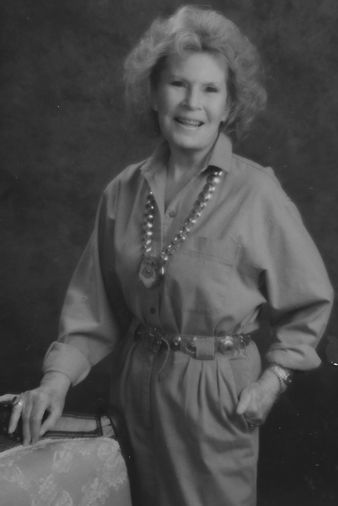 Pat Murphy left her beloved Valley, friends, and family peacefully, joining those who she had loved and lost before, on May 13, 2019, just after celebrating her 94th birthday.
Patricia Patterson Murphy was born in Waterloo, Iowa in 1925. Although she was raised in California by an aunt and a grandmother, after her mother died, she had Iowa in her heart and always loved cornfields, cattle, horses, sheep and country life. She graduated from Los Angeles High School and studied Interior Design and Architecture at USC where she pledged Delta Delta Delta Sorority.
After marrying Rex Murphy, together they designed and built their first family home in a rural area near Covina, California, where Pat could ride in the oak covered hills on her palomino horse, Golden Oak. They had one daughter, Shannon, who was the light of their life. In preparation for purchasing acreage in the Santa Ynez Valley, Pat enrolled in Animal Science at Cal Poly Pomona and became interested in Suffolk sheep. Rex had his own successful business, Rex W. Murphy Engineering Company, and together they again designed and built their second home here in the Valley in 1970. Pat established a registered Suffolk sheep business which she operated for more than 25 years. Shown at fairs and expositions, the Spirit Oaks Farm flock was known throughout the country.
Pat served on the Solvang Board of Human Services, founded Friends of Youth in Agriculture, and volunteered on various committees throughout the Valley, fundraising, preserving and championing agriculture and rural life. A Veterinarian Science leader for Lucky Clover 4-H, Pat was also active in helping the local Santa Ynez F.F.A. program. She was appointed to the Santa Barbara County Fair Board by the Governor and served for 12 years. Always a contributor of new ideas for raising Fair attendance and improving the fairgrounds, she suggested and designed the decorative gazebo that stands on the grounds. To encourage youth, she established a competition for young exhibitors vying for Santa Barbara County titles for Cattle, Sheep and Swine Herdsmen.
Pat was a founding member of the Santa Ynez Valley Equestrian Association and served on the Board for 19 years. She deeply loved horses of all breeds and was active in various Valley celebrations honoring them including the Horseshoe Crosswalks at the intersection of Edison and Sagunto Streets in Santa Ynez.
Pat so enjoyed the Valley people and their history that it became her passion and her joy to celebrate them…a true labor of love. She was the author of Santa Ynez Valley Secrets,
a book recounting the local history as well as the adventures of hundreds of Valley residents, which received wide acclaim, selling out with each edition. As a freelance writer for 47 years, she wrote a column titled "Wool Gathering" for the Santa Ynez Valley News, and later one called Inside News. She also wrote a column titled "On The Social Scene" for the Santa Barbara News-Press. She wrote social columns for the Montecito Journal, and the horse oriented "Hoof Beats" for the Valley Journal. Her articles appeared in the Guest magazine as well as such national magazines as Western Horseman, California Thoroughbred, Countryside, Cowboys and Indians, and Das Tier in Germany and publications in England.
She was preceded in death by her husband Rex Murphy. She leaves her daughter Shannon Clay, son-in-law Doug Clay, grandsons: Carson (Bianca Reyes Clay), Connor and Caden Clay, and a great-grand daughter, Eden Murphy Clay.
Private services were held by the family at Oak Hills Cemetery on May 24th.
Her family cordially invites you to join them in a toast, to revisit old friends and great stories and to celebrate Pat's Life from 4 to 7 p.m., Thursday, June 13th at the Santa Ynez Valley Historical Museum, 3595 Sagunto Street, Santa Ynez.
In lieu of flowers, donations can be made to the Santa Ynez Valley Historical Museum & Parks-Janeway Carriage House, P.O. Box 181, Santa Ynez, CA 93460 or the Santa Ynez Valley Equestrian Association, P.O. Box 207, Santa Ynez, CA 93460.