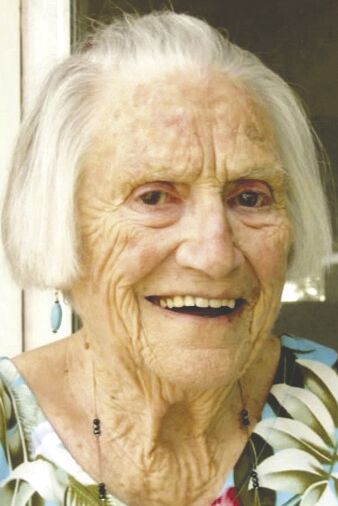 Ruth Elaine Sahm was born December 6, 1926 in Jackson, Michigan to Carl Purdy and Alberta Bigford. She was the eldest of seven children: Roy, Dorothy, Gayle, Norman, Richard, and Kay. After graduating from Vandercook High School she completed communications school and moved to California at age 19.
She lived in Venice Beach and worked for Douglas Aircraft Co. where she met and married Dan Bellows. They had two children, Dana and Steven. The family moved to Los Olivos where Dan was principal of Los Olivos Elementary School. Dan died suddenly, leaving Ruth a widow with young children.
She moved to Santa Barbara and found a home on the Mesa near the shoreline, working for Santa Barbara County Education Office in the payroll department. Ruth was courted by Dairyman Howard Sahm and they married in 1955 at the Ballard Chapel. Daughter Cheryl and twins Norman and Catherine completed their family.
Ruth worked tirelessly for her family and community. Pythian Sisters, D.A.R., Santa Ynez Valley Riders, 4-H leader, school board member, first female glass contractor in California - owner of Solvang Glass Company (now Brothers Glass) and first female Exhalted Ruler of Santa Ynez Elks Lodge #2640.
She was a ground breaker for women and fearless in her pursuits. She raised five children, several foster children, and cared for aging parents. Ruth loved Angels baseball, gardening, adventures, camping, a good road trip and pie for breakfast. Ruth was remarkable, loving, endlessly patient and kind.
Her family, sons Steven (Bobbie) Bellows and Norman (Kristi) Sahm and Daughters Cheryl (Carl) Birkelo and Catherine (Mike) Garley, grandchildren Paul and Catherine Birkelo, and Samantha and Wyatt Garley will miss her always. Private memorial pending.
Donations to Santa Ynez Valley Humane Society, SYV Youth Recreation, and Santa Ynez Elks Lodge #2640.
Obituaries Newsletter
Sign up to get the most recent local obituaries delivered to your inbox.