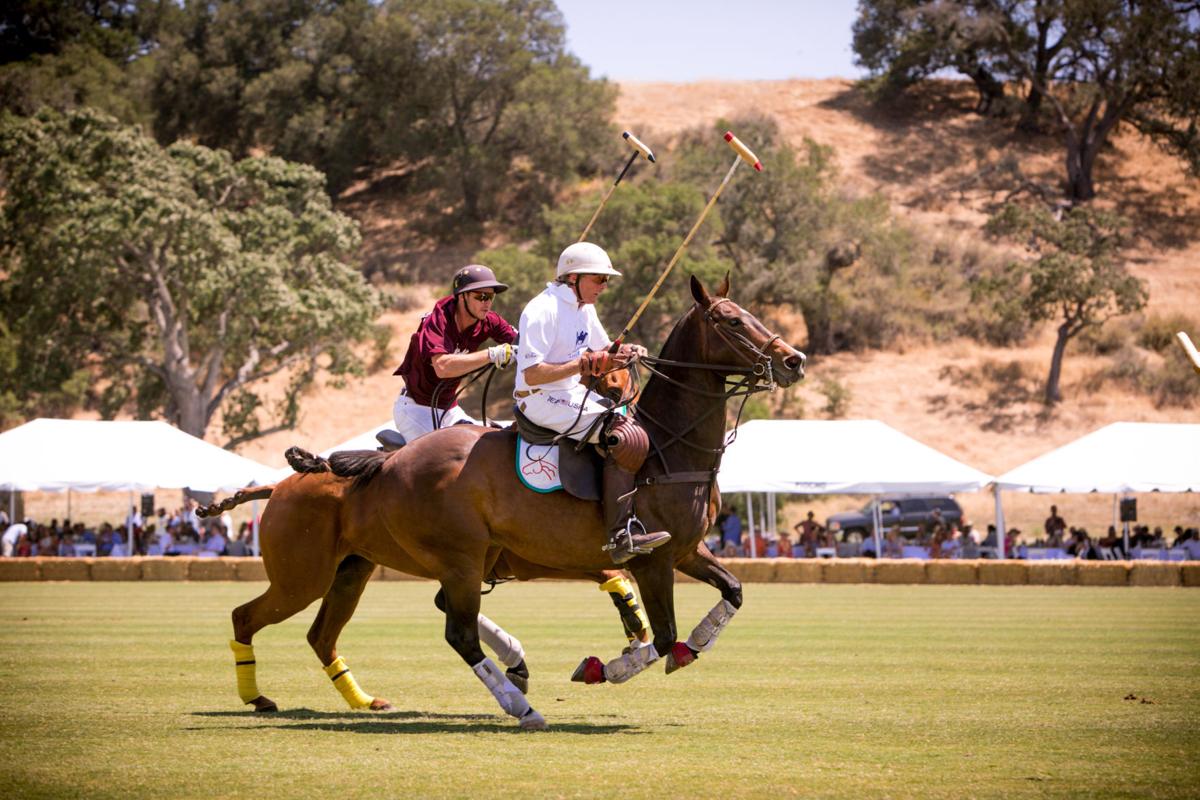 Perhaps the reason that polo rhymes with solo is because it undoubtedly stands alone as the most elegant of all sports. It is virtually impossible not to enjoy watching a polo game as gentlemen astride powerful horses ride across an emerald field.
A big "WOW!" goes to Nancy Hunsicker, Mila Hart and their committee for planning this event. Many Valleyites were saying that the SYV Polo Classic, which was held on behalf of Santa Ynez Valley People Helping People, was the top social event of the year!
It was held at Tom Barrack's Rancho Piocho in Happy Canyon. The Barrack family and their staff really outdid themselves to make everything perfect. Thank yous also go to the many people who stepped up to help in various ways: Fred Steck, Michael and Phyllis Hennigan, John and Michelle Kuelbs, Leanne Overton, Harold Williams, Nancy Englander, Missy and Emily Capone, Jennelle St. Marie, Paul Slavik, Roger Bower, Hal and Lynn Barza, Joe and Katie Russell, Ron and Shirley Heck, Owen Schafer, Fred Gallo and Joan Bradshaw, Mike and Carolyn Balaban, Bill Wathen, Becky Barieau, Barry and Melina Pyle, Mike and Kathie Gordon, Bob and Lynn Sinclair, Manuel and Theresa Valdez, Dick and Nan Walden, Dr. Ralph Neder and Nikki Soich.
Our local celebrities took part with Olivia Newton-John and Bo Derek tossing out the first polo balls. Bo is an accomplished rider -- her favorite mounts have been Andalusian horses. Polly Firestone Walker called the action on the junior prematch and our very own Olympian Charlotte Bredahl-Baker gave a demonstration of dressage.
The theme was elegance and Valley ladies and gentlemen complied. Ladies in stylish summer dresses and beautiful hats made people watching an added attraction. The ladies' hat contest was a milliner's dream, as chapeaus of every style and hue were selected by style-conscious gals.  
As you undoubtedly know, a polo game has two teams and each is made up of four players. Members of Team Piocho included our host Tom Barrack, Memo Gracida, Nacho Figueras and Sterling Giannico. All are very experienced players and Barrack (who loves the game so much that he created his own polo field right there on his ranch) has played on the winning teams of many national and international polo teams.  
Figueras is a fine player and also a spokesman for Polo Ralph Lauren fragrances. Team member Gracida held the title of polo's highest-ranking player with 10 goals for 21 years!
Team U.S.A. included our own Valley polo star Joel Baker, who also has his own polo field. He has played on an endless numbers of winning teams over the years, and is a top coach. Last year he led the U.S. national polo team to a silver medal finish at the 2015 World Championships. He just celebrated his 70th birthday! What a guy!
Team member Remy Muller was first introduced to polo as a child of eight and has enjoyed success on many winning teams. Jesse Bray also started as a young boy and won the Willis Allen Award which recognizes the all-around player, sportsman and horseman under 25 years of age. Felipe Viana is from Uruguay but moved to Charlottesville, Virginia, to attend the University of Virginia. 
It was fun sitting with Neil and Karla Zuehlke, Richard and Sharon Kline and Mary Bahnkin. Neil was so anxious to show off how well his new knee worked that he did the tango with one of the waitresses. Other attendees of note were Shayna Rockwell, Laurel Roberts, who is now training over 60 thoroughbreds for racetracks. Laurel's parents, Pat and Monty Roberts, were one of the Platinum Mallet award sponsors.