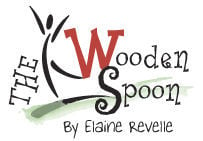 It's been brought to my attention that I have a reputation I feel is undeserved. Actually, I wouldn't mind claiming the rep, but it's definitely unearned.
I've met more than one reader who thinks I don't have failures in the kitchen. Not true. I just don't write about recipes that go wrong. To be honest, I do have my share of kitchen catastrophes. However, since I'm limited to space, I prefer the Spoon be a forum for success.
My advice is forget your failures. I do.
After a particularly grueling start to my summer I felt in need of comfort food, and they're all white. For instance, I find solace in buttery, mashed potatoes with a generous sprinkling of freshly-grated nutmeg. Also on my list is vanilla ice cream, raw cauliflower, rice cooked in coconut milk, and my all time favorite, tapioca pudding.
Feeling the need for one of the above and wanting to super-size the effect, I decided to experiment. Hmmm, if rice is wonderful when cooked in coconut milk, how delicious would tapioca pudding be if I made that same switch?
To make a long story short — don't try it. Not one of my better ideas. I had to toss the entire batch, a true example of that old saying, if it ain't broke, don't fix it.
I made a second batch, bathed my weary soul in its luscious goodness, and figured with summer ending and school starting there may be others searching for some food-related comfort.
The Nielsen's Market tradition of providing local food and friendly service continued July 1 when long-time locals Greg and Teresa King took o…
Let me explain my mashed potatoes. Long ago I had a Dutch friend who didn't serve gravy with mashed potatoes, but there was something magical about the way she prepared them. I wasn't used to mashed potatoes without gravy, and while she never made any, I loved her unadorned version.
Her secret? Heat cream with an embarrassing amount of butter, mash the potatoes, combine them with the buttery/creamy/steaming mixture, add a whopping amount of fresh-grated nutmeg and whip with a fork. It's amazing.
The results are the fluffiest, creamiest, tastiest potatoes ever. And trust me, if you are in need of comfort, give this one a try. You can't feel bad after eating a heaping helping of what I call Coby's mash.
This week it's my grandmother's famous tapioca pudding. My all-time, go-to comfort and celebration food. I always take the extra optional step and make the creamier version. Also, I'm guilty of spooning big dollops of slightly cooled pudding into a bowl and topping it with fresh, not whipped, whipping cream.
Plus, I confess, I often double or triple the basic recipe, this is sooooo addictive.
3 tablespoons plus 1 teaspoon minute tapioca
1/2 cup whipping cream, optional
Separate egg. Place white in a large bowl. Mix tapioca, three tablespoons sugar, salt and milk in a large saucepan and stir in yolk. Mix well and let stand for five minutes. Beat egg white until foamy. Add rest of sugar — one tablespoon — gradually and continue beating until stiff, not dry, peaks have formed. Cook softened tapioca over medium heat, stirring constantly, until mixture reaches a full boil. Continue cooking and stirring until tapioca has thickened, about two to three minutes. Add tapioca to beaten egg white gradually and fold until well-blended. Stir vanilla into pudding and cool. Serve warm or chilled. Can be garnished with fresh fruit, fruit or chocolate sauce and/or lightly sweetened whipped cream.
*For an extra-creamy version, beat whipping cream to peaks, add heaping 1/2 teaspoon sugar — granulated, not powdered — and a teaspoon or two of vanilla. Continue beating to stiff peaks, don't over beat and make sweetened butter, and fold gently but thoroughly into cooled pudding.
The Hitching Post Wine Tasting Room in Buellton will mark its first year anniversary with a special celebration on Sunday, Aug. 18, from 11:30…