As read from Brooks Firestone's book 'Valley Animals: True Stories about the Animals and People of California's Santa Ynez Valley,' Part II, page 49-150: Disaster Date.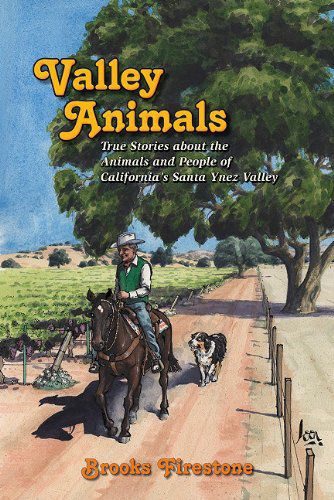 In other Valley Animal episodes, Charlotte Bredahl is described as our Olympic Champion dressage rider and Joel Baker as a seven-goal polo player and on the winning National Championship team. These are world-class horse people, but it did not seem so on their first date.
Joel was lucky enough to meet the gorgeous Charlotte and she agreed to go on a riding date with him. He knew of a remote location near the Guadalupe Dunes with access down a cliff for a romantic ride on the ocean beach. This was just the thing for two great riders, except that Joel, always practical, brought two green four-year-olds for a little training exercise, as long as they were taking the ride anyway.
They arrived at the top of the cool, windswept beach and the horses' eyes widened and their ears pricked up with shivers of excitement. Charlotte took one look at her young horse and the cliff path and said thank you very much, but she would rather lead the horse down. So at least they got to the beach in good shape, but now the fun began, because these horses had never seen the ocean.
Joel was hoping to get a little experience and training into his young Thoroughbreds, so he suggested Charlotte take hers into the water. The horse snorted and balked, and she came up with the idea of backing him into the water so he did not see the approaching surf. Unfortunately, without warning, a wave came swooping in and inundated the horse up to his saddle girth. He ran deeper into the water and started bucking and soon had himself soaking wet and Charlotte in her beautiful boots and breeches out of the saddle and immersed in the surf.
But this was the first date, and Joel helped Charlotte back on as they both laughed at her saltwater drench. Then it was Joel's turn. This time, another big wave caught him riding in the water, and he and his youngster were over sideways, putting horse and rider completely under water. Finally the water-logged couple on their dripping horses set off down to the beach to the amazement of a few onlookers, who thought this couple probably had never been around horses before in their lives.
The wind and water began to feel cold, so the couple decided to return to the truck and trailer and call it a day. Once again, Charlotte took one look at the cliff and asked Joel to lead her horse up while she walked. It was a good call. Somehow the lead rope from the horse behind became caught under the tail of Joel's horse in front. Horses have no patience whatsoever for a rope tucked under their tail, and this one started bucking and promptly put Joel into the bushes at the side of the trail as both horses ran for the trailer. Joel's cold, wet, scratched, bruised, and humiliated condition began to wear on the joys of this first date. Charlotte shivered and pondered as they drove home.
However, fortunately for all concerned, any discomforts on the way home must have worn off quickly, as Charlotte and Joel have been happily married for many years. Beach rides have not been featured on any of their anniversaries.