"My Persian mom had her heart set on my being a doctor. I think it was a cultural thing," says Santa Barbara wine country chef, Golzar Barrera, laughing. "To this day, she can't wrap her head around why I love food, why I wanted to pursue this career. She still can't tell you what I do for a living." 
What the chef does for a living, in part, crosses cultural cuisine lines.
Drawing on her Persian food upbringing and Asian food-eating years in the San Francisco Bay Area -- specifically, Japanese dishes -- Barrera naturally gravitates towards Asian cuisine, which she serves from 'The Window' in downtown Solvang, a town more known for its Danish frikadeller and Aebleskiver.
"Everyone tells me that I should be doing Persian food. But I don't want to be pigeonholed by my cultural roots. I want to do what speaks to me. I want to do Ramen," explains the chef.
In early 2019, Barrera launched a weekly Ramen pop-up out of a catering prep kitchen window in downtown Solvang. Now branded as "To-Go at The Window," the venture has grown due to her new business partnership with The Window's original tenant, chef Louise Smith of Louise's Kitchen Table.
Barrera credits her success in building a dynamic, foodie enterprise to her mom's resistance to her career choice.
In the 1970s, when trouble began to brew in Iran, Barrera's father immigrated to Italy to study fine art, and her mother left for the U.S., where she then became a computer science engineer.
Her parents met in Los Angeles where Barrera, née 'Meamar', was later born. She and her younger sister (who recently graduated from medical school) would eventually relocate to the Bay Area.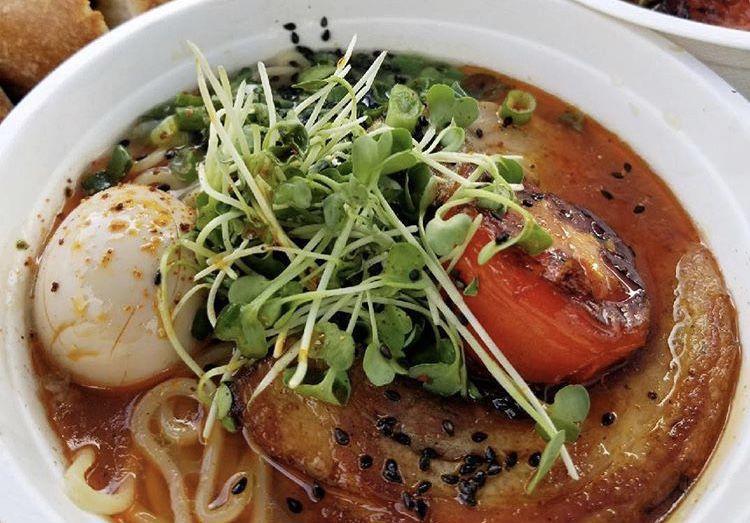 Barrera's family unit always included her Persian grandmother – a fixture in the household's kitchen who to this day still shoos Barrera away when it comes time to craft her native country's cuisine.
Although the self-trained chef lacked any formal culinary schooling, Barrera merits her lifelong curiosity of food to not being "allowed" in her family's kitchen. This same culinary perseverance would land her a prep cook job at a Japanese restaurant in San Diego, further defining her future in food.
In 2015, Barrera's brazenness awarded her a contestant spot in Season 6 of FOX series MasterChef, featuring celebrity chef judges Gordon Ramsay, Graham Elliot, and Christina Tosi.
At the age of 23, after her brief TV run, Barrera launched her own company, "All Purpose Flower," serving as a personal chef and preparing meal plans for private clients.
In 2016, the charismatic young chef attracted now-husband, Kansas-transplant Daniel Barrera, PhD, who at the time, was working in a San Diego genetics lab.
Since 1882, when Hannah Weinberger became recognized as the first woman winemaker in California by taking over the estates of her deceased hus…
Spurring the couple's move to the Santa Ynez Valley, Daniel was hired as a geneticist, holding the title of Chief Science Officer for a large agricultural operation in Santa Barbara County that farms more than 40 acres in Lompoc and Buellton.
Here, Barrera's foodie mission has continued to grow.
Amidst a fruitful run as a Santa Barbara wine country personal chef, she expanded All Purpose Flower's menu to include event catering, and prepares ready-to-eat meals for a growing subscribership.
In combination with Chef Louise Smith, Barrera has rolled out big plans for 'The Window,' purposed as a collaborative space for other culinary creatives, local food crafters and chefs lacking commercial kitchens or retail storefronts of their own.
And so far, their plan is working.
After 22 years in Santa Ynez, Italian restaurateur Daniele Serra, owner of La Trattoria Grappolo, has announced the opening of a second location, Osteria Grappolo, in downtown Solvang. On Monday, May 6, the new-to-town casual bistro opened its doors to the public.
On nights not occupied by Barrera's Ramen Take-Out, The Window serves the likes of Indian Take-Out prepared by Chef April Pharoah, The Cookie Vixen; and plant-based, raw, vegan specials, a collaboration between Barrera and Kimberly Zimmerman of The Juicy Life.
"We want to provide a creative safe-haven, and a business opportunity for other culinary talent. But we also want to offer this region cultural and wellness cuisines not widely available in the area," the Valley chef explains. 
Starting in June, she says The Window will be open daily, stocked with pre-packaged foods and meals, fresh-pressed juices and the like, available to-go. And evenings will soon feature different culinary themes every night of the week.
The Window is located at 1210 Mission Drive, Suite 110, Solvang, in the Nielsen Building Materials complex.
If lingering St. Patrick's Day musings have you thirsting for whiskey over wine, Santa Barbara wine country will not disappoint: we have some …
To celebrate the sweeping statistic that approximately 10 percent of over 4,000 wineries in California are led by woman winemakers, the third …