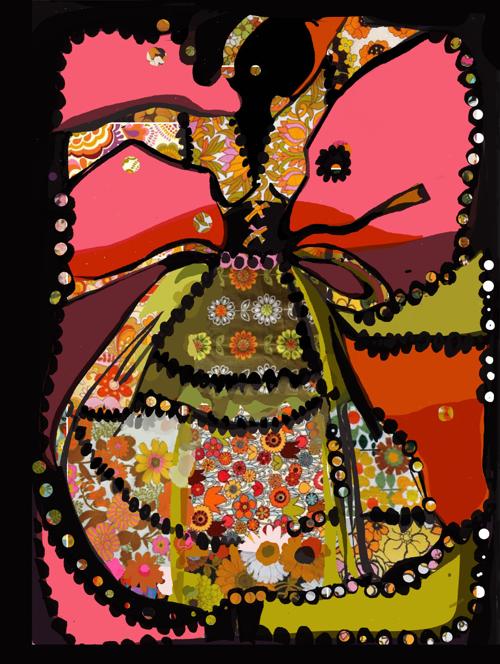 Combining childhood memories with mixed media and a penchant for 1960s mod posters, artist Ceci Bowman creates powerful images centered on strong women. Ceci brings her "Go Girls" series of prints to Solvang from Nov. 4 through Jan. 30, 2018.
"My art is inspired by my childhood memories of fabric, paper, textures, my mother's sewing and the freedom of childhood," Bowman said. "The Go Girls series brings new life to the patterns and joy-filled movement from those days."
The show at the Wandering Dog Wine Bar will feature new work reminiscent of the small town, simple living of Bowman's childhood summers. The opening reception is Nov. 4, from 5-7 p.m., and will feature a live demonstration by the artist along with drink specials and light appetizers.
Bowman is known for her dynamic, colorful digital collages portraying strong, beautiful women in motion. Her work, both powerful and charming, inspires people of all ages. It is common for viewers to feel connected to the Go Girls series from their own childhood memories. The art also connects people to the present through dynamic female figures.
Bowman's designs use multiple layers of photographs, colors and transparencies. The vibrant images are giclee prints finished with foils and other mixed media.
Bowman grew up in Berkeley and spent her summers visiting grandparents in Weaverville and Mount Shasta. Summer days were spent creating paper dolls, often of characters from books she was reading. She incorporated patterns into her paper doll creations from dishes, linens and cookbooks from her grandmother's home. The Go Girls give new life to the paper dolls of her past.
"Seeing a familiar fabric or wallpaper brings back a memory of my childhood in the same way a smell can evoke a long-forgotten day," Bowman said. "Delta Dawn is inspired by the wallpaper my mother hung in the kitchen of our cabin on the Sacramento River."
Bowman is a mixed media artist specializing in digital illustration. Digital collage allows Bowman to easily experiment with textures, patterns, and layers. She creates fluid compositions full of movement using vibrant colors and shapes.
She started her career working as a stylist for television shows in Los Angeles. Bowman has worked professionally designing textiles for both the fashion and home textile industries. She also creates designs for paper products and book illustrations.
Bowman lives in her hometown of Berkeley with her husband, three sons and dog Winston. She works freelance for clients around the world. Her work is inspired by mid-century illustrations with a dash of vintage fashion. Bowman enjoys working with brilliant colors to evoke the nostalgia found in the 1960s and '70s mod posters, paper dolls and cookbooks.
Wandering Dog Wine Bar is located at 1539 Mission Drive in Solvang. Contact: 805-686-9126 for more information or visit www.wanderingdogwinebar.com.
Be the first to know
Get local news delivered to your inbox!