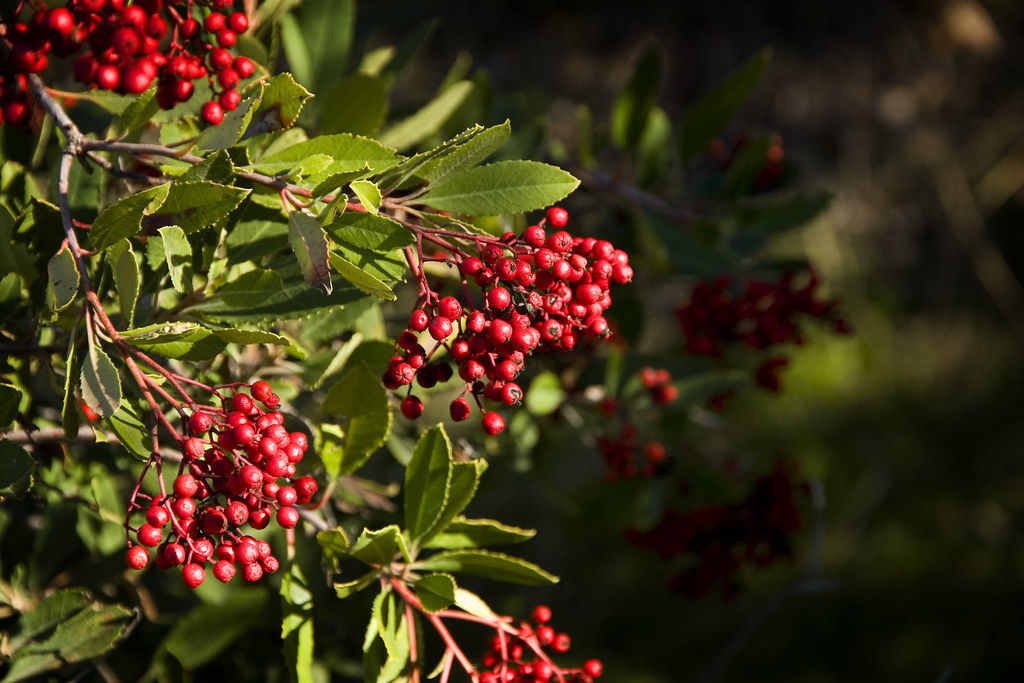 Heteromeles arbutifolia (H.a.) is a member of the rose family and is known as Toyon, Christmas Berry and Hollywood.
The city of Hollywood derives its name from this large, dominant, evergreen shrub 30 feet in height and spread, found in the Santa Monica Mountains.
The genus Heteromeles consists of a single species and two subspecies: H. a. cerina has yellow/orange berries and H. a. macrocarpa has larger leaves and bright red berries.
The leaves are oblong to lanceolate, 2-4 inches long with a sharply dentate margin and acute apex. The leaves are leathery, dark green on the top surface and grey/green beneath, and arranged alternately along the stems.
The flowers are a ¼ inch in diameter, with five white petals, 10 stamens and displayed in a loose terminal cluster.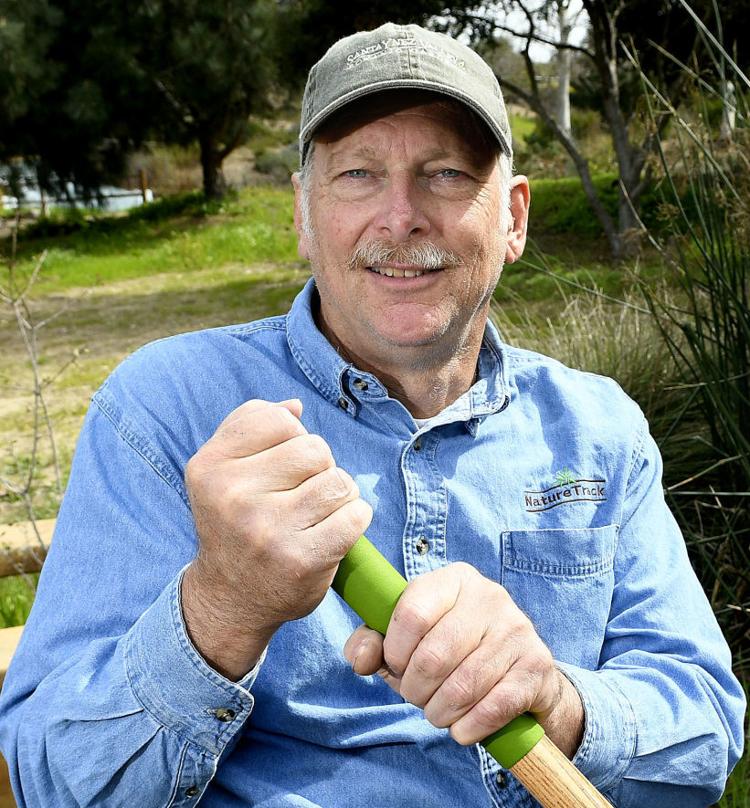 The flowering period is from June through September, with bright red pea sized berries ripening from October to January.
The multiple branches of H.a. sprout from a fire resistant subterranean burl. The wood is straight-grained and hard, beneath, smooth grey bark.
Its range and habitat are native to California and Northern Baja Mexico, found in the coastal chaparral plant community from sea level to 3500 feet of elevation.
It is adaptable to most soil types including heavy clay, alkaline soils of coastal bluffs and stabilized dunes.
H.a. fruit is a key food source for migratory birds along the Pacific Flyway, and also an important food source for bees and butterflies which nectar on the flowers in mid-summer when most other plants have finished blooming.
Native Americans used the long straight branches for fishing spears, digging sticks and carved fish hooks from appropriately shaped stem junctions. The ripe berries were also eaten fresh or roasted and stored for later consumption.
In the landscape H. a. makes an excellent dense screening shrub and adds seasonal color with the profuse display of berries in winter. The shrub is also widely used for slope stabilization and erosion control.
Steve Schulz is pretty sure his selection as the Santa Ynez Valley's 2019 Education Volunteer of the Year is a hoax pulled off by buddies to g…
Schulz is one of the initial founders of the Santa Ynez Valley Botanic Garden and currently serves as the garden coordinator.
Sprout new ideas
With our home & garden newsletter!