Ten other adventurous travelers and I just returned from exploring South Africa, Victoria Falls in Zimbabwe, and Botswana. Our group left Oct. 9 and returned the evening of Oct. 24, exhausted from the long travel time, and completely overwhelmed by the most amazing trip.
Surviving the long flights proved to be almost as daunting as any encounter with a wild animal. The travel time alone is almost 35 hours when you add in transportation to the airport, flights with connecting times and transfers to the hotels. My travelers were awesome and all agreed that the trip was well worth all the travel inconvenience.
Highlights of the trip were Cape Town with a gondola ride up to Table Mountain, Stellenbosch, which is the wine region of South Africa and the Devon Valley Hotel located in the vineyards. We thoroughly enjoyed the Entabeni Conservancy Private Game Reserve and the Hanglip Mountain Lodge, where we each had our own bungalow complete with mosquito netting draped around our four-poster beds and the watering hole directly in front of our units so game viewing was readily available. In the evening a parade of elephants moved into our compound and we were not allowed to leave our bungalows until they gave us the all-clear call in the morning.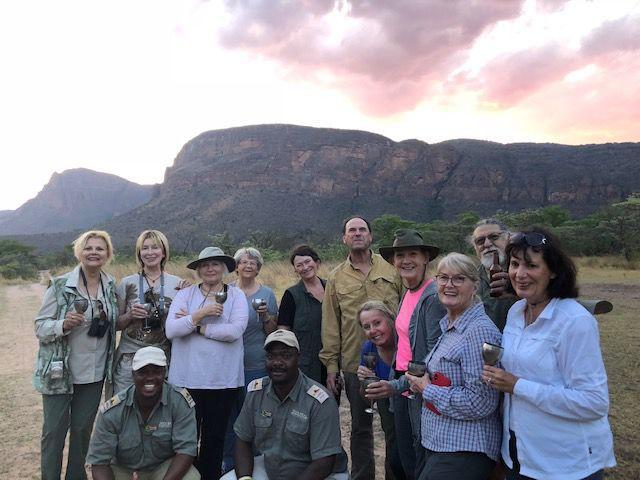 In Botswana, we experienced land and water safaris in Chobe National Park Game Reserve and enjoyed our stay at the Chobe Marina Lodge located right on the river. They had their own resident warthog that lived in my front yard! Given the strong winds, we all almost blew over at the Cape of Good Hope and Victoria Falls, one of the original wonders of the world. It was breathtakingly beautiful and our visit to a native tribal village in Zimbabwe was extremely interesting.
We enjoyed seven game drives in four-wheel drive vehicles, witnessing the most incredible wild life up close and personal. Small herds of elephants passed within feet of our vehicles as did rhino, lions and cheetahs. We enjoyed two cruise safaris along the Zambezi River, where we had close encounters with crocodiles, hippos, elephants and some of the most beautiful birds. Traditional dancers serenaded us as we began our three-hour cruise safari.
Many of us were lucky enough to see the "big five," which includes an African elephant, the Cape buffalo, rhino, a lion and the elusive leopard. The leopard is the most exquisite of animals, so incredibly beautiful in its markings and unlike lions or cheetahs, they pull their prey into the trees for feeding. Several of us witnessed a female leopard feeding on an antelope that she had pulled up into the tree for safekeeping.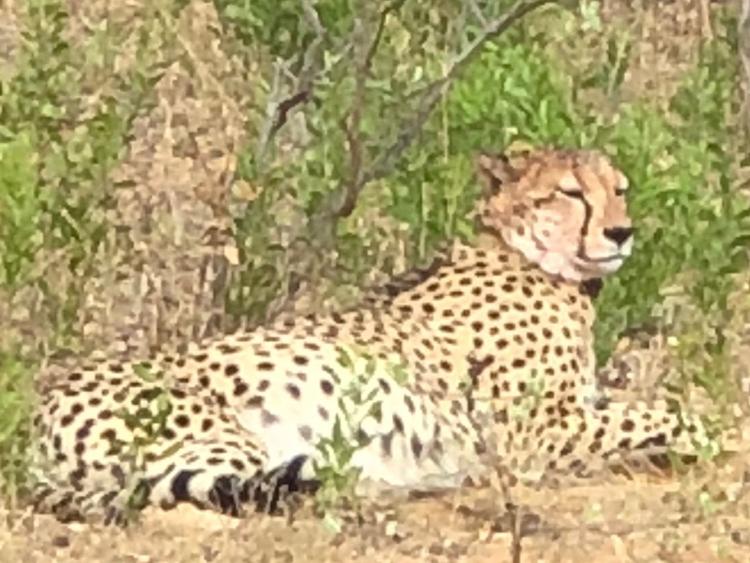 We were all lucky enough to see the black and white rhino, which are distinguished because of the shape of their heads and mouths and who are illegally poached for their horns. Poachers are killing the elephants as well for their tusks and take no mercy killing the young as they poison entire watering holes. The African government has a shoot-to-kill policy for poachers and those that are incarcerated serve up to 50 years or more. It is incredible to think that anyone would kill or harm any of these magnificent animals. 
The animal kingdom is totally amazing. I haven't quite figured out why the male species are always much more attractive than the females, but I figure since the female has to guard her young against predators, she has to be more nondescript. Many female animals secure the food, and any horned animal can be distinguished as the males will always have thicker horns. You can also identify if an animal is left- or right-handed by the horn being worn down on a certain side. 
Baby elephants can be aged by how well they can use their trunks as they aren't able to control their trunk muscles well until they are 3 years of age. Also, elephants communicate by trumpeting through a sound made in their throat that travels through their feet that can be heard from up to 7 kilometers away. The African crocodile also has a sensory cell that has evolved in Africa, covering their entire body, which will identify any movement in the water so we were told not to move if we fell off the boat.  
We all enjoyed an elephant reserve, where we got to love on these gentle giants and a few of us went on an elephant safari. Several of us ziplined over the Zambezi River, which was totally incredible. The canyons are much like our Grand Canyon and home to Victoria Falls and a series of other falls. We walked along the river and saw several of the beautiful falls with multiple rainbows. Even though it was dry season and the water was low, the falls were very impressive. Five of us went for a helicopter ride over the Zambezi River and Victoria Falls -- it was truly incredible!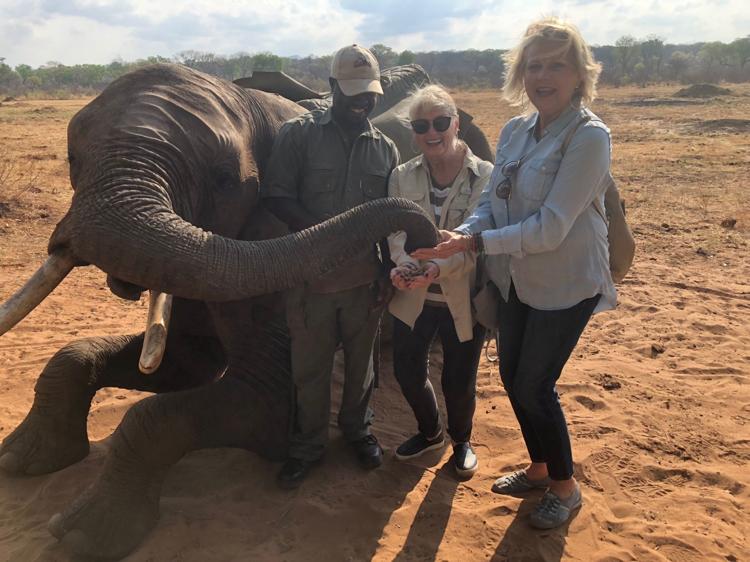 We enjoyed the local cuisine, especially the ethnic dishes and we voted the warthog as our favorite meat dish. The crispy, long worms, not so much, but several of us ate them receiving a "worm-eating" certificate. Some of us loved the "pop" as the natives called it, which is white ground cornmeal and a staple food for locals. Pop is served with many different sauces that you would pour over it for additional flavoring.   
All I can say is Africa is magical in so many ways, and I can't wait to return to visit the people and enjoy the mesmerizing wildlife. On my bucket list still is seeing a gorilla troupe and to visit an orangutan orphanage.
Additional trips for 2019 are Japan in March, New Brunswick and Nova Scotia in June, and Croatia in October. For further details on these trips or for a brochure, contact Linda Johansen at 805 686-1644 or lindyjo2003@yahoo.com.