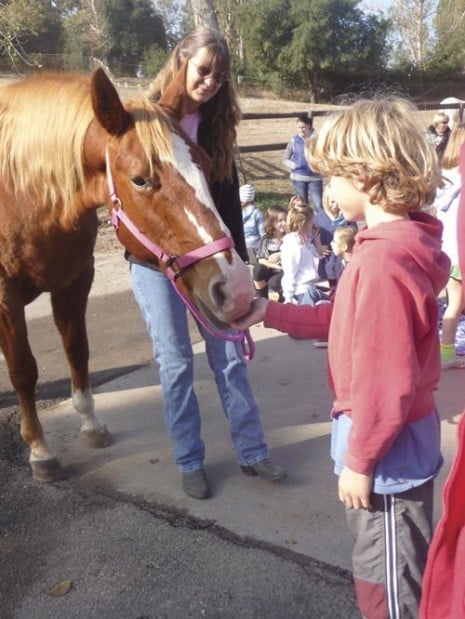 Happy Endings Sanctuary recently hosted third-graders from Los Olivos Elementary School to teach them about animal welfare and how they can make a difference in their community.
The children learned how to take care of pets, how and why the animals are at the sanctuary and how little it takes sometimes to make a difference for animals that are homeless, abused or neglected.
The children came up with many ways in which they could get involved and hold fundraisers to help the animals at the sanctuary.
Some of the animals at the sanctuary serve as ambassadors for their breed, such as Jiggs, a 26-year-old quarter-horse mare, who has a special love for children. She teaches them how to feed a horse properly and how to offer treats with an open hand. The children learned about equine safety and how much it can cost to have a horse.
Jiggs, who had a serious shoulder injury and was scheduled to be euthanized, was escorted by head volunteer Kirsten White. She held Jiggs while the children took turns patting the horse and giving it treats.
Next up were Zoe and Billy, two dogs who are up for adoption. Zoe loves children, which she demonstrated with tail wagging and kisses for all. Billy, a bit shy of large crowds, watched Zoe as she created smiles and excitement.
C.C. Beaudette-Wellman, founder and executive director of the sanctuary, explained how animals learn to trust people through consistent, unconditional love and care, and how their trust for humans grows when they learn that they are truly in a caring and safe place.
The excited children asked many questions, such as "How do you tell if an animal is sick?" and "What do you feed them?"
Happy Endings Sanctuary depends on private donations to ensure that each animal's story has a "Happy Ending."
In this difficult economy, donations are scarce, Beaudette-Wellman said, while the sanctuary supports many "special-needs" animals and the cost of food is rising at a staggering pace.
Happy Endings is asking for donations of any amount to keep its program going, and "I'm praying for a miracle" she said.
To donate by check, mail it to Happy Endings, P.O. Box 873, Santa Ynez, CA 93460.