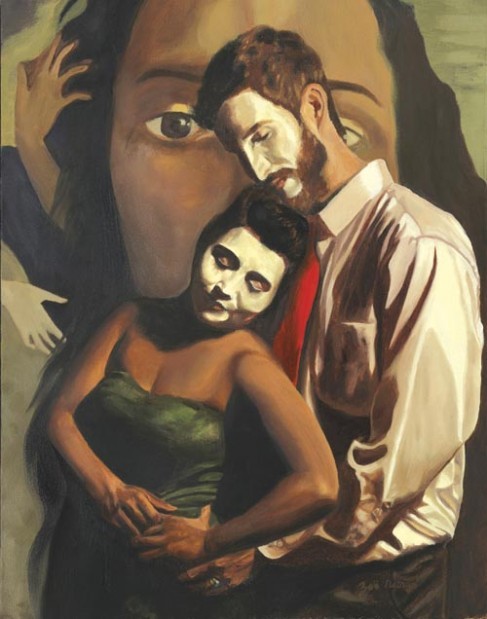 The Arts Outreach Gallery in Los Olivos will be featuring the work of Zoë Nathan in a solo exhibit March 3 through April 8.
Including Renaissance-like paintings, bronze sculptures and ceramics, the show is entitled "Muse" and deals with "the aspect of performance in daily life."
An opening reception for the artist is planned from 4 to 6 p.m. Saturday, March 3. The public is invited, and there is no charge
"My subjects are all shrouded in the look of harlequins and mimes, and yet are portrayed in moments of respite or solitude," Nathan said in her artist's statement. "Despite appearances, they are posed, and therefore still performing as models. There's no escaping that we perform ... this body of work celebrates that."
"Muse" is a body of work that blurs the wall of separation between artist, viewer, and subject. Many of the models are artists themselves and are portrayed in the foreground amid their own work.
Nathan's artistic pursuits include not only painting in the classical tradition, but also working in film, graphic design, photography, ceramics, sculpture, voice (opera), dance, and martial arts. Nathan attended Simon's Rock College of Bard, where she received her associate of arts, and finished the last two years of her bachelor's degree at Sarah Lawrence College in Bronxville, N.Y.
Currently she resides in Santa Barbara County where she continues her practice of multiple arts while teaching ceramics, and accepting commissions for portraits.
To follow Nathan at work and see her process visit her blog online at www.zoenathan.com/art-blog.
For more information about Nathan's show, call 688-9533 or visit the Arts Outreach website at www.artsoutreach.com.
Arts Outreach is a nonprofit arts education program dedicated to promoting the visual, literary, and musical arts in the Santa Ynez Valley and Los Alamos.
Eric and Samantha Coghlan of Coghlan Vineyard & Jewelers have donated the space for the Arts Outreach Gallery at 2360 Alamo Pintado Ave., Los Olivos. The gallery is open noon to 4 p.m. Saturday and Sunday.
Be the first to know
Get local news delivered to your inbox!