As the end of summer approaches students are soaking up their last carefree moments, parents are double-checking school supply lists, and teachers are readying their classrooms for the hectic first day of school.
But working away in the background are two unassuming volunteers with deep Valley pride, Dennis and Marj Kocher.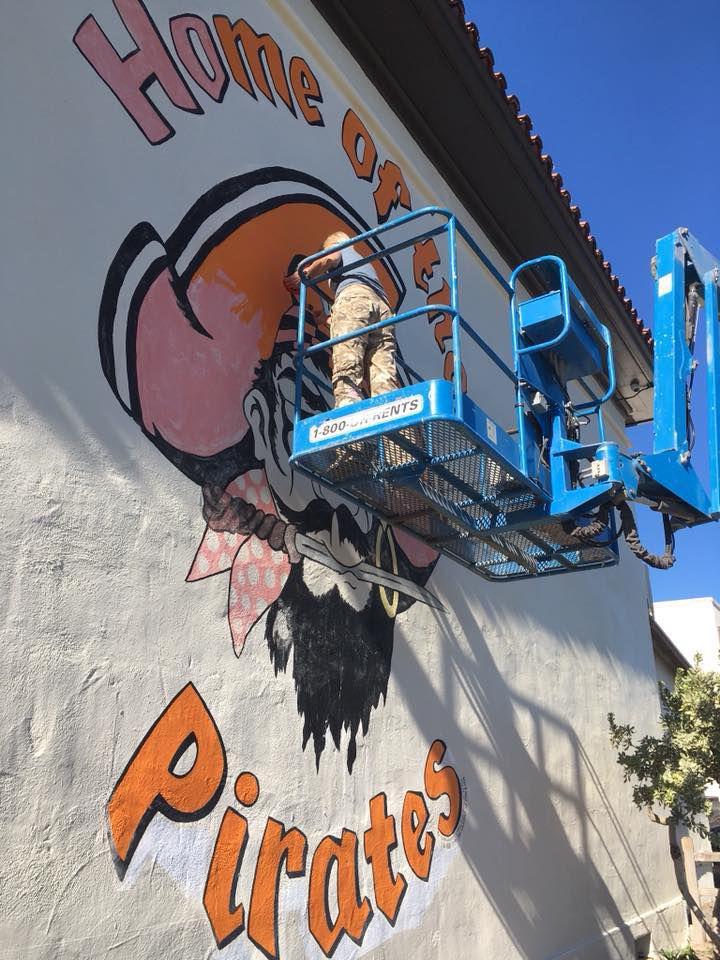 Paint brush in hand, the onetime Valley residents recently "painted with a cause" at Santa Ynez Valley Union High School (SYHS) and Santa Ynez Valley Christian Academy (SYCA).
Marj Kocher begins her volunteer work in the early morning, painting Santa Ynez High School football team lockers with One Shot Paint enamels in "pirate orange" that require one color, one coat, said her husband, Dennis Kocher. This summer like the 23 years prior, even with another school project to accomplish, Dennis Kocher said, it's all in a handful of days' work.
With more than 75 players plus on the SYHS football team roster, many of those newly incoming and needing a place to hang their helmet, Marj Kocher personalized 55 of those lockers with each player's name and corresponding jersey number, said Dennis Kocher. The lockers now await the new season.
Additionally, the Kochers capture and memorialize the names of new record-breakers featured on the locker room wall.
"One year I went and researched past record-holders all the way back to the early 70s and now we update it every year," said Dennis Kocher, adding that Marj climbs up on a scaffolding to add or remove names from the record board with fresh paint. The names will remain until a new reigning champ bumps them off the board.
Kocher makes it clear that his wife is the artist and he is simply the helper providing whatever assistance she might need, like making chalk marks prior to her steady brush-lettering. "This for us, promotes tremendous camaraderie. There have been times a player will walk in with his father and the father will point to a football record holder's name on the board and say, 'You see that player, that's me.' It's a very special thing," Kocher said.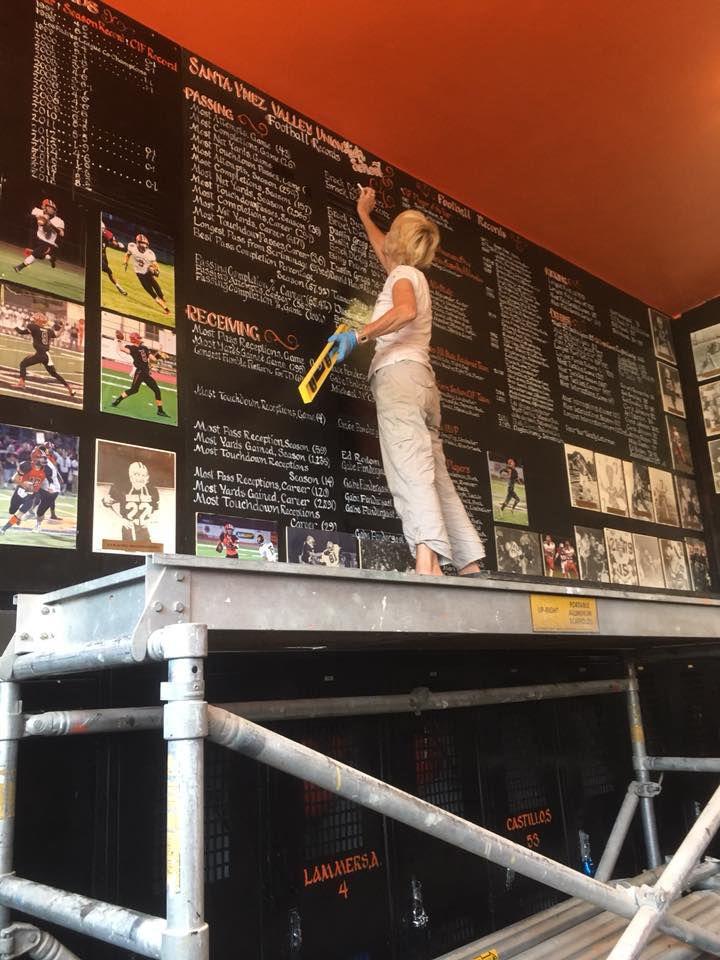 Kocher said they also re-did the SYHS pirate sign in front of the school a few years ago, after years of wear and tear and fading.
"The principal asked if we would restore it, so we gave it new life," he said.
Originally from Wisconsin, the painting pair lived in the Valley with their family for 18 years before moving to Auburn in 2000.
"We now live on a lake, it's like being back in Wisconsin again," Kocher said. He is a retired realtor of 20 years with Sunset Company in Santa Barbara. He said their son and two daughters graduated from SYVHS, which could partially explain their reason for volunteering 24 years in-a-row. That and they are resolved to give back to a community that gave so much to them.
According to Kocher, his wife wasn't always covered in paint, she was the vice president of Santa Barbara Bank and Trust for 18 years in Santa Barbara. He proudly noted that she is a self-taught artist, coloring the world with hand-painted glassware for weddings, business functions as well as major corporate events through their business gobletsbymarj.com.
However, personalizing the SYVHS school locker room year after year -- and recently, the school's outdoor signage -- is a labor of love and an expression of their enduring roots in the Valley.
In 2016, as the Kochers were finishing restoration of the SYVHS Pirates sign, Valley resident Linda Baker was out walking her dog.
"I approached them and asked if they could paint another school's signage, and they said yes," recalled Baker. She took the busy Kocher's phone number and promised to be in touch. 
The idea took time and patience.
Baker, whose son and daughter both attended Santa Ynez Valley Christian Academy years ago, did her due diligence. She got a job quote from the Kochers, measured the space to be painted and presented her case for new signage to the school board in front of her kids' old school in December 2016.
"It took awhile, but the board president of Valley Christian kept me in the loop and I kept in touch with the Kochers," she said.
Finally, in March of this year, Baker said she received approval from the board to move ahead with the new signage.
"I think it'll provide recognition and presence in the community. It will show that our school is not only beautiful, but offers great education -- and a loving staff," she said with pride. "My daughter goes back to visit her teachers at SYCA and she's a junior in high school."
According to Kocher, he and his wife decided to tackle both schools on the same summer weekend this year. Starting Friday, Aug. 3, they worked in the mornings and evenings to beat the heat with plans to finish Tuesday, Aug. 7. SYCA was made more vibrant with an 18 x 12 foot hand-painted sign mounted over the entrance of the school bearing the school's logo and name; as well as accented biblical versus in calligraphy painted around the school's front yard cross. And SYHS is ready for its new football season.
The Kochers are high school sweethearts who have been married for 56 years. "We're having fun. We make a good team," Kocher said simply.
Be the first to know
Get local news delivered to your inbox!