Their reputation preceded them as the Center's dining hall was bursting at full capacity with 80 hungry diners who were not disappointed with a wonderful meal of tender sliced BBQ beef, chilled pasta salad, warm corn salad and fresh bread. The best pumpkin pie in town, topped by whipped cream, left everyone feeling fully-satisfied and extremely happy.
But what goes best with beef besides delicious side dishes and conversation? Ukulele, of course!
The Center's eight-member ukulele group, decked out in all things Hawaiian, provided wonderful pre-meal entertainment with three uplifting tunes for all to sing along with: "Tiny Bubbles," "This Land is Your Land" and "God Bless America."
This is a group that the Center is so proud of as they have blossomed over the last year and a half from a trio of beginners to a well-rounded band. We look forward to many more entertaining performances by them.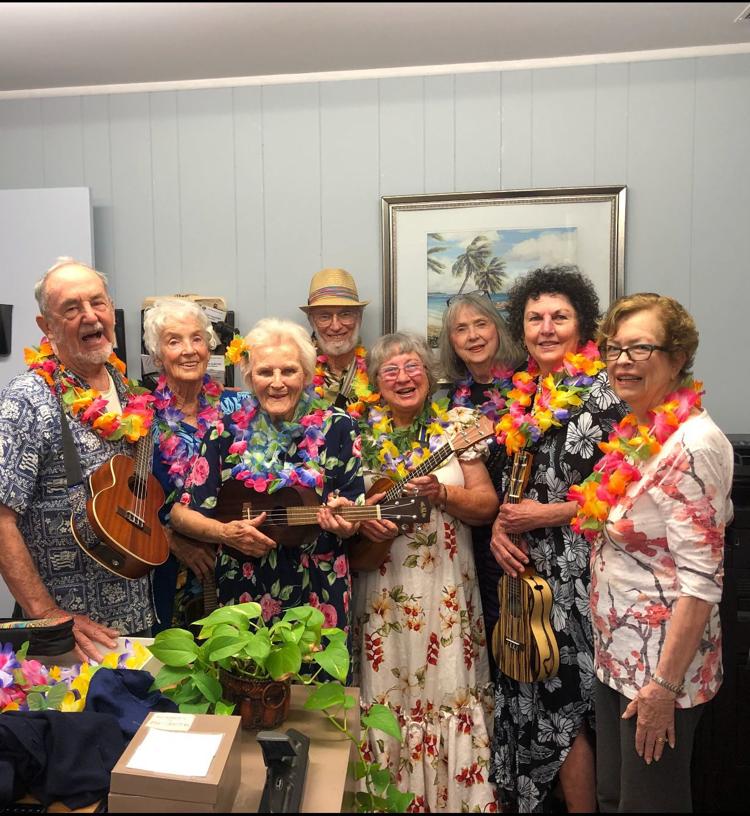 From the beginning of the evening until the end, a small but mighty group of 4-H Club members who are involved in the beef program, served diners with the best smiles around, eagerly answered questions and politely cleared tables.
As President of the Cattlewomen, Brandy Branquinho introduced the youngsters at the end of the evening, one could tell that they were all being led by the great example of the Cattlewomen and their families.
A big group thank you from the Center to the Santa Barbara County Cattlewomen for their fantastic hospitality; to the fellows who gave of their time to BBQ such delicious beef; to Sherry Musgrove for the tasty side dishes; to the sweet 4-H Club members who made our day; and of course, Mahalo to the Center ukulele players!
The Solvang Senior Center is located at 1745 Mission Drive in Solvang and offers over 20 weekly activities to Valley's residents 55 and over. For more information, contact the Center at 805-688-3793 or online at www.solvangseniorcenter.org.
Imaginative theatrical magic will delight audiences young and old when PCPA's production of Disney's "The Little Mermaid" comes to the Marian …
Addressing food insecurity locally and countywide, St. Mark's-in-the-Valley Episcopal Church of Los Olivos has vowed to become part of the sol…
The month of September brought together novice and seasoned veterans of Solvang's Danish Days to enjoy a long-standing tradition at the Solvan…