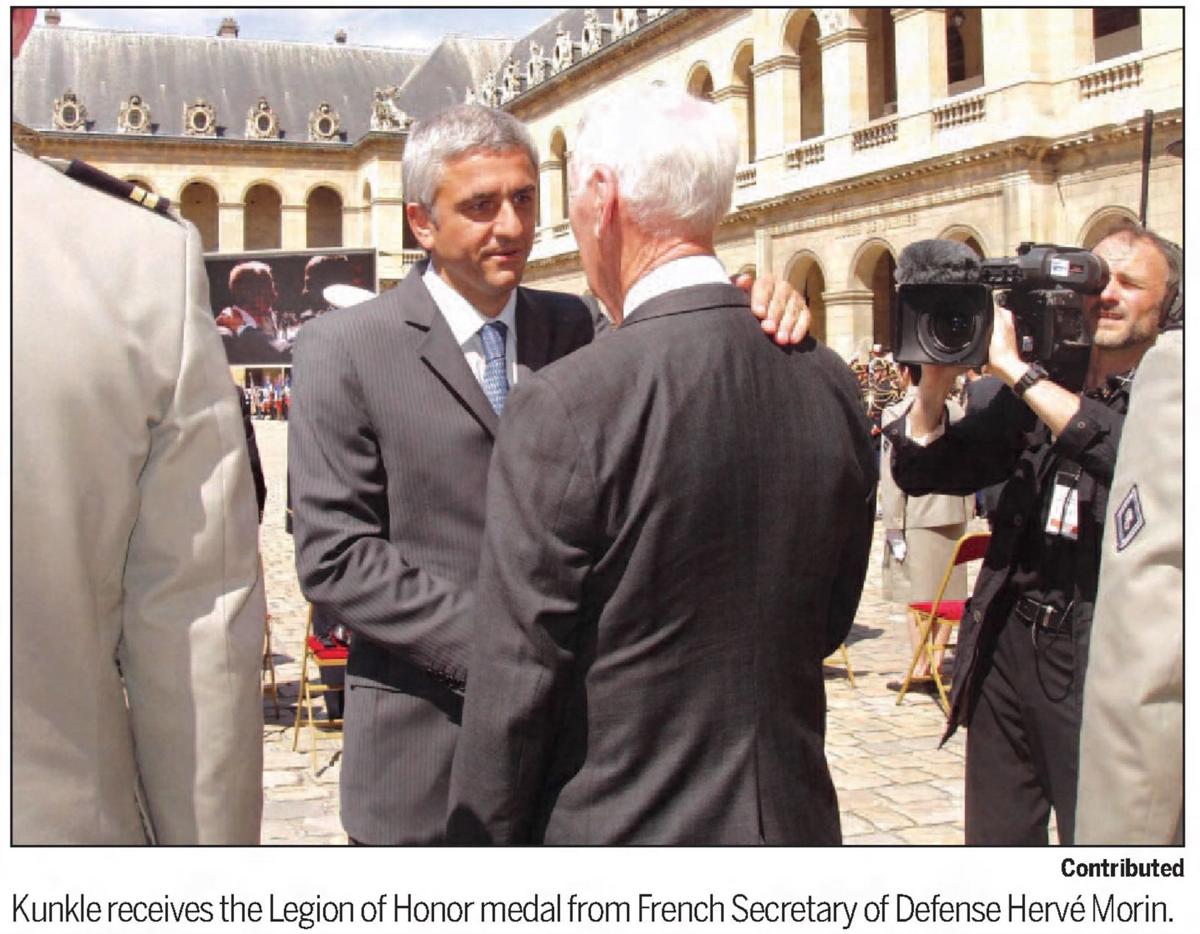 Written by Pat Murphy and published in the Santa Ynez Valley News on Thursday, July 9, 2009:
Jim Kunkle of Solvang is a decorated hero of World War II , and his exploits brought him a big surprise more than 60 years later. He was invited to return to France to take part in the formal 65th anniversary ceremony of the D-Day invasion, in which he had taken part.
Not only did he receive the Legion of Honor medal, the highest military award France can bestow, but he and his wife Ruth also met President Barack Obama, French Prime Minister Nicolas Sarkozy, British Prime Minister Gordon Brown, Canadian Prime Minister Steven Harper and along the way had a lengthy visit with Prince Charles of England.
And yet, he said, one of the biggest surprises was the reaction of the French people in giving him and other American veterans a hero's welcome more than half a century after the war ended.
"Every place we went, even in Paris, people were just so appreciative," Kunkle said. "One woman told them that the French people would never forget what Americans did for them and that they also teach their children. It was very moving. Even young ladies would come up and thank me and ask if they could kiss me!"
To read the entire story, visit https://syvnews.com/lifestyles/valley-hero-returns-to-normandy-france/article_51abbd65-4dd4-54e5-95b9-ebaa57a572ce.html
Sitting at his desk in an office above the hangars at the Santa Ynez Airport, Jim Kunkle is surrounded by memories of his renowned World War I…
With more than 90 years as your local newspaper, today and every Thursday, the Santa Ynez Valley News editors will reach into the digital archives to give you "Throwback Thursday," and a chance to reminisce and honor the rich history of the Santa Ynez Valley. To access this memory and more, subscribe to SYV News digital archives at SYVNews.com/archives.
Be the first to know
Get local news delivered to your inbox!