The entrance to Pioneer Park in Santa Maria was flanked by two lines of American icons — and one foreigner — Saturday, as if standing guard or prepared to pay tribute to a special dignitary.
But the honor guards weren't people. They were a 1951 Chevy, a '69 Chevy El Camino, a '53 Chevy Bel Air, a '54 Chevy pickup, a '53 Chevy long-bed pickup, a '35 Ford and — the foreigner — a '63 Volkswagen Beetle.
The cars are owned by members of the Mad Bomberz car club, who were inside the park with their spouses getting everything set up for their 11th annual show from 11 a.m. to 4 p.m. Sunday.
"We have 125 [cars] preregistered," said PJ Baray, co-president of the club who owns the '53 Chevy long-bed. "Last year, we had 255 cars show up. So we're expecting more than 200 tomorrow.
"We've got people coming from Monterey County, Watsonville, Santa Barbara, Goleta, Ventura County, Las Vegas," he said.
All years, makes and models of cars and trucks can enter the show. Motorcycles are also welcome.
"For some reason, motorcycle guys don't' like going to shows," said Jimmy Castillo, club co-president who owns the '53 Chevy Bel Air, adding the club encourages motorcyclists to enter the show. "We'll have over 30 motorcycles tomorrow."
Castillo said entries will include customs, classics, hot rods, stocks, rat rods and even pedal cars.
The entries will be competing for 40 unique trophies made from a variety of car parts — brake discs, gears, connecting rods, springs, roller bearings, shocks, valve rockers, spark plugs, nuts and car emblems — by Baray's father, Paul, and painted by Rolando Perez using paint donated by Custom Colors Auto Body Supplies.
PJ Baray noted the parts are all used and donated, none are purchased new.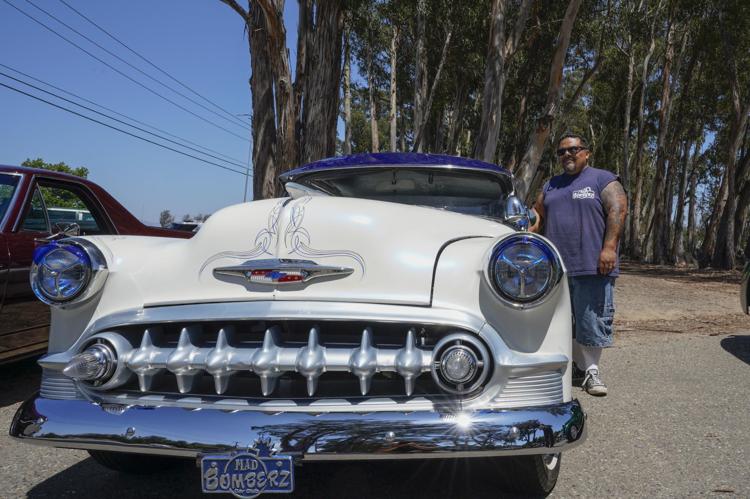 "A lot of the trophies are parts from other car clubs' cars," he said.
Sunday's show will also have two live bands — Lil Sue and the Cow Tippers and Los Outsiderz — and food will be available for purchase from catering trucks.
Spectators get into the shows free, but funds raised through vehicle entry fees, the prize raffle and a 50/50 drawing each year are donated to a different charity.
"It's about giving back," Baray said.
Through the previous 10 shows, the Mad Bomberz crew has raised $55,000 for charity — a club that only has nine members.
"It's a lot of work," Castillo said. "By Sunday night, we're really tired. I tell the guys, 'If you're not tired at the end of the show, you've got to do more work.'"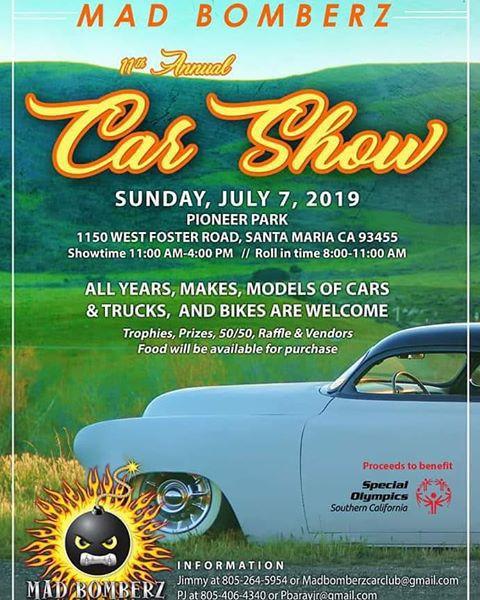 Baray said he, his wife and his brother got the idea to do a car show after they attended a number of them elsewhere and found most of them didn't donate any of the funds they raised to charity.
"I said, 'We should do this and give back [to the community],'" he recalled. "Our first show we had 40 cars. We donated $500 to the American Diabetes Association.
"We always do charities that touch us," he added, noting four of the club members have diabetes.
Two members have had cancer, and a member's daughter also had cancer, so some funds have gone to Mission Hope Cancer Center in Santa Maria.
"One of our members has a son with Down syndrome," Baray continued. "So this year, we're giving the money to Special Olympics. … What they do for the athletes is amazing. The look on their athletes' faces [when they compete] is absolutely priceless."
He noted not all the money comes from car show entry fees and raffle ticket sales. Sponsors also donate anywhere from hundreds to thousands of dollars the club gives directly to the charities.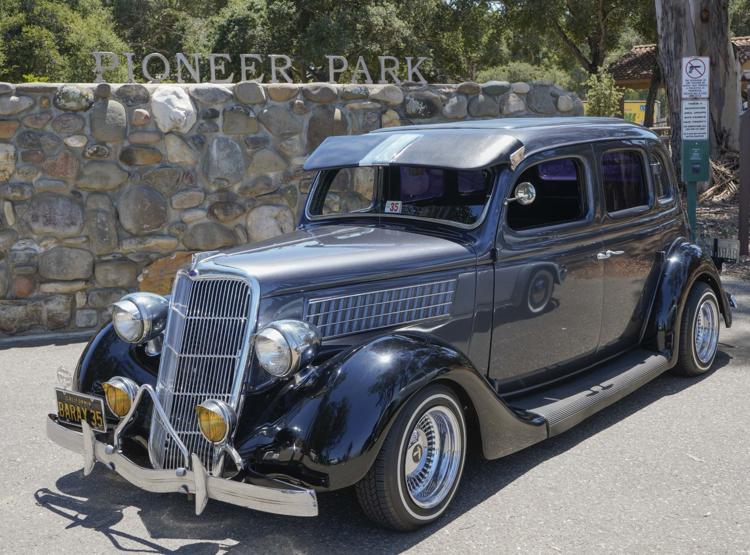 This year's sponsors include 805 Beer, Pepsi Bottling Group, CoastHills Credit Union, Maya Mexican Restaurant and SA Recycling Center.
Baray said the club will be presenting checks from them directly to Special Olympics at the close of the show.
He said money raised by the show will be presented to Special Olympics at a later date in a ceremony in the Special Olympics hall at Minami Park.
Castillo said people should come out Sunday to see a wide variety of vehicles in all conditions.
"Entry is free, there are raffle prizes — there's a ton of raffle prizes — and the weather is going to be great," he said.