With the necessary legal documents neatly filed away in a substantial accordion folder, Rev. Randall Day, pastor of St. Mark's, pulls out the building plans and gleefully explains that securing a builder is the next thing on his list.
St. Mark's was given the "green light" on June 19 by the Santa Barbara County Building Department to move forward with plans to update their onsite commercial kitchen, located within the parish hall adjacent to the church.
They will call it SYV Community Kitchen. 
According to Day, the upgraded kitchen is designed to serve as a hub for a wide range of programs addressing local and countywide food insecurity, and will also provide an economic opportunity for low-income families who want to increase their take home pay through cottage food ventures.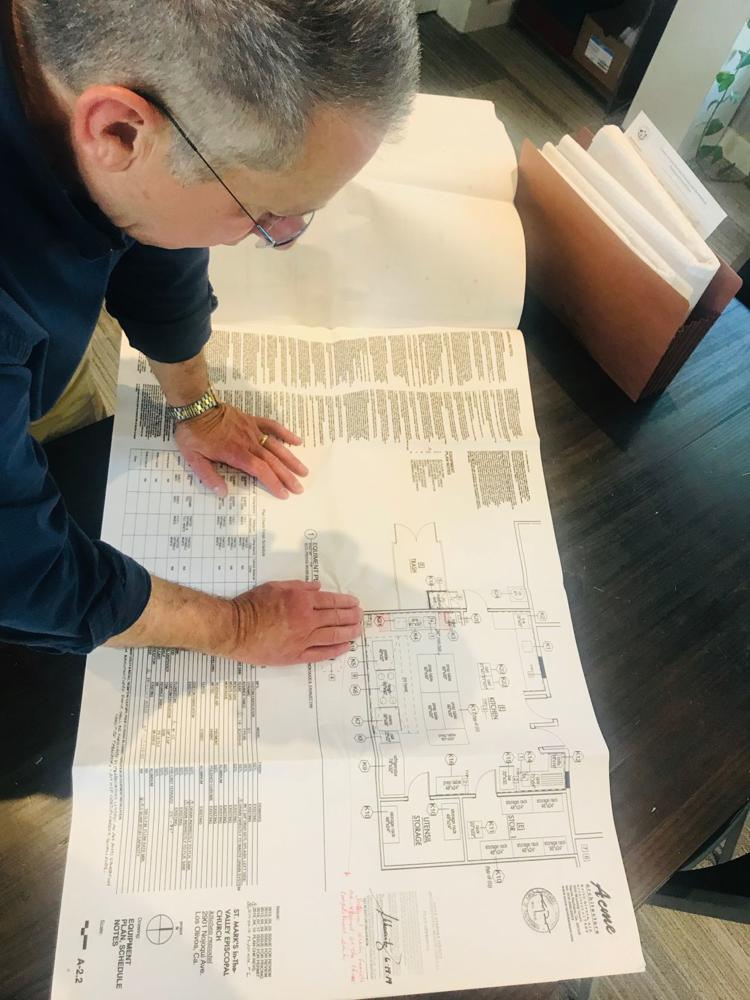 "It's taken us such a long, long time to get this together," he said. "Part of it was just getting ourselves together."
Day says the project, which they are optimistic about completing before Christmas, really began as a conversation four years ago. 
Given that the new kitchen concept would likely "change the feel" of St. Mark's with the addition of more people and increased daily activity, Days says, it was important to get the parish on board.
With the support of parishioners wielding invaluable skill sets necessary to the project, Day said St. Mark's was able to cut time and costs.
The $150,000 kitchen update, including a new handwashing, dishwashing and mop sink, proper sink drain boards, and a type 1 fire-suppressing ventilation exhaust hood over their current 10-burner stove, did not need to go through the Architectural Board of Review since the infrastructure was already there.
The parish hall or "Stacy Hall" was originally built in 1992 and houses the parish kitchen, a preschool and a large dining/activity room.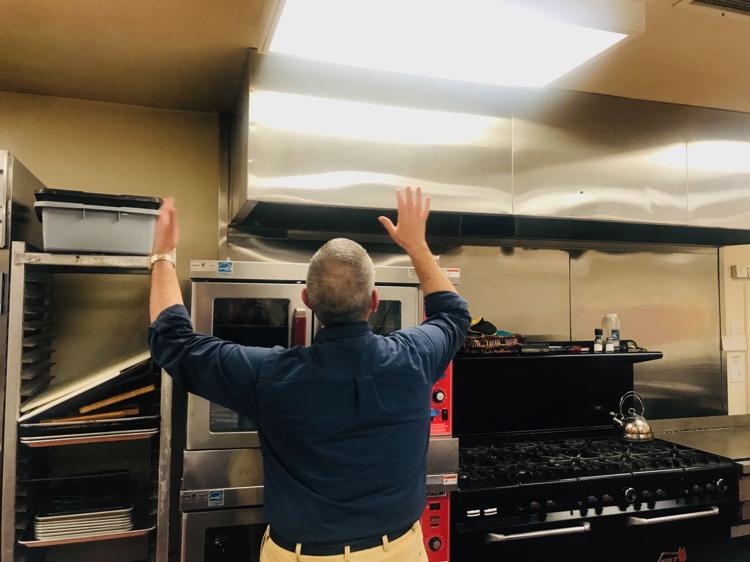 "It took one year to get the drawings and permits together," Day said. The permit process began last summer and involved the necessary back-and-forth between local architects Evans and Brett Jones and Keith Rivera to modify drawing specs with guidance from Joel Schwartz from the county Environmental Health Services Department (EHS).
"With the way it's been going, it seems this project is the most obvious thing to do," Day said.
Another piece that "fell into place" was the funding.
Monies from generous parish donations and recent organized fundraisers such as the "Good Food For Good" event sponsored by Bruce Cleveland and Jefferson Woeste and the annual Summer Classic, Day says, helped build up the kitchen's construction fund as well as enable St. Mark's to hire part-time staffer Bethany Markee to help design and organize the community kitchen programs.
"She knows the processes, she knows county inspectors," Day said, adding that Markee has worked in food service for nearly 30 years, and has helped Solvang Elementary, Orcutt and Los Alamos schools transition from serving frozen food items to cooking with fresh, local ingredients and involving the kids in the process. 
Additionally, by partnering with the Santa Barbara Food Action Plan, which was rolled out concurrent to St. Mark's kitchen project, Day says that a sizable grant of $125,000 from the Santa Barbara Foundation was also obtained.
"We are super fortunate that [Santa Barbara Food Action Plan] emerged at exactly the right moment," he said, explaining that the nonprofit organization which has constructed a strategic food system that serves the entire county, fit seamlessly with the mission of SYV Community Kitchen.
Despite the Santa Ynez Valley reporting the lowest percentage of adult food insecurity in Santa Barbara County, according to a 2016 U.S. Census Bureau report presented by Cottage Health, 15-19% of adults in the area go hungry.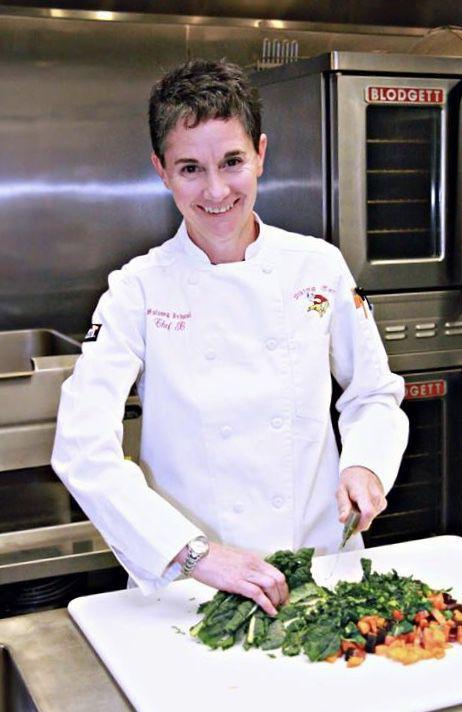 Addressing the local migrant and senior population, Day says that being part of the action plan will help with the immediate distribution of fresh, local food from partners like Santa Ynez Valley Veggie Rescue, ensuring that food doesn't go to waste and the needs of county residents are better met. 
Further expressing the importance of connecting the dots in Santa Barbara County when it comes to hunger, he said homelessness is also factored in.
"Everything about homelessness is focused on South County, and there's no focus on homelessness here in mid-county. And in North County, just bits and pieces," Day explained. 
Given that the needs are big in Santa Barbara County, Los Olivos will become a centralized and communicative part of a chain of kitchens, closing the gap between north and south community kitchens that already exist.
"The call is nothing more than just really looking and seeing what is here —what has already been provided," Day said. "The reality is that it's all here, all the people in the wider community, as well as what's already here on the ground."
The public is invited to attend five world-class performances celebrating the 40th anniversary season of the Santa Ynez Valley Concert Series.…
Lisa André covers Valley Life for Santa Ynez Valley News. 
Get local news delivered to your inbox!
Subscribe to our Daily Headlines newsletter.