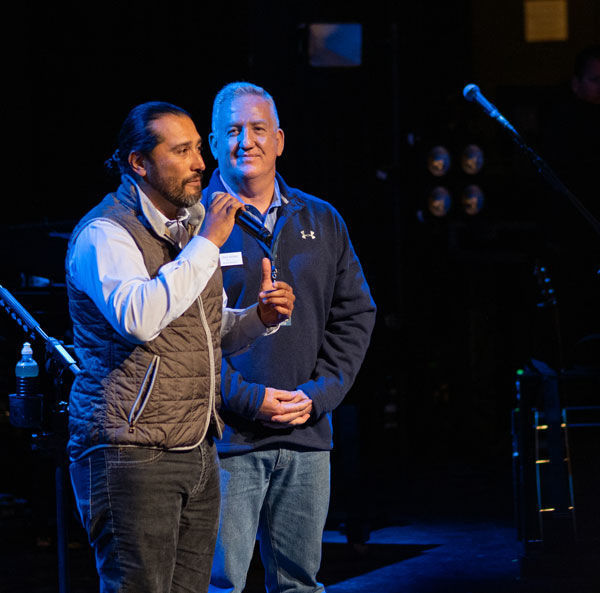 The Santa Ynez Band of Chumash Indians has announced a $100K matching grant to support the 45-year-old Solvang Theaterfest's renovation project.
The theater's $4.7 million capital campaign project, "Imagine! Building The Future," will address infrastructure and accessibility improvements, and upgrade the technical capacity of the 700-seat venue.
In front of a sold-out crowd to see country music legend Clint Black perform last Thursday evening, Kenneth Kahn, tribal chairman, addressed patrons and theater staff.
"The Solvang Festival Theater provides a one-of-a-kind outdoor experience for Central Coast theatergoers, and its performances have been enriching lives in our community for nearly 50 years," Kahn said. "As the organization looks to the community to help fund needed renovations, our tribe is proud to support the Solvang Theaterfest board's efforts and make sure the venue remains a source of quality entertainment in the Santa Ynez Valley."
Behind the flashing lights, smooth country twang and iconic black Stetson hat, is a self-deprecating family man as forthright as his music.
The renovation plans include a complete replacement of the rear wall and walkway surrounding audience seating, and the construction of a wall 8 feet higher, located behind the audience, with cantilevered panels to block wind, capture more warmth and buffer external noise.
Plans also call for new stairs, a wheelchair ramp and a new entrance to audience seating, in addition to technological upgrades that will enhance the viewing experience.
According to the the theater, once the funding goal is reached, the project is estimated to be completed within eight to 10 months.
For nearly five decades, the Solvang Festival Theater has featured productions by the Pacific Conservatory of the Performing Arts (PCPA), showcased music festivals and concerts by top headlining talent, and hosted community events for local nonprofit organizations. 
In 2018, more than 29,000 patrons attended PCPA performances, and 10,000 attended Solvang Theaterfest concerts and other performances, including those presented by nonprofit organizations.
For more information on the capital campaign and how to donate, contact 805-686-1789 or email development@solvangtheaterfest.org
.
Lisa André covers Valley Life for Santa Ynez Valley News. 
Get local news delivered to your inbox!
Subscribe to our Daily Headlines newsletter.