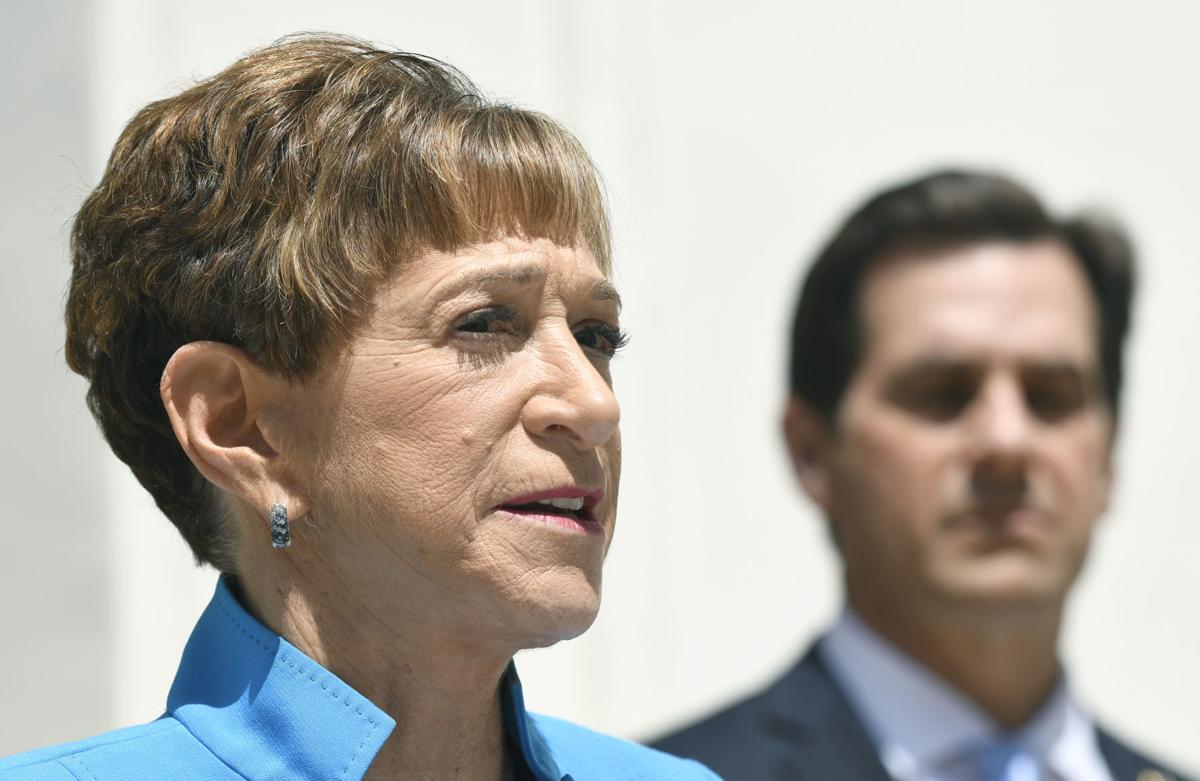 Joyce Dudley sat several feet away from Joseph James DeAngelo, known as the Golden State Killer, on Friday, as he was sentenced to multiple life terms in prison.
Shortly before Sacramento County Superior Court Judge Michael Bowman sentenced him, DeAngelo, who was bound, sitting in a wheelchair and wearing a mask to protect him from COVID-19, stood up and apologized. 
"I've listened to all your statements, each of them," DeAngelo said. "And I am truly sorry." 
But according to Dudley, Santa Barbara County's District Attorney who has spent years working on the case, it was all part of an act, even the apology.
"[DeAngelo] feigned his illness," Dudley said. "He just wanted to come across as a poor old man."
At a Friday press conference in Sacramento, videos were shown of DeAngelo moving about and exercising inside his jail cell, which Bowman refused to allow during the hearing. 
DeAngelo, 74, pleaded guilty on June 29 to killing 13 people and 13 rape-related charges connected to a crime spree across California in the 1970s and 80s, including Santa Barbara County. The plea was made as part of a deal that avoided the death penalty, according to Dudley. 
He was arrested at his home in Citrus Heights in April 2018 following a four-decade-long manhunt after DNA evidence tied him to the crimes. 
Four days of victim testimony that began Tuesday preceded the sentencing, which was held inside the CSU Sacramento ballroom to facilitate social distancing due to the coronavirus. Appearing feeble, and in a wheelchair, DeAngelo stared straight ahead and did not react during the testimony. 
"I've dealt with some pretty big psychopaths," Dudley said. "He is the ultimate psychopath." 
Applause erupted from the audience immediately after Bowman handed down the sentence. 
"The defendant deserves no mercy," Bowman said. 
DeAngelo was linked to dozens of sexual assaults and burglaries that included more than 80 victims across 11 counties from 1975 to 1986. 
In Santa Barbara County alone, investigators connected DeAngelo to four murders in Goleta, including those of Dr. Robert Offerman, 44, and Debra Manning, 35, who were killed on Dec. 30, 1979; and Cheri Domingo, 35, and Gregory Sanchez, 27, on July 27, 1981. 
The most powerful moment for Dudley that came in the four days of testimony came form Domingo's daughter, Debbi Domingo McMullan, who read her statement to DeAngelo in a Sacramento courtroom on Thursday. 
After her mother's death, McMullan's life fell apart, Dudley said. She became a domestic violence victim, used drugs and lost custody of her three children.
But her life gradually improved and eventually she became a victim advocate. 
"[McMullan] was sort of treated like a kid and left on her own," Dudley said. "She is a quintessential victim, to survivor, to advocate and making a difference for other people." 
Despite coming in the middle of a pandemic, an economic downturn and wildfires, Dudley said DeAngelo's sentencing should be viewed as a hopeful sign that good triumphed over evil. 
"It's easy to feel like a victim, given the circumstances we're living in right now," Dudley said. "But persistence works. Keep trying, stay optimistic and engage in kindness. Justice was served today and that's something people should be fired up about." 
Concerned about COVID-19?
Sign up now to get the most recent coronavirus headlines and other important local and national news sent to your email inbox daily.