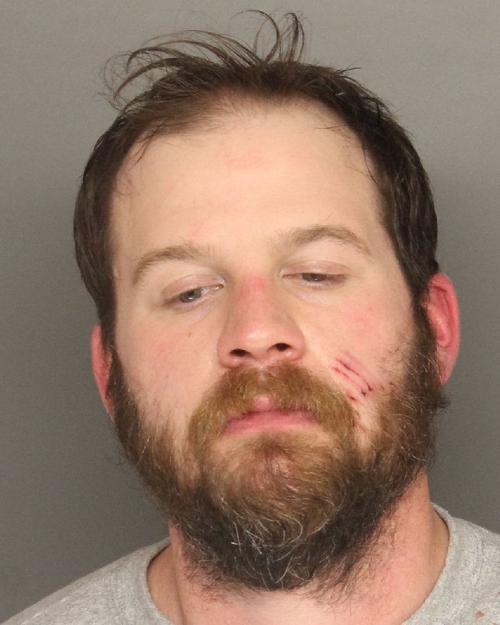 A report of a man stalking an 18-year-old woman in Solvang eventually led to the suspect being pursued in a vehicle by officers and on foot by a K-9 officer, fighting with the dog and being hit with a stun gun before ultimately being arrested.
About 10 p.m. Saturday, the woman told Santa Barbara County sheriff's deputies she was being followed by a man in a blue Ford Raptor who had attempted to open the passenger door of her car while she was parked in the 1700 block of Laurel Avenue in Solvang.
Fearing she was about to be carjacked and kidnapped, she had accelerated away, but the man followed her in the pickup, according to the media report from the sheriff's Solvang substation.
She was able to ditch him long enough to pick up her parents, then meet with deputies at Alisal Road and Valhalla Drive in Solvang, the report said.
While they were meeting, the young woman pointed out the Raptor pickup approaching their location, but the driver apparently saw the deputies, made a U-turn and drove away.
Deputies followed and attempted to stop the truck, but the man evaded them by driving through a park open space before continuing northbound on Alisal Road, running stop signs and red traffic lights, the report said.
Because of his reckless driving, deputies did not pursue the man. But suspecting he was headed for Highway 101, deputies had other Sheriff's Office units deploy along the route, and he was soon spotted driving southbound on the highway.
Deputies began trailing the man, moving with the flow of traffic in normal driving patterns to avoid raising suspicion.
After coordinating with the California Highway Patrol, deputies attempted to stop the Raptor near the Highway 1 offramp, near Gaviota, but the driver increased his speed to over 100 mph.
At that point, the CHP took up the pursuit, requesting assistance from a Sheriff's Office K-9 unit, the report said.
CHP units positioned ahead of the pursuit deployed spike strips that deflated the pickup's tires, causing it to run off the roadway into the brush near the Signal Oil facility.
At that point, the driver jumped out and began running up the freeway, pursued by sheriff's K-9 Zeke and refusing orders to stop.
Caught by Zeke, the man fought with the dog until he was shocked by a deputy's stun gun and taken into custody, according to the report.
Santa Barbara resident John Wise, 36, was subsequently booked into Santa Barbara County Jail on suspicion of attempted kidnapping, attempted carjacking, evading police and resisting arrest.
Sign up for our Crime & Courts newsletter
Get the latest in local public safety news with this weekly email.