Veterans of two wars and an active serviceman addressed several hundred people who gathered Monday in Solvang Park, reminding them to never forget the sacrifices made by military men and women to preserve America's freedom.
The crowd of veterans, their families, friends and others were there to pay tribute to veterans, especially those who died in war, at the annual Memorial Day observance presented by Veterans of Foreign Wars Post 7139.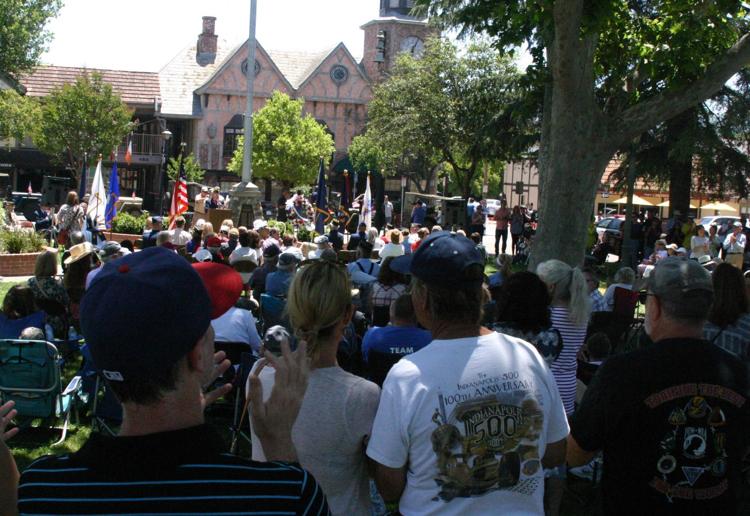 Those who delivered inspirational messages included VFW Post 7139 Commander Alvin Salge; keynote speaker Maj. Gen. Stephen Whiting, commander of the 14th Air Force at Vandenberg Air Force Base; retired U.S. Navy Capt. Charlie Plumb, who spent six years as a prisoner of war in North Vietnam; and Ed Jorgensen, a PT Boat crewman during World War II.
Salge noted that while Memorial Day is set aside to remember those who made the ultimate sacrifice for freedom, the living also should not be forgotten.
"Active service men and women need special recognition on this Memorial Day," he said.
Quoting Lincoln
Those active military personnel were represented at the ceremonies by Whiting, who is also deputy Joint Force Space Component commander.
He recalled the words Abraham Lincoln delivered seven score and 15 years ago at the dedication of the Soldiers' National Cemetery in Gettysburg, Pennsylvania: "It is for us the living … to be dedicated here to the unfinished work which they who fought here have thus far so nobly advanced … that we here highly resolve that these dead shall not have died in vain … and that government of the people, by the people, for the people, shall not perish from the Earth."
"Nothing has changed since then," Whiting told the audience. "Americans have fought in places people struggle to remember."
But Whiting indicated people should not struggle to remember the American men and women who died in those places.
"We should not, we cannot, we must not fail to remember them," he said, noting freedom is not free. "As we speak, Americans around the world are making payments" on our freedom.
Worse than being a POW
Plumb was flying an F-4 Phantom on his 75th mission during the Vietnam War when he was shot down over Hanoi and spent six years in a North Vietnamese POW camp.
"There's something worse than a veteran being sent 10,000 miles from home to a country he can't pronounce for a reason he doesn't know," Plumb said.
In 1967, U.S. Navy Lt. Charlie Plumb was piloting his F-4 Phantom from the aircraft carrier …
He continued, saying there's something worse than being shot down by a missile over enemy territory and something worse than spending the next six birthdays as a captive who was tortured daily.
"What's worse than all these things is being forgotten," he said.
Plumb related several inspirational and thought-provoking stories of people he encountered while a POW who did extraordinary things or did ordinary things that had an extraordinary impact.
"Where do we get these folks?" he asked. "The folks who step up to the plate when the going gets tough."
Plumb noted that he has a home in Southern California and another in Santa Ynez, where he hangars two aircraft. Given the choice, he said he would prefer to live in the Santa Ynez Valley full time.
"It's different here," he told the crowd. "You show up to things like this and care about the direction this country is headed. … The question has to be answered by each and every one of us, not just the vets."
Plumb received a standing ovation following his speech, as did Jorgensen, who followed him at the podium.
Their legacy is freedom
A crewman on a PT Boat in the South Pacific from 1943 to 1945, Jorgensen said that at the height of World War II, there were 16 million men and women in the American armed forces.
"Today, less than 5 percent of them are still alive," he said. "We can sum up their legacy in one word, and that is 'freedom.'"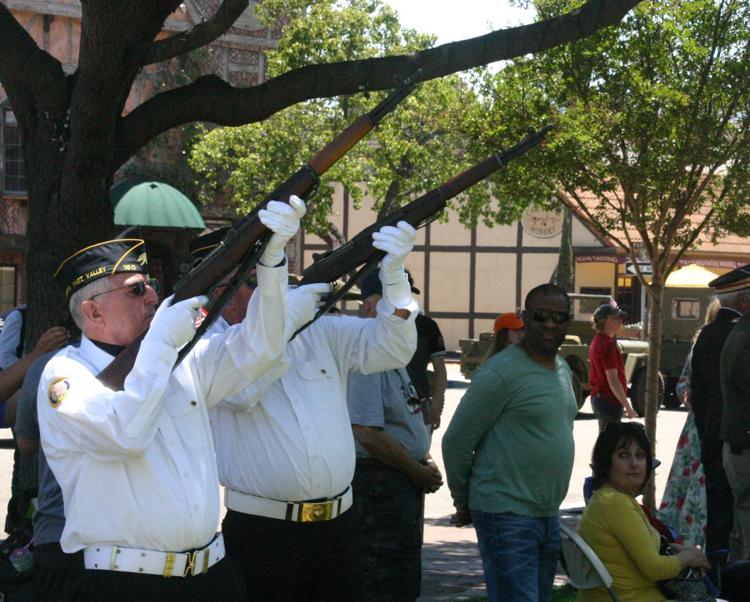 Jorgensen said veterans "have carried our flag into battle in every corner of the Earth," noting 500,000 Americans have died and 80,000 are missing in action, while "hundreds of thousands have learned to live with their wounds."
He reminded the crowd of the Battle of Guadalcanal in 1942-43 and how the waters between Savo Island, Florida Island and Guadalcanal became known as Ironbottom Sound among the allies because 26 warships were sunk and 5,000 sailors lost their lives there.
"From an old sailor to the people on Ironbottom Sound, you are not forgotten," he said. "Today we honor their memory, we honor their services, we remember them forever."
Many contributions
In addition to the speakers, the ceremonies included retired U.S. Marine Corps Lt. Col. Chris Nielsen laying a wreath at a plaque on the flagpole bearing the names of 18 Santa Ynez Valley residents who died while serving in the military and the reading of those names by Salge.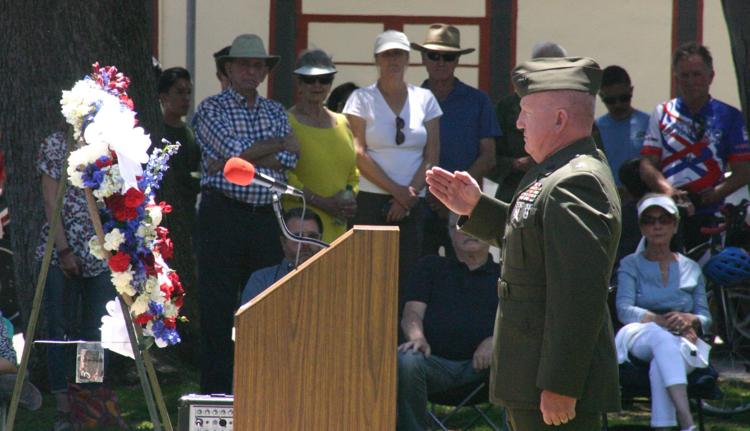 The Santa Ynez Valley Wind Ensemble performed "The Star Spangled Banner," "A National Prayer," "God Bless America" and the marches of the armed forces, during which veterans of each branch stood when their march was played.
The colors were raised, then lowered to half-staff, by members of Boy Scout Troop 42, the bugle calls To the Colors and taps were played by Michael Roberts, the invocation and benediction were given by the Rev. Randall Day and the final three-volley rifle salute was provided by members of American Legion Post 160.
Military and civilian Jeeps, most of them from the 1940s, provided by the Flat Fenders Friends, were parked in a line along First Street adjacent to the park, but a planned flyover by the Santa Barbara County Sheriff's Office search and rescue helicopter was canceled because of scheduling problems, Salge said.
Following the ceremony, VFW members handed out tickets for free meals of barbecued tri-tip sandwiches with salsa, chips and a beverage provided by the Vikings of Solvang, who also handed a rose to each woman at the end of the serving line.
Get local news delivered to your inbox!
Subscribe to our Daily Headlines newsletter.