Volunteers in bright orange vests spanned the Central Coast on Wednesday, selling over 14,000 special edition copies of the Santa Maria Times, Lompoc Record and Santa Ynez Valley News in an effort to raise funds for cancer patients in the community. 
During the sixth annual Day of Hope -- a regional fundraiser that benefits Mission Hope Cancer Center -- 600 volunteers took to the streets in Santa Maria, Lompoc, Solvang and Nipomo to sell $1 newspapers from 6 a.m. into the early afternoon. For the first time this year, a separate Spanish-language edition of Day of Hope stories was distributed to key locations throughout the Santa Maria area.
Over the first five years, the campaign has raised about $760,000. The goal this year was to bring in at least $200,000 more, according to Jessa Brooks, the vice president of philanthropy for the Marian Regional Medical Center Foundation, partners with Lee Central Coast News for the annual fundraiser. Organizers still were counting funds at the end of Wednesday, Brooks said, which included donations well beyond the $1 sale price.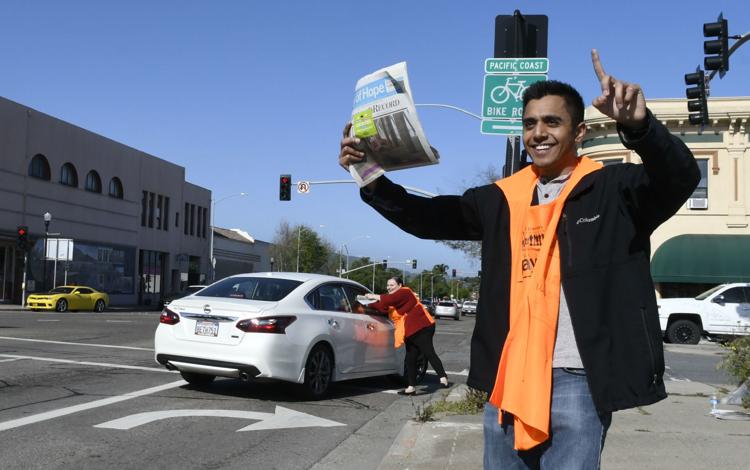 The proceeds, according to organizers, will go toward programs that support local cancer patients and their families.
Volunteers who positioned themselves on street corners from Clark Avenue to Broadway on Wednesday included cancer survivors like Maggi Danne. 
Danne helped lead the contingent of volunteers at the Mission Hope Cancer Center off Church Street. She's a survivor of both pneumonia and lung cancer.
"I'm coming up on nine years," Danne said. "There's very few of us walking around because it's one of those silent killers. But I'm extremely blessed. They allowed me to recover from pneumonia first. But then they found the spot and two weeks later, I was on the operating table. They removed the upper level of my right lung. It was a scary time, but a huge blessing -- and it's why we have Mission Hope today."
Although Aaron Sanchez continues to deal with effects of a brain tumor, he has not let that stop him from volunteering for the last three Day of Hope events. 
"Since my grandma became cancer-free from breast cancer, I started doing this," Sanchez said. "My mom had cancer as well, but she passed away. So I'm doing this for her, too."
Volunteers in bright orange vests spanned the Central Coast on Wednesday, selling over 14,000 special edition copies of the Santa Maria Times,…
Sanchez, 23, who graduated from Pioneer Valley High, developed a brain tumor when he was born. The tumor returned his sophomore year in high school around the time his mom died. Despite his loss, Sanchez carries a positive outlook on life, encouraging younger children to appreciate their mothers while they still have them. 
The day included a special guest appearance by "The Voice" contestant Pryor Baird, an Orcutt native who appeared on the NBC show in 2018. During his rounds across town, he posed for photos with volunteers, serenaded cancer patients at Mission Hope and hugged one volunteer who said she survived cancer. 
"I love it. I try to donate as much time as I can to local charities, and not just local but all over the country," said the country singer and Righetti High graduate. "We don't know how grateful and lucky we are to have our health. My dad used to say, 'You don't have to look very far to see how grateful you are and how thankful you need to be.'"
Baird also visited with with 17 Strong Foundation volunteers, stationed at the Costco parking lot in Santa Maria, who participated in Day of Hope for the first time. 
Creation of the foundation was inspired by Ryan Teixeira, the Arroyo Grande graduate who lost his battle with cancer in 2017. The foundation's goal is to plan and fund victory trips for young adults who have suffered the trauma of catastrophic illness.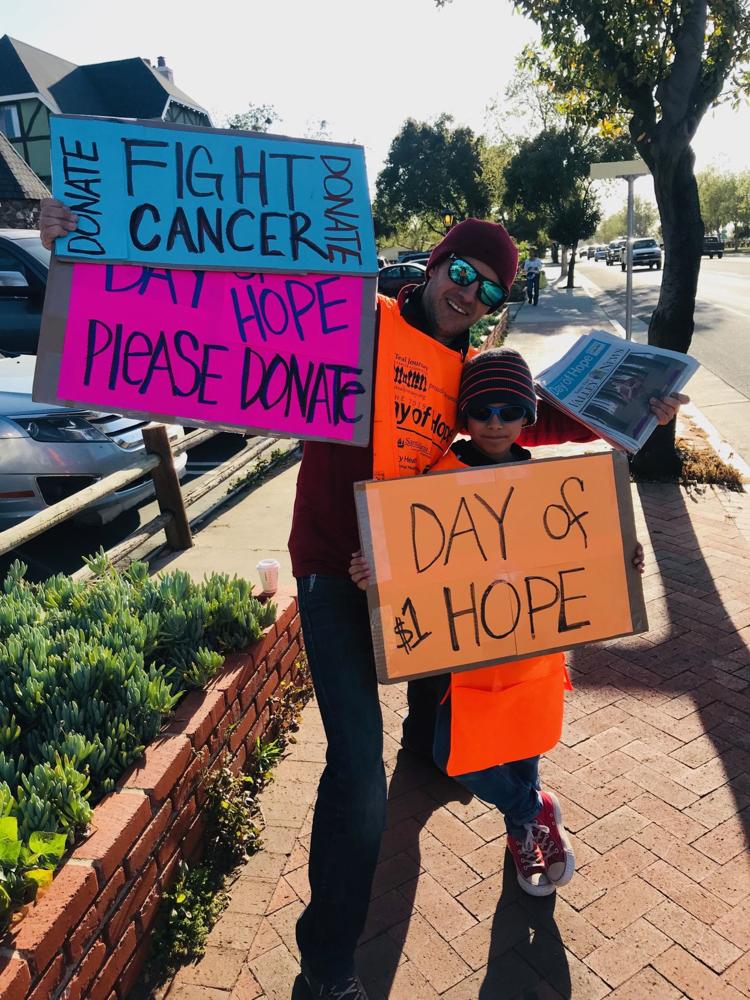 Ryan Teixeira's parents, Steve and Holly, took photos with Baird on Wednesday and, along with other foundation volunteers, were serenaded. 
"Pryor is just a genuine good guy. What an awesome individual he is," said Steve Teixeira, who added he's inspired to keep his son's memory alive by, what he called, "paying it forward."
"Ryan was all about paying it forward and making sure people who went through this hell got something in return. It's why he started 17 Strong. It was so important for him," Steve Teixeira said. "Paying something forward, whether it's a dollar or whether it's giving your time, is important."
Holly Teixeira added, "It's great because we get to continue to live out Ryan's legacy through 17 Strong. It's all for such a great cause and we're super excited to be here. We really want to do this again. It's all one big community that we're serving in."
Two volunteers who sold newspapers Wednesday with the Teixeiras included breast cancer survivors Kim Renteria and Lauren Vega. Renteria had triple negative breast cancer, while Vega had triple positive.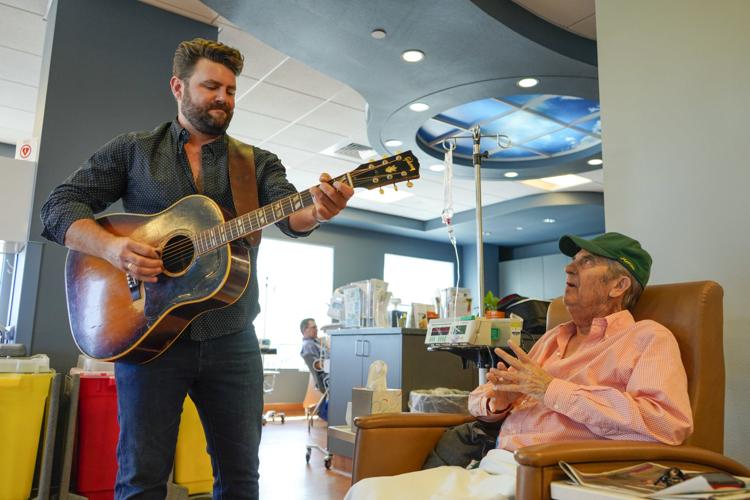 Renteria said she's in remission and enduring physical therapy, while Vega said she had finished radiation.
Others supported Day of Hope in their own unique way, including Daniel Urquhart, the 18-year owner of Liddo's Food Truck. He had planned to donate all proceeds from the day's sales to Mission Hope. 
Urquhart said he was inspired by his grandma, who battled cancer 10 years ago, to do his part during the annual event. 
"It is a very important day," Urquhart said. "My grandma just completed treatment here at the cancer center. They've given her a new lease on life. It's just super special."