Aniela Hoffman wants girls to know that it is OK to make a mistake. As a matter of fact, she celebrates them.
"I tell them that, in jazz, there are no mistakes," she said. "There are just good choices and better choices."
From behind a standard 4-piece jazz drum set, Hoffman, who teaches music at Arellanes Junior High School and was named the 2019 Santa Barbara County Performing Arts Teacher of the Year, said female representation in the genre is an issue that predates her time as a teacher and tenor saxophonist at Gettysburg College.
"If you look at all the professional [and collegiate] jazz bands, they're pretty much all male," she said. "I thought 'Oh, in 20 years, that would have changed.' It didn't."
On Saturday, Feb. 23, Hoffman will host professional female jazz musicians and music educators from across Santa Maria, San Luis Obispo and the Bay Area at Santa Maria High School for an afternoon of master classes and jam sessions geared specifically toward girls age 10 to 14. A "passion project" made possible by her win, Hoffman said the workshop is designed to help "girls feel welcome and have opportunities" to perform.
"Freedom and creativity are a big emphasis in jazz," she explained, adding that students are often told to experiment given a scale or pattern of notes. They're encouraged to play within their comfort zone as members of the ensemble, or attempt to experiment by soloing over the rhythm section. 
But some girls are shy during class and at performances, an issue Hoffman said stems from a lack of female role models.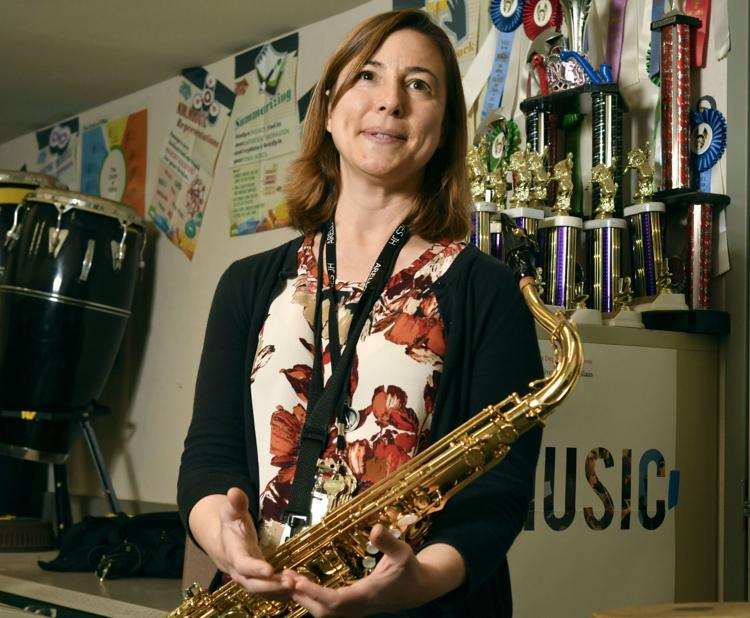 American Jazz magazine DownBeat has maintained a readers and critics "Hall of Fame" since 1952. Only six of its 123 Hall of Fame inductees are women. None of the 15 soloists, ensemble players or arrangers that make up the Lincoln Center's jazz orchestra, billed as the nation's finest jazz group, are women.
"If you're representing your whole gender or group, you don't want to be a bad representative of that, so a lot of girls just step back," she said. "At this age they're afraid of making mistakes. If they don't do it perfectly the first time [then they put their] hands down and don't want to try."
Borrowing the idea from Sarah Klein, the director of a very successful jazz program at Berkeley High School, Hoffman said Saturday's workshop gives young girls an opportunity to experiment with their instruments and learn how to improvise and solo from musicians currently established in the field. The lessons will also supplement music education for many of the district's low-income students, many of which do not have the opportunity for instruction outside of the class.
Hoffman helped establish the jazz band and honor jazz band at Arellanes Junior High when she came to the Santa Maria-Bonita School District from Las Vegas schools six years ago. She tries to cram lessons on theory, scales and charts with call-and-response exercises to help develop their aural skills during class and weekly meetings after school.
"Very few of our students can afford to take private lessons," Hoffman said. "They come here and their entire [musical] education is from their schools. We don't have parents sending them away into jazz camps or other things like that."
Applications for jazz camps with opportunities for scholarships will be available at the workshop.
The workshop will also feature a Question-and-Answer panel with some of the female Jazz musicians, a screening of "Girls in the Band," a 2011 documentary on female jazz musicians, and will close with a jazz concert at Ethel Pope Auditorium.
"The world [of Jazz] is starting to change a little bit for these girls," Hoffman said. "Here's to hoping it continues."