Despite faltering standardized test scores across the state that include Lompoc Unified School District's below-average student proficiency results in math or English language arts and literacy, district officials say they are optimistic about the future. 
Brian Jaramillo, assistant superintendent, student services and special education, acknowledged LUSD's less-than-favorable scores but said they aren't surprising.
"At this point, we at the district are very hopeful and optimistic that the data doesn't show the kind of learning loss that we feared," he said. "I don't think anybody is surprised by the data." 
Standardized test results recently released by the California Department of Education show students in grades third through eighth and 11th who were administered the California Assessment of Student Performance and Progress, overall did not meet Common Core State Standards in math or English Language Arts (ELA) and Literacy for the 2021-22 academic year.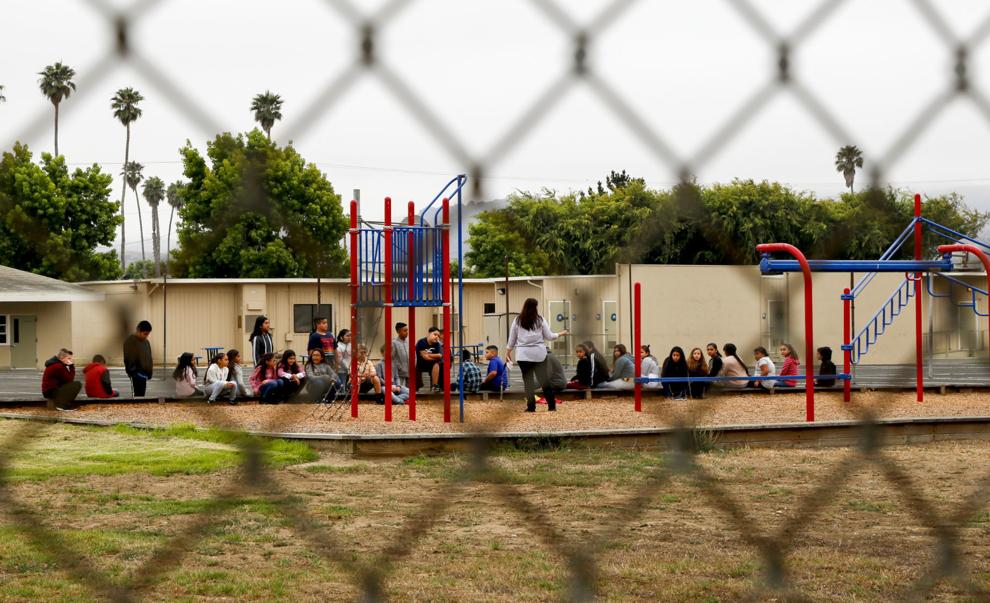 Seventy nine percent of Lompoc students did not meet the state's baseline marker in math proficiency compared to the student average in California which fared slightly better by 12 percentage points.
At LUSD, 64% of students failed to meet the standard for ELA — with 53% statewide, or 11% more on average, meeting the standard across the state.
Jaramillo said that while the district recognizes "that learning loss is a thing," the academic outcomes from last year don't come as a surprise since they measure student learning shortly after emerging from a pandemic — which stripped many of necessary in-class engagement and educational resources at a critical time.
"The fear was that it would be a lot worse than what it showed up to be, and that the decline would be much more significant and that the hole left would be bigger," he said.
Conversely, he noted, "many of our students were able to fully access learning through distance learning — and the data reflects that too."
According to a CAASPP test results comparison, 36% of LUSD students met or exceeded state standards in ELA as compared to 48% of students at a state level, while 21% met or exceeded math standards versus 33% of their peers across the state.
Lompoc Standards Alignment Project
As a way to disrupt the downward trend in test scores and overall learning disparities, the district rolled out the "Lompoc Standards Alignment Project" in an effort to close the learning gap and put teachers in the driver's seat of curriculum design.
"Part of what the study finds is that we were not seeing improvement in our data," Jaramillo said. "What we had done in the past is empathized fidelity in the curriculum — following the textbooks. That doesn't raise achievement."
The new system being designed gathers input at all levels, with teacher input at its core. "It's not a top-down approach," he noted.
Jaramillo explained that instead of the typical new-textbook adoption approach, a long-term approach is being utilized with Common Core Standards at the center, which officials believe will result in "significant gains for our students that we weren't seeing previously," Jaramillo said.
As part of the standards alignment project launched, LUSD school board members on May 25, 2021 voted to approve a one-year $654,375 contract with third-party education service consultants Orenda Education.  The contract, which was effective July 1, 2021 to June 30, was funded with Expanded Learning Opportunity Grant funds.
Jaramillo said Orenda was hired to support Lompoc school sites by working with teachers and administrators to increase student achievement through equitable outcomes that also emphasizes certain populations identified as needing extra support. 
Since May 2021, Orenda has conducted a district analysis, led teachers and administrators in data reflection sessions where data was reviewed and provided teachers with instructional strategies through professional development sessions.
Teachers at regular intervals are also provided guidance for designing and teaching course curriculum based on state common standards and classroom experience. Each teaching unit, comprised of five core standards, is then followed by student testing. Testing is administered every six weeks, or five times throughout the school year, on five different units.
Students in PK through sixth more recently were tested in ELA during the week of Nov. 14 and previously in October while students in grades seven through 12 were tested in both ELA and math.
Jaramillo explained that part of the framework under construction relies on feedback. Data points are reviewed and adjustments are made to maximize student achievement and prepare them for state standardized testing.
After two units of testing, teachers are expected to review the first set of data points next week, he said, when an achievement trajectory will be identified and tracked.
"Last year was really about setting up the system and trying to get through as best we could," Jaramillo said. "This year, now that we have a system in place and things are moving back toward normal, we're hoping to see more gains."
Orenda's contract was renewed in May, began July 1 and will expire on June 30, 2023.