The public "spoke loud and clear" at a special Santa Ynez Valley Union High School District board meeting held Monday afternoon to address a $1.43 million structural deficit, and trustees said they heard them and vowed to do everything possible to retain teachers and maintain programs.
So many students, parents, teachers and staff members showed up for the 3 p.m. meeting that school officials moved it from the board meeting room to the school library, and it was still standing-room-only.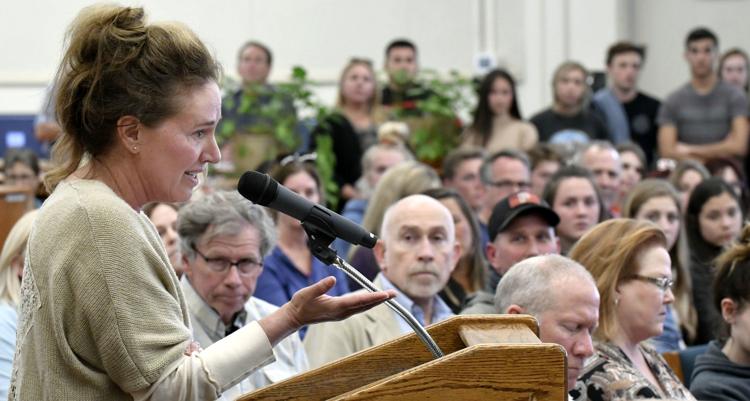 About 30 people addressed the board, virtually all of them asking trustees to not eliminate positions and lay off teachers and staff as the district seeks a solution to a "significant structural deficit that requires an immediate reduction in ongoing expenditures," Superintendent Scott Cory said in a report to the board.
"Failure to do so will, in three years time, result in a fiscal situation from which we will not be able to recover," he said.
He said the special meeting was to allow the board to consider the best option for dealing with the more than $1.43 million structural deficit, which he defined as the difference between revenues and expenditures, noting that didn't necessarily equate to a negative ending balance.
Cory offered the board three potential scenarios, but the one he recommended was one in which the district would cut $250,000 in expenses, reduce the reserve from 30 percent of the budget, or more than $4.25 million, to a static $3 million and eliminate the $500,000 parking lot renovation budget.
That $250,000 cut in expenses would include about $405,000 saved by eliminating two full-time teachers and two support staff members, reducing the equivalent of two 1.2 full-time teachers each to straight full-time jobs and cutting one support staff position from 12 months to 10 months.
Cory explained that the 1.2 full-time positions were the result of the two teachers each currently doing a little more than one job, and their extra duties would be taken away.
But eliminating employees' jobs — especially teachers — didn't sit well with those who addressed the board, some saying the district should spend some of its reserves to maintain the staff — at least for a year while studying other alternatives.
Some suggested cutting administrators instead, others said a citizens committee should be formed to come up with alternatives and at least one said the board should do nothing because the numbers Cory presented would change.
"I ask you before you make this critical decision, take a year of time and look at recent history," Melanie Dickey said. It's a great investment to take a small portion of your budget to buy a year … ."
Former SYVUHS District trustee Bruce Porter said when he sat in a board seat, the decisions he regretted the most were to approve layoffs.
"You are elected politicians," he told the board. "What are you doing to go out and get that revenue?"
He said the district boundaries should be expanded toward Lompoc.
"Those areas mean nothing to Lompoc," Porter said. "They mean millions (of dollars) to us."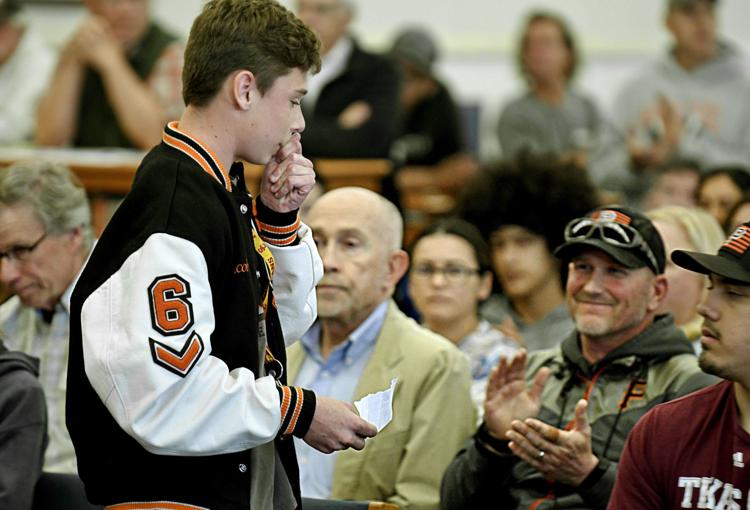 Chip Fenega, who said he taught there for 29 years, criticized the three-year budget window.
"Three years out is so far out you don't talk about it," he said, saying there are too many variables that can affect income and expenditures. "Unfortunately, we're not here because of leadership. We're here because of panic."
Shelly Donahue said the district could save $354,958 if it restructured the top administrators and said there should be only one superintendent for all the school districts in Santa Ynez Valley.
"Why on Earth would you consider cutting the budget (in a way) that would impact our children in such a negative way?" Donahue asked.
Although the staff report didn't single out any specific teachers who could lose their jobs, many speakers focused on two — automotive teacher Rob Hill and physical education teacher and football coach Josh McClurg.
Rory Burnett said he went to trade school because of the Santa Ynez automotive program.
"It allowed me to make a good living, buy a home and stay in Santa Ynez," he said.
"The idea of eliminating the program and especially the teachers … is criminal," said Bob Stokes, president of the Wheels 'n' Windmills Car Show, noting his organization had donated more than $50,000 to help the program. "Please don't let this program or Mr. Hill get away."
Stu Gildred urged the board to get the community involved in coming up with a solution.
"Let's get the community in here," he said. "Let's get this solved. Let's save these jobs."
He added, "We should be giving Coach McClurg an award. It's not a number. It's about someone who cares about these students."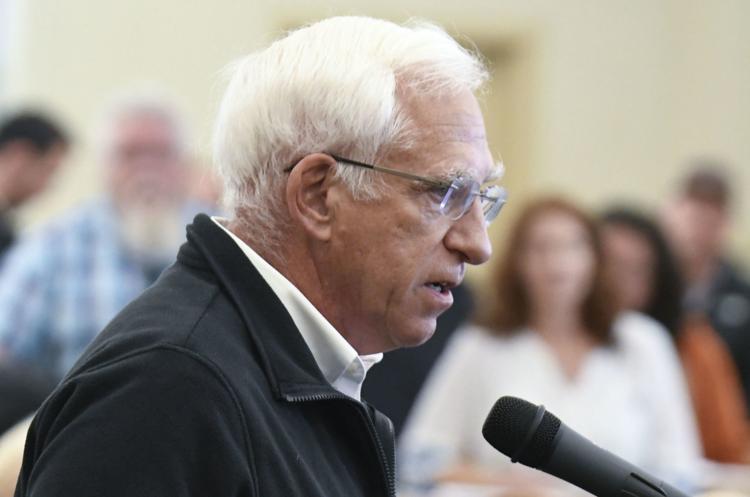 Student Michael Martinez summed up what many students expressed: "This school is my home because of the teachers here."
Cory responded to some of the comments by noting the district is a "basic aid district," meaning the property values are so high that the property taxes the district receives exceed the state's minimum funding guarantee, so the state will not provide additional funds.
He also noted that also means the district is required to carry a reserve equal to 30 percent of its budget, because if the district loses money, the state will not backfill those funds.
Cory also said the district is required to budget for three years at a time.
However, he said the state mandated that the district pay for Olive Grove Charter School, even though the district rejected its application, and that could cost the district from $700,000 to $1.2 million a year — an unexpected expense that hadn't been budgeted.
"We are in the most difficult of financial situations," he said, but added he didn't want to lay off any personnel either. "The students are great because of our staff. The school is great because of our staff."
Board members were even more adamant.
"It's obvious our constituents … want us to keep cuts as far away from the students and staff as possible," Tory Babcock said. "I think we need to honor that."
John Baeke said he had received a lot of emails telling him what he should not do, but he hadn't received any telling him what the board should do, and he asked that the public offer suggestions for dealing with the revenue shortfall.
"I'm not going to vote for eliminating any position," Baeke said, although he admitted that, in the end, some positions might have to be cut.
No decision was made on a direction to take on the budget. Cory said the decision will come at the next meeting Tuesday, March 12.