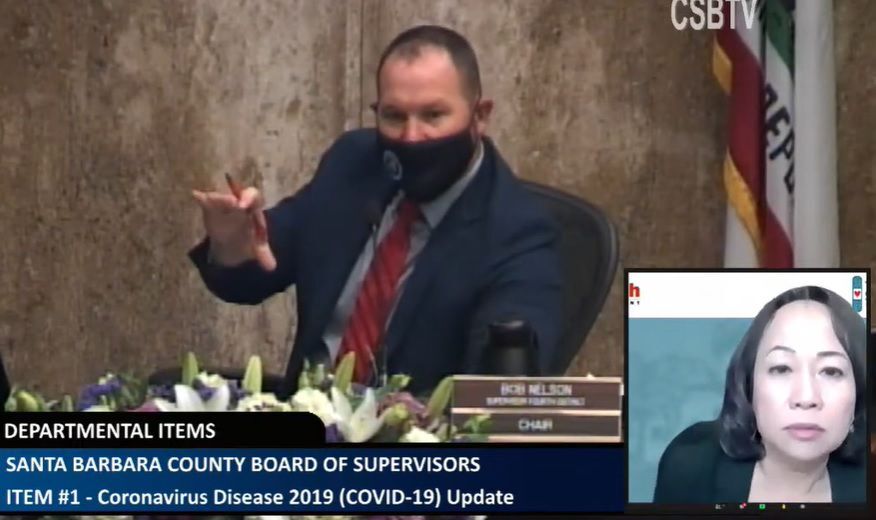 Individuals eligible to be vaccinated against COVID-19 in Santa Barbara County's next phase of inoculations could begin receiving injections in early February, depending upon how well the current first phase progresses and the availability of doses, according to a report delivered Tuesday to the Board of Supervisors.
Van Do-Reynoso, director of the County Public Health Department, told supervisors the department is closing in on vaccinating all those prioritized to receive the initial vaccinations.
"We're on the cusp of finishing up Phase 1a. We're not there yet," Do-Reynoso said, adding the department will be increasing the number of those delivering the vaccine to individuals.
She said the California Public Health Department last week said counties could provide vaccinations concurrently in the next two rounds.
"I think that we are hesitant ... to proceed [with] all tiers in Phase 1b concurrently without guidance or without leeway or flexibility from CDPH," Do-Reynoso said.
Those eligible for vaccination next in Phase 1b, Tier 1, include seniors age 75 and older and essential workers in food, grocery, agriculture, education and child care sectors, firefighters, law enforcement, probation and corrections officers, and emergency medical services personnel.
After those individuals are vaccinated, inoculations could go to those in Phase 1b, Tier 2, also potentially in early February, although the window for both tiers extends into mid-March.
Those eligible in that tier include individuals age 65 to 74 at higher risk because of underlying health conditions and people who are incarcerated, homeless and essential workers in transportation, logistics and industrial, residential, commercial and critical manufacturing jobs.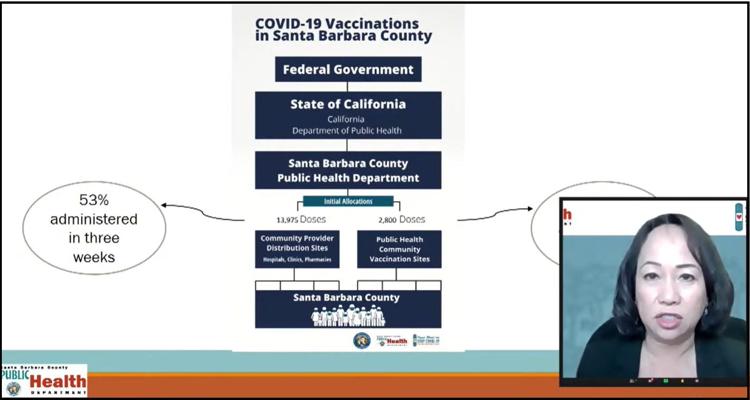 That would be followed by those in Phase 1C, Tier 1, including individuals age 65 to 74, those between the ages of 18 and 64 who have underlying medical conditions and essential workers in water and wastewater management, defense, energy, chemicals, hazardous materials, communication, information technology, financial services, government and community services jobs.
Then Phase 2, which likely will come in late spring, and Phase 3 would consist of those not already recommended or provided with vaccinations.
Do-Reynoso said the bulk of the county's initial allocation of 16,775 doses went to hospitals, clinics and pharmacies, which have dispensed 53% of the 13,975 doses they received, she said.
Public Health Department community vaccination sites received the remaining 2,800 doses, of which 40% were administered in three days last week, she said.
Do-Reynoso provided a long list of those eligible to receive vaccinations in the first phase but pointed out the list was not exhaustive, and she directed individuals who want to know if they are eligible to go to the county's vaccine website at https://publichealthsbc.org/vaccine/ to check.
Those being given vaccinations in the first round are primarily those dealing directly with patients at acute care, psychiatric and correctional facility hospitals; skilled nursing and intermediate care facilities; and dialysis centers and primary care, specialty care and dental clinics.
Also in the first phase are paramedics and emergency medical technicians, home health care and community health care workers, Public Health Department field staff, lab workers, pharmacy staff and those in nonclinical roles like environmental services, transportation and translation.
Series: Recent Santa Barbara County Supervisors coverage
Read this collection of stories on Santa Barbara Board of Supervisors from the past year. Read all of our coverage of county government online.
Concerned about COVID-19?
Sign up now to get the most recent coronavirus headlines and other important local and national news sent to your email inbox daily.