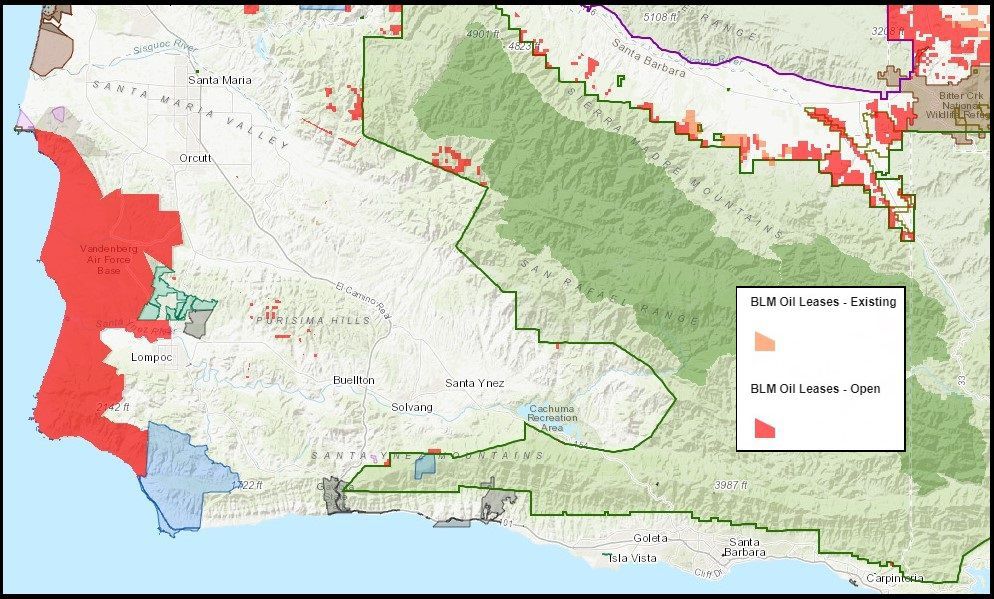 A supplemental environmental impact report on hydraulic fracturing released Thursday by the U.S. Bureau of Land Management found no significant impacts, and plans for leasing 1.2 million acres for oil and gas development in eight counties, including Santa Barbara County, will not change.
The decision on the supplemental EIR will not trigger oil and gas leasing and will not open up new public lands to oil and gas development, a BLM spokeswoman said, adding most of the acreage available for development has been available for more than 30 years.
"One of the things that I think confuses people is that just because an area is open for oil and gas production doesn't mean oil and gas production will actively take place there," said Serena Baker, public information officer for the BLM's Bakersfield Field Office.
Baker said the supplemental study also upheld the range of alternatives in the BLM Bakersfield Field Office's Resource Management Plan.
But environmental groups immediately criticized the report, which they said was fast-tracked to adhere to an executive order issued by the Trump administration, for failing to find fracking impacts adjacent to sites susceptible to environmental damage and health risks.
A Los Padres ForestWatch spokesman said the plan allows drilling and fracking in and adjacent to national forests and parks; state, county and city parks and beaches; state and federal wildlife refuges and ecological reserves; rivers and reservoirs; parts of the Pacific Crest Trail and school campuses.
"If the BLM didn't find impacts from oil drilling and fracking next to schools, under rivers and reservoirs and in habitat that harbors endangered animals, it's because they didn't look," ForestWatch Executive Director Jeff Kuyper said.
Baker said the supplemental EIR analysis does support the administration's priority of promoting environmentally responsible energy development while creating jobs and providing economic opportunities for local communities.
Oil and gas development on BLM lands within the Bakersfield Field Office planning area provides 3,500 jobs and generates more than $200 million in economic benefits, Baker said.
The supplemental EIR was ordered by a U.S. District Court after ForestWatch and the Center for Biological Diversity filed a lawsuit in 2016 over the Bakersfield Field Office's Resource Management Plan that determined which lands would be open for leasing and what measures would be taken to protect resources.
Included in that plan were 400,000 acres managed by the BLM in Santa Barbara, San Luis Obispo, Ventura, western Kern, Kings, Tulare, Fresno and Madera counties.
Although the supplemental EIR addressed hydraulic fracturing, commonly referred to as "fracking," oil industry officials have said the geology of Santa Barbara County is not conducive to that process.
"In Santa Barbara County, there aren't any areas where hydraulic fracking is occurring or anticipated for consideration in the future," Baker said.
She said the supplemental EIR also analyzed air and atmospheric values, water quality and quantity, livestock grazing, seismicity and cultural, biological, mineral, visual, social and economic resources.
It incorporated independent studies by the California Council on Science and Techology and Lawrence Berkeley National Laboratory, Baker said.
But ForestWatch officials called it "a sham study" and claimed that although nearly 100,000 area residents sent letters expressing concern about the plan, the BLM rejected what it considered form letters, verbal testimony and comments that did not provide "substantive" information.
"Every step of the way, the Trump administration declined to do its job to put public health and the safety of the environment before corporate interests," said Rebecca August, advocacy director for ForestWatch.