Some 90 evenings between May and September each year, Jim Patin dons his red coat, grabs his sense of humor, puts on his huge smile and heads to Solvang Festival Theater.
He's typically the first theater representative guests see as they approach the front gate, the first to break the ice, the first to welcome them to his home away from home. It's not entirely out of his scope to break out into the birthday song or don a mullet in the spirit of a special performance.
"It is not often that a volunteer becomes the face of an organization. That distinction is more commonly held by an exuberant CEO or beloved founder. Solvang Festival Theater breaks that tradition, thanks to James ('Jim') Patin," wrote Mary Ann Norbom, executive director of Solvang Festival Theater.
Since he put on the red coat in 2011, Patin's sole exception to his theater commitment is in September. That's when this father, grandfather, philanthropist and Santa Ynez Valley's 2019 Culture Volunteer of the Year trades the red coat for dress attire to attend the San Lorenzo Foundation Gala. It's a project so near and dear to him that this year Patin serves as its co-chair.
"When my late wife and I moved into the valley, friends invited us to the seminary. It was a retreat center then, and it was just an enjoyable thing to do. We found comfort and we found something that was just there for us. It's definitely a place we appreciate," he said.
Patin moved to Solvang in 1986 with his wife, Kathy Jean Patin, from their longtime home in Goleta.
"This valley is just an amazing place, not only because it's beautiful, but because of the people in it," he said.
Never was that shown more clearly to the Patin family than when Kathy was diagnosed with cancer in November 1996. They were already ensconced in the community where Kathy was a helper at Santa Ynez Valley Presbyterian Church preschool.
"Once we found out about her cancer, the valley went to bat for us. They got together, the church groups, other people, and provided dinners to us and comfort," Jim said.
Though Kathy died in March 1997, the valley's citizens continued delivering meals to Jim and their three children for another two months until the family bucked up, ready to fend for itself again.
"This valley just came together. It was quite amazing," Jim said.
Meanwhile, San Lorenzo Seminary was going through iterations. The 28-acre spread off Sky Drive, established as a novitiate in 1962, had also come to serve as a retreat center by 1982. By 1997, with fewer novices, the novitiate combined with others and moved to Pennsylvania, and San Lorenzo was left to serve as a public retreat and prayer center until 2011. Then, another reorganization brought home the North American Pacific Capuchin Conference novitiate.
Today, the seminary is the home to friars for their initial year of contemplation, communal prayer, classes, manual labor and ministry in the local community before taking their first vows.
"This is where guys joining the Franciscan order first come to discern if this is the life for them. The purpose of the San Lorenzo Foundation is to provide funds to be able to maintain the structure of the seminary physically," Jim explained.
Foundation projects vary from the mundane to the two-year, $50,000 effort currently underway to bring solar power to the property.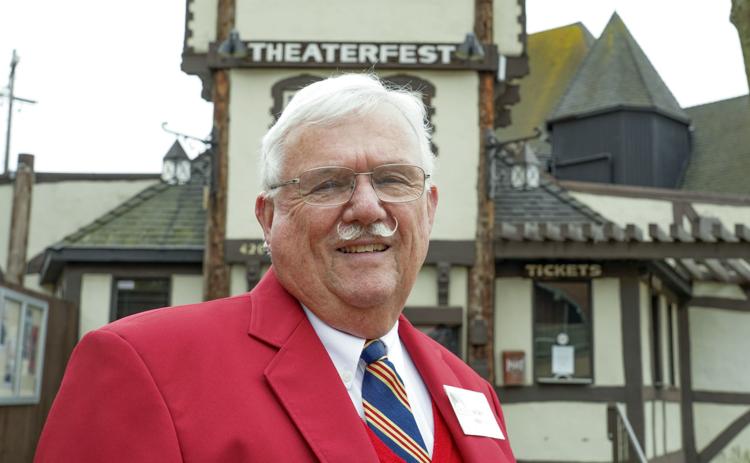 "We do have fun. We have a lot of fun, but it's a lot more serious than what I do volunteering at Theaterfest. You're still touching people," Jim said.
As co-chair of the Sept. 7 gala, Jim has a lot of work on his plate.
"I'm so heavily involved in that, for gala night, I just can't be at the theater," Jim said.
But the theater continues to draw him, and he doesn't see an end to his front gate shenanigans in sight.
"There's something about working that front gate. The theater just hits me. I like what I'm doing there. I think it has to do with the red coat. It's a fun thing to do and people remember the interaction. We shake hands. It's a lot of fun," Patin said.