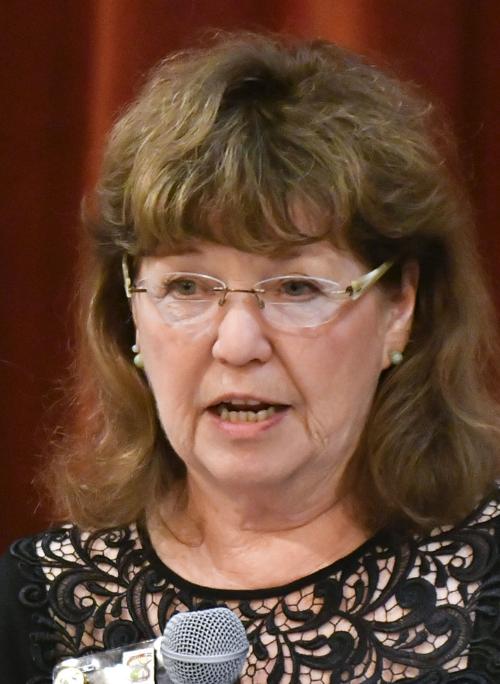 After a heated discussion in which one council member began swearing and members of the public catcalled from the seating area, the Solvang City Council voted 3-1 Wednesday to remove Joan Jamieson from the city's Board of Architectural Review.
Council Member Karen Waite emphatically opposed the motion, and Mayor Pro Tem Robert Clarke recused himself entirely citing a work-related relationship with Jamieson's husband.
The initial discussion, introduced by City Attorney Chip Wullbrandt, hinged around an email Jamieson sent Jan. 7 to all members of the BAR in response to a city staff email announcing cancellation of the BAR's Jan. 9 meeting. In her reply, Jamieson encouraged her peers to take specific actions, including attending a City Council meeting and taking a specific stance on a BAR-related issue at that meeting.
In the email, Jamieson wrote, "I would encourage you all to attend the CC Mtg on Monday, the 13th, to defend the good work the PC did to change the Sign Ordinance…" and "Also encourage you all to support a separate BAR…"
"Every Brown Act training that I've been to since email was created cautions that the first thing you try not to do, and that you be very careful if you do do it, is hit 'reply all' because it then becomes so easy to create a serial meeting," Wullbrandt said.
According to California Government Code 54952.2 (a); "a majority of the members of a legislative body shall not, outside a meeting authorized by this chapter, use a series of communications of any kind, directly or through intermediaries, to discuss, deliberate, or take action on any item of business that is within the subject matter jurisdiction of the legislative body."
Wullbrandt added that encouraging all members to attend a City Council meeting with the intent to participate created a second problem: a double quorum. Such a meeting would have to be agendized as a joint meeting of the council and its advisory board.
He noted that members of advisory boards are within their rights to attend such meetings so long as they do not participate.
"This email urged the BAR members to come to the meeting en masse and participate in the meeting and urge certain positions," Wullbrandt said.
Solvang resident and attorney Peter Laird spoke out in opposition to Wullbrandt's understanding of the law, stating "The Brown Act doesn't prevent you from communicating." He said the email merely "suggests the members attend a City Council meeting," a position Jamieson also held while addressing the council.
"My email was for information only, not to try to influence," Jamieson said.
Jamieson said she asked Wullbrandt who had provided the email to him, but that he had refused to tell her and instead told her a whistleblower had provided it.
"There's probably not a whistleblower," she told the council, while insinuating the city was using a current systems auditing process to access such information. The email, however, was sent not from a city email account, but a personal account she said she had set up outside the city's system.
Laird and Waite both expressed frustration with the matter being brought into the public forum.
Mayor Ryan Toussaint, who initially requested that the issue be placed on the agenda, defended his decision by citing interactions that were forced behind closed doors by a previous city attorney and previous city manager.
"Very clearly, going into a closed session to avoid revealing embarrassing things to the public is one of the reasons there is a Brown Act," Wullbrandt said.
Toussaint went on to note additional actions by Jamieson which he believed were Brown Act violations, including "what appears to be a secret meeting at the Dolphin Club of the SCVB" just as the city was trying to recover public assets that had gone missing following the city's termination of its contract with that public agency.
"We're all trying to figure out where things are going. We're spending money on legal fees — very expensive — to try to recover the assets and move forward, and one of the members, it was noted in (the minutes) — specifically noted in there — members of the public was Joan Jamieson. That was not a legal meeting," Toussaint said.
Jamieson called out from the crowd, to which Toussaint responded, "You went to a meeting that no public person that I'm aware of knew about."
Solvang City Council members delved deep into data, strategy and vision Monday night at a special meeting to address tourism and city marketing.
Among other scathing remarks, Toussaint also implicated Jamieson, who sat on the City Council at the time, in providing a record budget for the SCVB and Solvang Chamber of Commerce.
"I was told if I didn't support the SCVB, I wouldn't be able to get elected," Toussaint said.
As catcalling burst from the audience area, Jamieson called out "I'll resign. You don't have to talk anymore, Ryan. I resign."
As Toussaint called for a vote on his motion to remove Jamieson, seconded by Councilman Daniel Johnson, Council Member Chris Djernaes said, "There are other serious issues I'd like to bring to the table: conduct unbecoming a public official."
Waite interjected, "For your own benefit, you need to just be quiet right now."
"I'm completely disappointed in this agenda item," Waite said. "To me, with all due respect, Ryan, this comes across as a personal vendetta. This is not a front I want to represent for the city of Solvang. This is not how I want the city to see me: sitting up here on the dais being supportive of someone taking out a personal vendetta and relieving someone of their position. Ms. Jamieson has long served this community in a very honorable and outstanding capacity. I am absolutely against this. This should not be on the agenda. This should never have come up."
Waite said the discussion should have been dealt with in house, perhaps with the addition of Brown Act training.
"To go after someone like that publicly when you have council members sitting on this dais that may be in similar situations for other events that have occurred," she said before Djernaes interjected: "Not even close. Not even close. If she's going to bring this shit up."
Banging his gavel and calling for decorum, Toussaint returned the room to order. Staff suggested the motion be amended to accept Jamieson's hollered resignation, but Johnson said he would not accept the amendment and called for the vote.