Latinos, agricultural workers, 20-year-olds and the elderly have been affected by COVID-19 at levels disproportionate to their percentage of Santa Barbara County's population, according to a report on pandemic demographics delivered Tuesday to the Board of Supervisors.
Van Do-Reynoso, director of the County Public Health Department, said the majority of cases were among working adults, ages 18 to 40, and the case rates for the North County and Santa Maria both exceeded the countywide average.
Frontline staff — health-care workers, restaurant, bar and food preparation employees and unskilled laborers — also represented a large number of cases, according to the report covering the period from March through September.

Boiling down the report's recommendations, 1st District Supervisor Das Williams said the ones most important for the public to follow would be to not hold gatherings, immediately quarantine family members who might be sick and continue using basic precautions.
Do-Reynoso agreed, but she also added targeting 20-year-olds with messages about how to avoid contracting and spreading the virus, since that age group accounts for most of the county's COVID-19 cases.
Broken down by race and ethnicity, the statistics show 48% of the county population is Hispanic and Latino and 43% is white; yet Latinos and Hispanics accounted for 65% of the cases and 75% of hospitalizations, while whites accounted for just 9% of the cases and 19% of hospitalizations.
Latinos and Hispanics also accounted for 56% of deaths due to COVID-19, and whites accounted for 38%, Do-Reynoso said.
"While the SARS-COVID-2 is a novel virus, the disparate impact of [the] COVID-19 pandemic in communities of color is rooted in the historic and ongoing social and economic inequalities that contribute to the observed racial disparities in health status," she said, adding that's why the state added the health equity metric to its tiered framework.
Based on occupation, 1,180 of the county's 8,199 cases were among agricultural workers, followed by 918 among retired and unemployed — likely due to outbreaks in skilled nursing and residential care facilities for the elderly — and 546 among laborers and unskilled workers.
Health-care workers accounted for 496 cases, clerical and management employees had 409 and restaurant, bar and food preparation workers accounted for 399.
Do-Reynoso noted the county had a total of 59 outbreaks in congregate settings, including nine associated with agricultural workers.
"I do think the Hispanic community gets hit harder, and agricultural workers as well, because they tend to live in higher density [housing]," 4th District Supervisor Peter Adam said, asking that future reports include the percentage of people who work in various occupations to put the numbers in context.
"My understanding is we have 25,000 ag workers in Santa Barbara County," he said. "I don't know how that compares to those in restaurant, food and unemployed [categories]."
While men make up 51% and women make up 49% of the county's population, 52% of those hospitalized for COVID-19 were women, but 55% of the deaths from the disease were men.
Based on age ranges, people over 70, who make up just 11% of the county's population, accounted for only 6% of the COVID-19 cases but 22% of the hospitalizations and 66% of the deaths.
By 10-year age groups, those ages 20 to 29 had the greatest number of cases at 2,183, followed by those 30 to 39 with 1,581, ages 40 to 49 with 1,280 and those 50 to 59 with 988.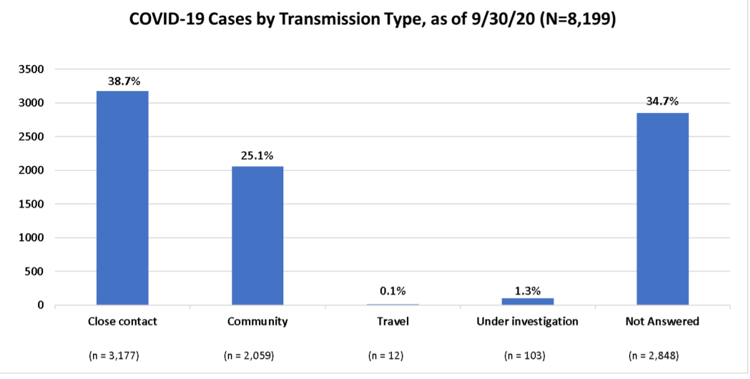 "These younger adults make up the most frontline workers," Do-Reynoso said of the 20-to-29 age group.
Those ages 9 and younger accounted for just 318 cases, which Do-Reynoso attributed to schools being closed.
She added that as schools reopen, the Public Health Department will monitor case numbers to see if they increase among children.
North County unincorporated areas and Santa Maria accounted for the greatest case rates, exceeding the countywide average of 1,780.7 cases per 100,000 population.
Sisquoc, Casmalia, Garey, Cuyama, New Cuyama and the city of Guadalupe had a case rate of 4,189.8 per 100,000, while Santa Maria had 3,958.7 cases per 100,000 and Lompoc, including Mission Hills and Vandenberg Village, had 1,477.3 per 100,000.
Lompoc Federal Correctional Complex was not included in the Lompoc numbers, Do-Reynoso said.
Orcutt had a case rate of 1,041.0 per 100,000, and the Santa Ynez Valley, including the cities of Buellton and Solvang and the communities of Santa Ynez, Los Olivos, Ballard and Los Alamos, had a rate of 664.6 per 100,000.
Concerned about COVID-19?
Sign up now to get the most recent coronavirus headlines and other important local and national news sent to your email inbox daily.