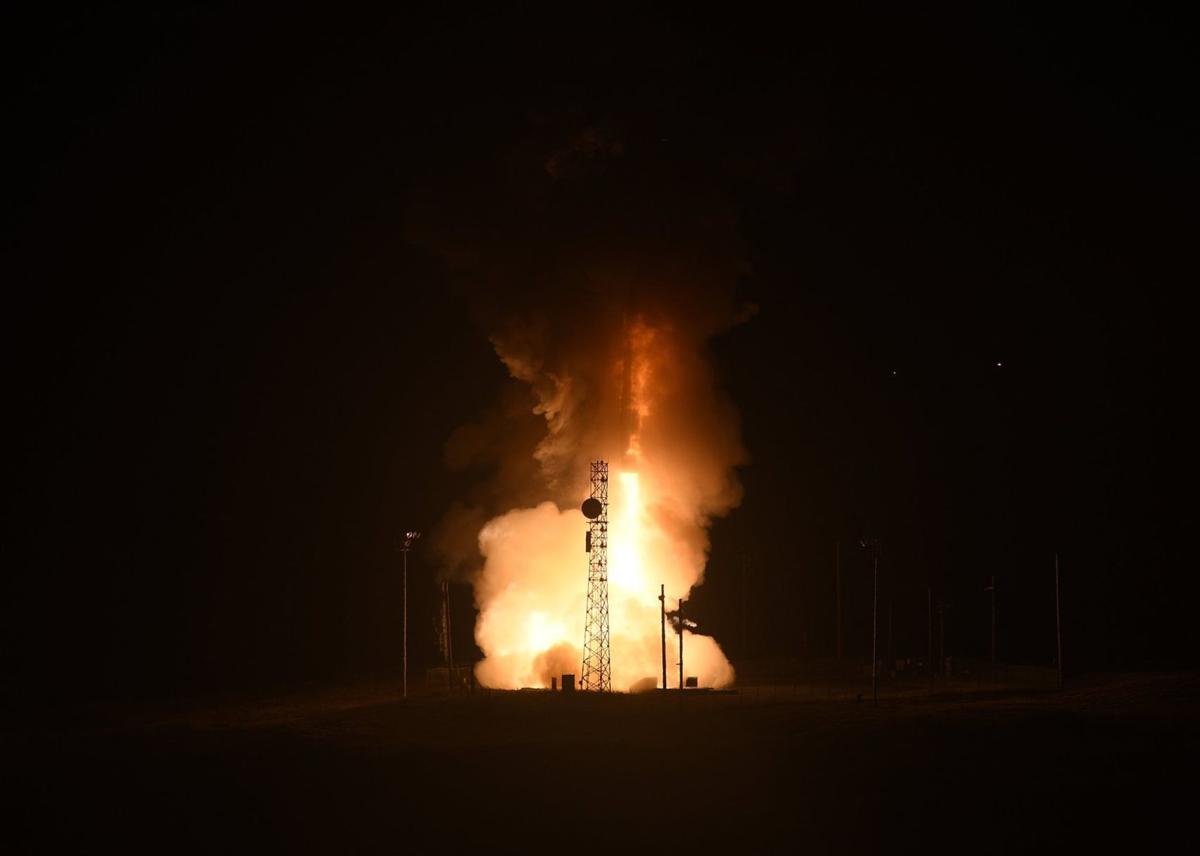 An unarmed Minuteman III intercontinental ballistic missile was launched from Vandenberg Air Force Base early Wednesday as part of an operational test that drew the ire of anti-nuclear weapons activists.
The ICBM, which is part of the U.S. nuclear weapons system, was fired from a silo on northern VAFB at 2:42 a.m.
Col. Kris Barcomb, a 30th Operations Group commander, was the launch decision authority.
"The partnership between the 30th Space Wing and our Air Force Global Strike Command mission partners has culminated in another safe Minuteman III operational test launch," Barcomb said, according to 30th Space Wing Public Affairs. "The tireless effort put forth by the 90th Missile Wing, 576th Flight Test Squadron and 30th Space Wing is simply remarkable. Their teamwork and combined efforts over the past few months showcase their immense dedication to the mission and why they are some of the best operators in the Air Force."
The test launch was not without opposition, however.
Representatives of the Nuclear Age Peace Foundation, a nonprofit that advocates for a world free of nuclear weapons, spoke out against the exercise. Rick Wayman, the organization's deputy director, was in New York City on Wednesday taking part in the Non-Proliferation Treaty Conference held at the United Nations.
In a statement sent through the Nuclear Age Peace Foundation, Wayman took issue with U.S. officials claiming at the conference that the country is a proponent of creating the environment for nuclear disarmament.
"U.S. actions demonstrate that their words are empty," Wayman said. "It would be baffling if it weren't so horribly predictable. Violating the Iran Deal. Withdrawing from the INF Treaty. The relative stability of the post-Cold War era is being systematically dismantled by the Trump administration. Testing an ICBM during the Non-Proliferation Treaty conference is a feather in the cap of those who despise international cooperation."
The Minuteman III missile system is the only ground-based nuclear weapon system utilized by the U.S.
The most recent previous Minuteman III test from VAFB occurred Feb. 5. A pair of ground-based interceptors were launched from the base on March 25 as part of a "successful" test of the U.S. missile defense system, according to the Missile Defense Agency.
Willis Jacobson covers the city of Lompoc for Lee Central Coast Newspapers. Follow him on Twitter @WJacobsonLR.
Be the first to know
Get local news delivered to your inbox!